Soldiers Lynch Man at Army Ceremony in Central African Republic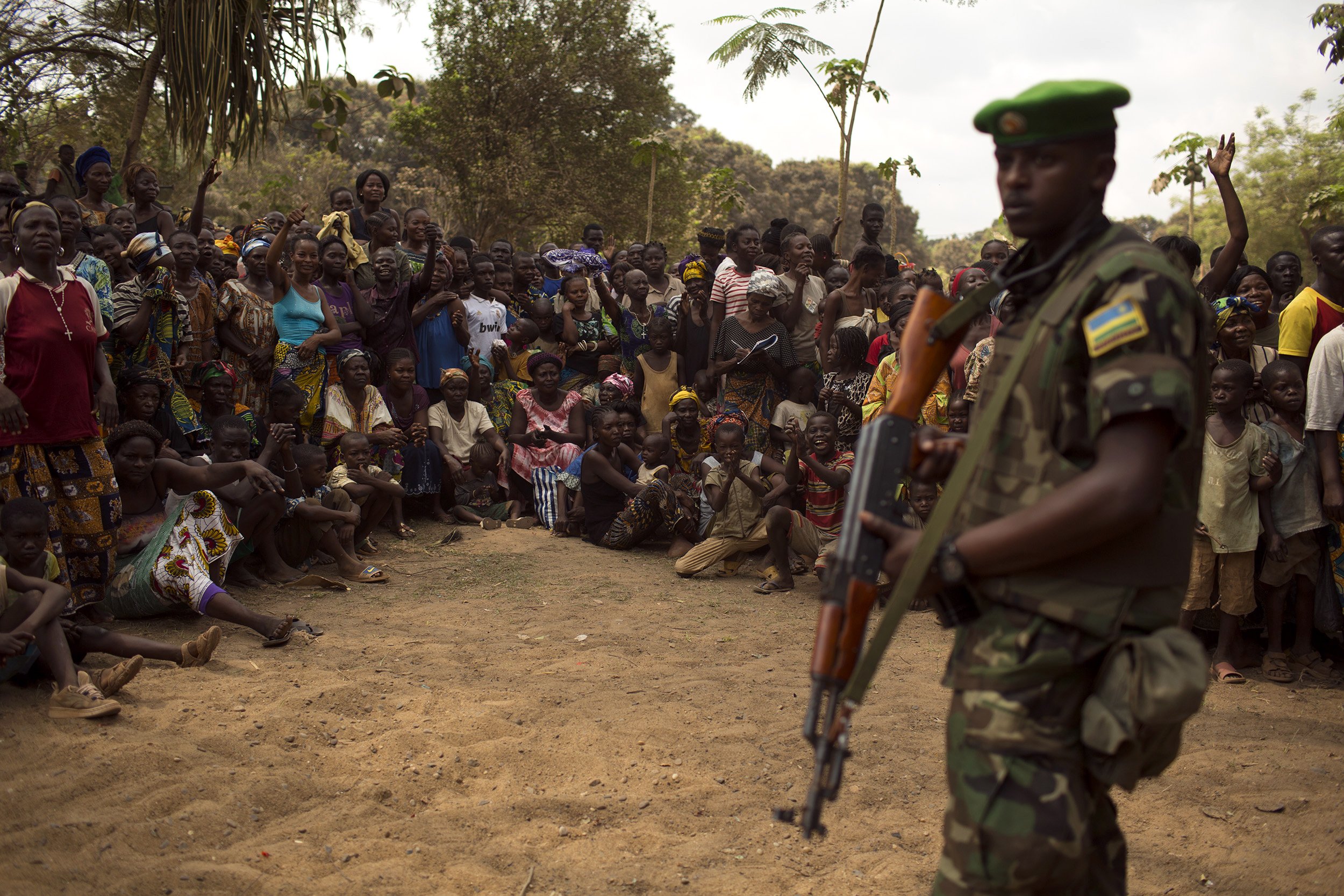 BANGUI (Reuters) - A group of soldiers in Central African Republic's capital lynched a man on Wednesday whom they suspected of having been a rebel, minutes after hearing the new president promise to restore security at a ceremony to reinstate the divided country's armed forces.
A Reuters witness saw about 20 uniformed soldiers accuse a member of the crowd at a training center in the capital Bangui of having belonged to Seleka, the mostly Muslim rebel group that seized power in a coup last March.
They then stabbed him repeatedly until he was dead. A soldier stamped on the lifeless body, which was then dragged nearly naked through the streets as residents looked on and took photographs.
Peter Bouckaert, emergencies director at Human Rights Watch (HRW) in Bangui, tweeted that the corpse of the lynched man had been burned. He posted a photograph showing a man holding up a severed limb next to a bonfire, as an armed French soldier gestured in the background.
Ten minutes earlier, about 20 meters (yards) away, the new interim president, Catherine Samba-Panza, had addressed the crowd of at least 1,000 soldiers at a ceremony meant to re-present the army to the nation after it effectively disappeared from view during Seleka's rule.
"Within a month, I would like to fully secure the greater part of the country, and I aim to stick to my word," she said.
Samba-Panza, appointed to lead the country to elections next February two weeks ago after coup leader Michel Djotodia stepped down under intense international pressure, made clear it would take time to restore order.
"At a certain point, everyone will be held responsible for their acts. I am warning troublemakers who continue to sow disorder in the country," she said.
REBELS REGROUPING
Seleka's 10-month occupation of cities and towns across the country has been marked by rampant looting, torture and murder.
The deep resentment they spawned among the Christian majority led to the formation of Christian "anti-balaka" militias, meaning "anti-machete" in the local Sango language, further fanning the flames of inter-religious bloodshed.
About 1 million people, a quarter of the former French colony's population, have fled their homes. And the presence of 1,600 French soldiers and 5,000 African troops has so far failed to stop the tit-for-tat violence, which the United Nations says has already killed more than 2,000 people.
Most Seleka fighters withdrew from Bangui after Samba-Panza's inauguration last month, but HRW said on Wednesday that the rebels were regrouping in the northeast, where they had launched a new wave of attacks on civilians.
It accused Chadian peacekeepers of facilitating the movements of Seleka leaders responsible for the violence.
"If the African Union is truly going to protect civilians in the Central African Republic, it needs to rein in the rogue activities of the Chadian peacekeeping troops," Bouckaert said.
Many of Seleka's fighters come from Chad and Sudan, but Chadian officials deny supporting the rebels.
Chadian military officials said on Wednesday they had detained and disarmed 262 fleeing Seleka fighters that had entered Chad, seizing more than 300 weapons, ammunition and a dozen vehicles.
"We left because we had three forces against us: the anti-balakas, the (ex-army), and the French who wanted to disarm us," Seleka's Colonel Ahmat Abdelkérim Bahar told a Reuters journalist in the town of Doba.
"We didn't want to give our weapons to the French, so we crossed over to give them to the Chadians," he said.