Soldier's Wife Sold Baby on Facebook She Said Died in Childbirth
A U.S. Army soldier serving in South Korea is in a legal fight for custody of the newborn child his wife sold on Facebook.
Sergeant Steven Garcia, 24, was told in January that his wife, Marina Garcia, had given birth back home in Arizona, but the child died during childbirth.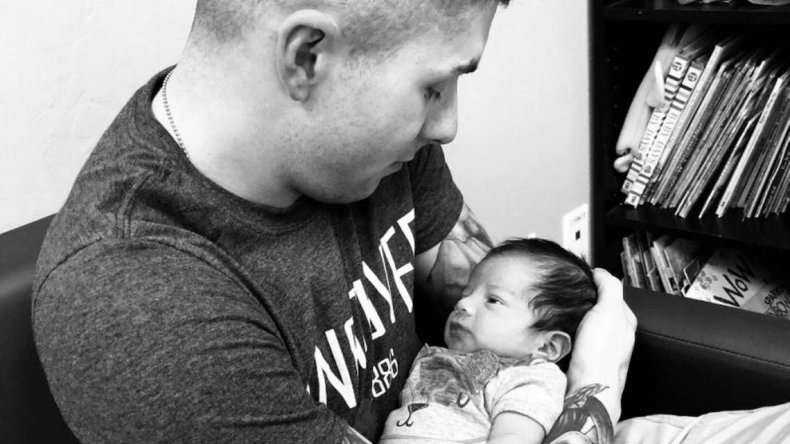 "When my sister called me about that, it was pretty emotional," Garcia told KVOA News in Tucson last week. "We cried quite a bit together over the phone. It was devastating."
However, he soon discovered that his wife's account was not true.
On February 5, three days after the baby boy was born, Arizona traffic cops pulled over a couple on Interstate 10 near Wilcox. In the car was a newborn, and the couple let slip under questioning from police the infant was not their biological child.
Alex Hernandez, 33, pleaded guilty to forgery in April after signing the boy's birth certificate as father. Leslie Hernandez pleaded guilty to conspiracy to commit forgery, reported Stars and Stripes.
They told police that Marina Garcia had arranged to give the child to them.
The child was handed over to Arizona's Department of Child Safety, while the couple were detained in custody.
Police questioned Marina Garcia in Sierra Vista where she was living with her new boyfriend, an Army specialist.
She told investigators that she had sold the child to the couple, and planned to help forge documents showing they were the legal parents. She said that she did not know who the child's father is, but it could not have been her husband's.
She said the sale was arranged via Facebook Messenger, reported the Star Telegram.
"I was under the assumption the entire time that she was pregnant that I was the father," Garcia told KVOA. "When I found out I wasn't, I was pretty upset. I was kind of in denial. I couldn't believe what was going on."
Though not the child's biological father, Garcia wants to adopt the child, and explained that his own adoption was the source of that motivation.
"My adopted father completely changed my life," he said. "Without him I would not be where I am today, and for the opportunity to do that for someone else, I believe it's important. It could change the child's life and give him a better future, and I believe that's the right thing to do."
A GoFundMe page has been set up to help Garcia fund travel and legal expenses while he battles for custody.
Marina Garcia and the Hernandez family face one count each of kidnap, fraudulent schemes, conspiracy and fraud by concealment.
Alex Hernandez pleaded guilty to the forgery charge, while his wife pleaded guilty to one count of fraudulent schemes. The other charges were dismissed.
The pair later received four years of supervised probation.
Marina Garcia later pleaded guilty to a felony count of an attempted fraudulent scheme for forging the birth certificate. She will be sentenced in June, reported Stars and Stripes.
Soldier's Wife Sold Baby on Facebook She Said Died in Childbirth | U.S.