Solo: A Star Wars Story Might Keep Villain Around for Sequels
While Solo: A Star Wars Story is expected to hit a lot of the origin story waypoints we've learned from other Star Wars movies, including Han's meet-cute with Chewbacca and his acquisition of the Millennium Falcon (won in a sabacc game with Lando Calrissian), little is known about the actual plot holding all those biographical tidbits together. It's long been rumored the villain of Solo: A Star Wars Story is a masked and furry someone named Enfys Nest. Now, new rumors point to the possibility of Enfys Nest popping up in future Star Wars movies, including sequels to Solo , should the Han Solo movie prove a hit.
Citing anonymous sources, Star Wars News Net says Enfys Nest is played by a woman in Solo: A Star Wars Story, though the identity of the actor behind the mask remains unknown. The character leads a band of marauders called, at least on French merchandise, the Cloud Riders. According to their source, the Enfys Nest actor is contracted for two more movies. Which means not only does Enfys Nest survive the events of Solo: A Star Wars Story, but this also suggests Lucasfilm has its eye on sequels.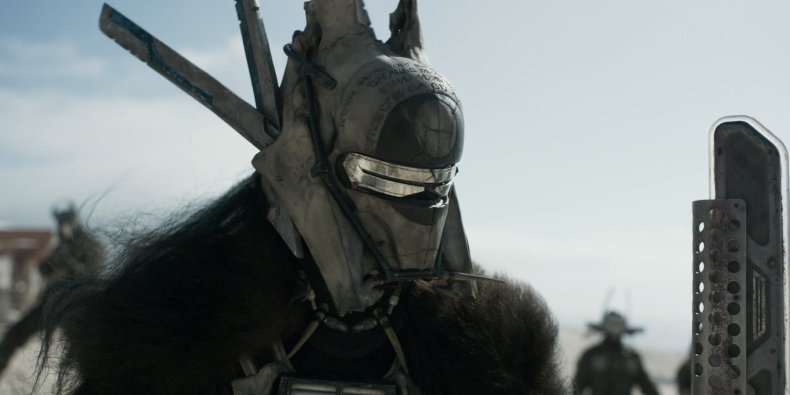 The anonymous source describes the Enfys Nest actor as working closely with Woody Harrelson's character, Beckett, who is seen in the first Solo trailer recruiting Han into some sort of heist or shady job. This would suggest Enfys Nest is not necessarily the Star Wars Story's main villain, as previous rumors have held. Instead, Nest might have a Jabba the Hutt-like role in relation to Beckett's heist, menacing and overseeing illegal activity. Or, it's even possible Enfys Nest is more like Boba Fett or Captain Phasma from The Force Awakens, serving as a minor villain in the service of the bigger enemy.
Of course, this is all rumor for now. The true nature of Enfys Nest will be revealed when Solo: A Star Wars Story hits theaters May 25.
A second trailer for Solo: A Star Wars Story is expected soon.