Solo Stove Mesa Review: A Tabletop Firepit for City Dwellers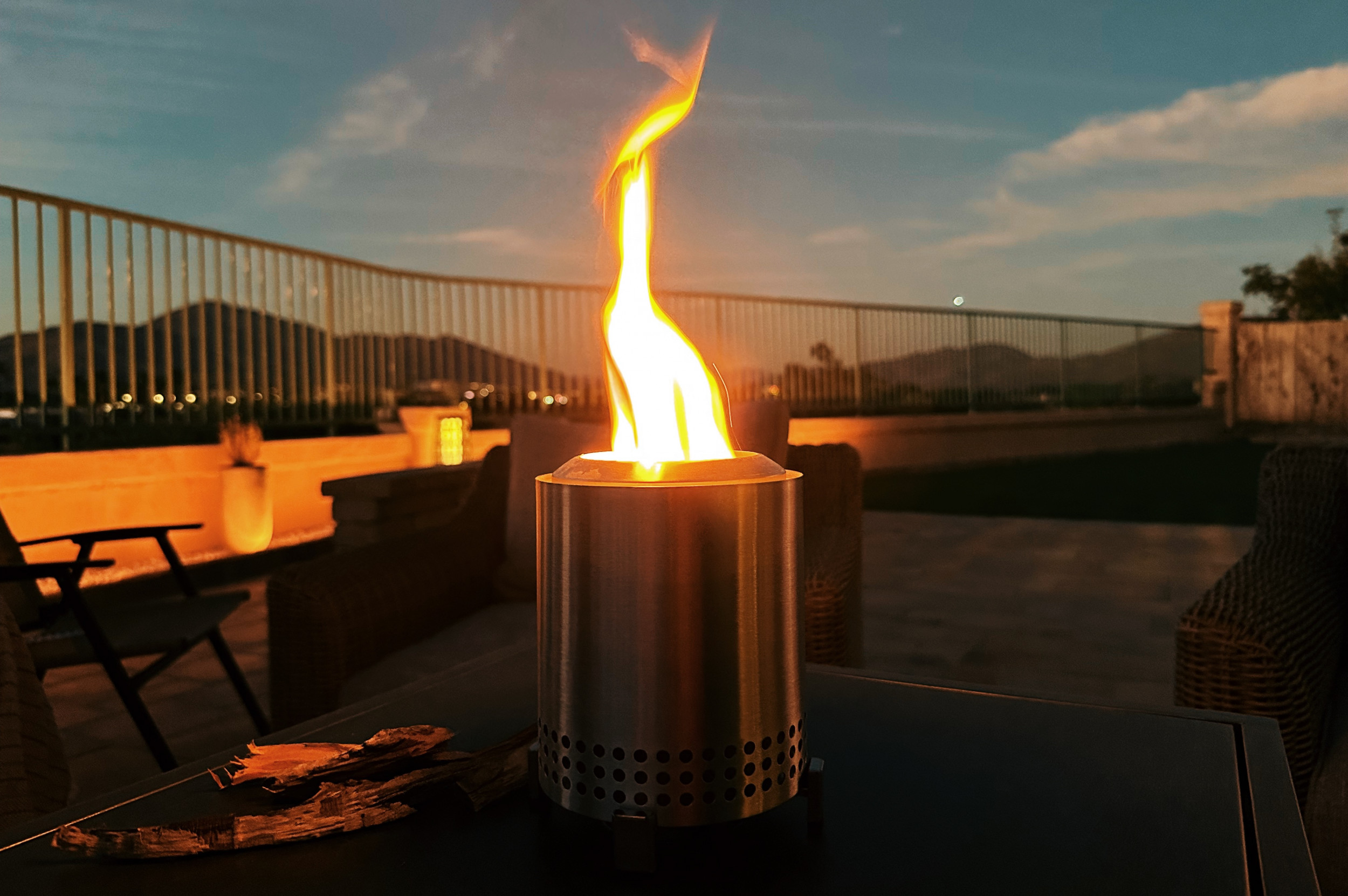 Apartment living doesn't usually come with much outdoor space, but Solo Stove's new Mesa tabletop firepit doesn't need much to spark an open flame. Mesa can burn pellets or small pieces of wood and can sit on nearly any surface material.
Mesa is a small or portable firepit that Solo Stove is pitching among its other smokeless products. Even with Mesa's compact footprint, it shouldn't be billowing smoke or causing panic among neighbors.
After trying the new larger Solo Stove Bonfire 2.0 firepit recently, I'm equally impressed with this new, tiny Mesa option. While the products are generally aimed at different people, Mesa might get a chance to be used more frequently because of how simple it is to get it started and then clean up.
TL;DR
Pros:
Easy to start a fire and clean out the ash afterward
Size is convenient for travel or to move to different areas
Cons:
Needs a fire starter for pellet use
Using wood requires adding new pieces semi-frequently
Buy at Solo Stove.
What's a Tabletop Firepit?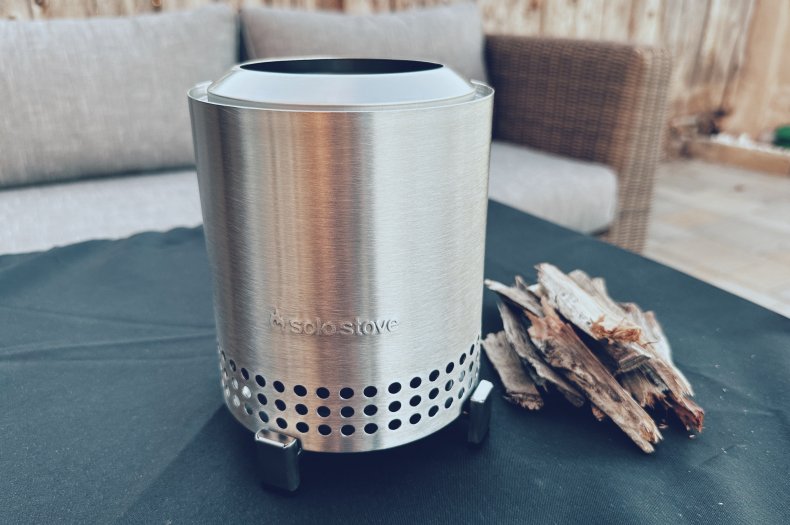 The Solo Stove Mesa is the latest product rounding out the company's line of smokeless firepits. This one measures 5.1 inches wide and has a height of 6.1 inches while on its removable stand. This tiny firepit comes in five colors plus a plain stainless steel option. (The stainless steel version starts $10 cheaper than the color choices.)
Mesa includes a tabletop stand, an adapter for burning pellets and a nylon carrying case. All of the pieces fit inside the product, and its carrying case keeps everything neatly organized. It can be moved around or taken on a trip, but it is only intended for outdoor use.
Roasting Marshmallows on Solo Stove Mesa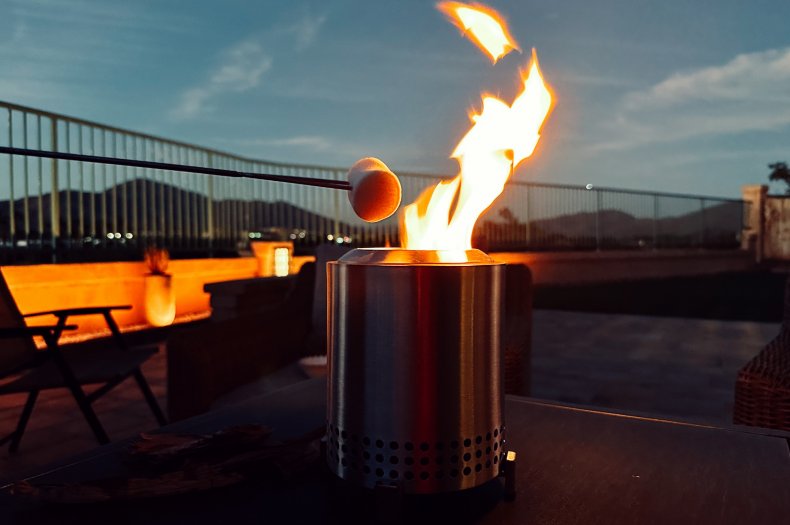 When my kids saw the Solo Stove Mesa, the first thing they asked was when could we all roast marshmallows. I set up the miniature firepit outside and chiseled a handful of wood pieces off a larger log to use in it. With only a minimal amount of kindling and the wood pieces, I got a fire going in Mesa without much effort at all. I added a few more sticks, and then it was raging—about 7 inches above the top of the rim.
The initial flames lasted for about 10 minutes—almost long enough for a couple of people to roast marshmallows. I got the flame up again, and everyone had time to toast a couple of treats. I did need to add a few more sticks regularly to keep the fire from dying down too much. It wasn't difficult to maintain, but it did need a watchful eye to keep track of its status. Your results may depend on the type or thickness of wood you are burning.
If the idea of pellets is compelling, just be sure to pick up some fire starter to use with that type of fuel with Mesa. The fire starter sits in the middle of the pellet adapter to feed a flame.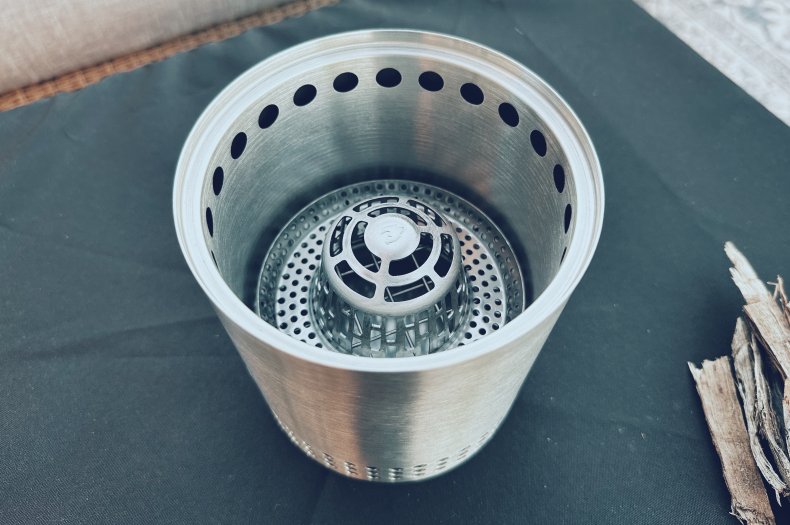 I found the Mesa firepit much easier to get going than the larger Solo Stove Bonfire 2.0 that I tried recently. I needed to tend to it more, while the smaller version required much less attention. The smaller and larger firepits aren't competing with one another and excel in different areas. For example, if you primarily want a fire for shorter stints or dedicated tasks like roasting marshmallows, you might want to consider how Mesa could fit your space—even if you have plenty of room. Stepping up to the larger size models will be able to provide more heat and light for gatherings.
Of course, even as simple as I found the Mesa was to get started and clean out once it cooled, it was no match for a propane firepit or heater. The Mesa is still creating an open flame, which does bring occasional embers and ash cleanup at the end. I did notice some smoke with the Bonfire 2.0, but I only saw a minimal amount of smoke with this smaller Mesa while lighting it.
Should You Buy a Solo Stove Mesa?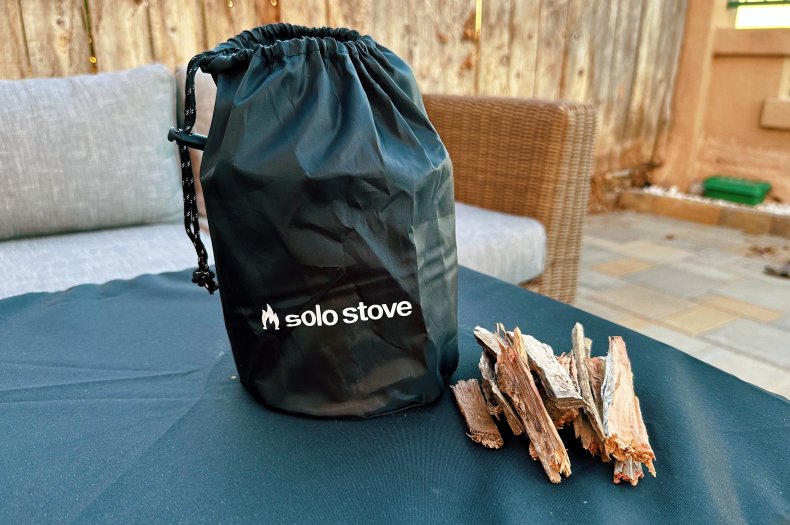 Within the context of small firepits or heat sources, I found Mesa's size to be substantial. It was large enough to give off enough heat for an outdoor dining table or a cozy patio set. It also provided a very easy way to enhance movie night in the backyard.
For the right outdoor space, Mesa is a terrific addition. It's not a replacement for Solo Stove's larger firepits, but it is great for little areas or for traveling. It works as advertised and serves as a quick way to get a campfire ambiance without the same amount of work.
Buy at Solo Stove from $119.99.
Newsweek may earn a commission from links on this page, but we only recommend products we back. We participate in various affiliate marketing programs, which means we may get paid commissions on editorially chosen products purchased through our links to retailer sites.