'Solos' on Amazon Explained: How the Seven Episodes Are Connected
Solos is the new anthology series from Amazon Prime Video, streaming now. The seven-episode show initially seems to be seven separate stories about people in isolation and their relationships with technology.
Slowly, though, there are hints that there might be links that all the stories are connected in some way, with some characters revealed to be related, and other elements crossing over.
How the seven episodes of Solos are connected, explained
The following contains spoilers for the entirety of Solos
The first hint that the stories of Solos are linked comes in Episode 3, "Peg." That name may be familiar to viewers who have seen Episode 2, when Peg is also the name of the adopted daughter of Tom (Anthony Mackiesolo).
In Episode 3, we learn that the Peg (played by Helen Mirren) is a grown-up version of Tom's daughter. She tells us her father died when she was young, and Tom has a terminal illness in Episode 2.
She also mentions how her mother starts sleeping with a robot version of her dead father, which is exactly what Episode 2 is all about, as Tom trains an AI version of him to be there for his family after he has gone.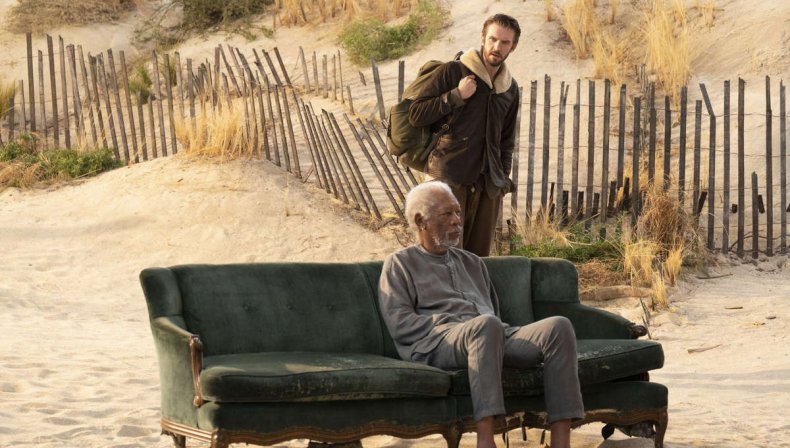 Episode 5 gives more hints that the stories are intertwined. The first shot of the episode starring Constance Wu is of a magazine with the headline "meeting your remember me bots," a reference to the plot of Episode 2.
It is the end of that episode that provides the key to how the stories are linked. It is essentially revealed that the Jenny (played by Wu) who has been talking to us is in some sort of purgatory.
Her real body, meanwhile, is in surgery which sees her memories getting extracted. This suggests that all of the scenes we have seen in the previous episodes are also memories that have been extracted.
However, it is not until the end of the series when it was revealed exactly what links all these memories.
Watching Episode 7, it already feels different, with the instalment being a two-hander rather than a solo piece, with Dan Stevens and Morgan Freeman as Otto and Stuart.
The latter is revealed to be the one who unites all the stories, which explains why Freeman has provided opening narration to all the episodes.
It is revealed that Stuart is what the show calls a memory thief, who has been stolen all the memories we have seen so far. Otto, meanwhile, has come to take those memories back, and by extension get back the memory he stole from his mother as she was dying.
Solos is streaming now on Amazon Prime Video.