Somali Pirates Being Driven Back to the Seas By Drought and Famine: U.S. Commander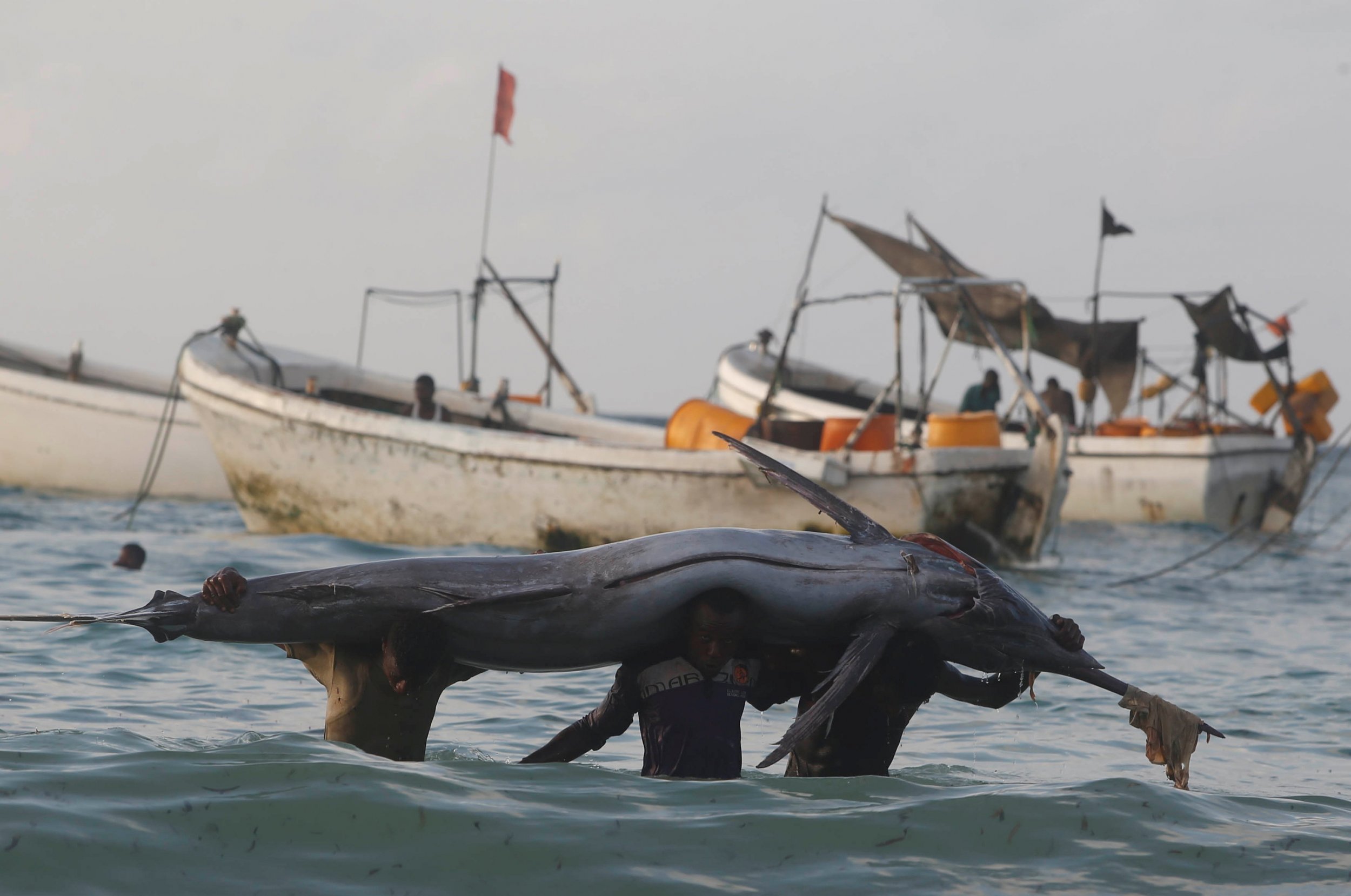 Pirates in Somalia are being driven to the seas by a devastating drought, says the top U.S. military commander in Africa.
A spate of pirate attacks have occurred off the coast of Somalia in recent months after a five-year hiatus in the region. Piracy cost the global economy billions of dollars before a security crackdown—including maritime patrols by a 25-nation task force largely made up of NATO countries and private security contractors—reduced attacks to almost zero.
General Thomas Waldhauser, the head of the U.S. Africa Command (AFRICOM), said food shortages in Somalia were contributing to the resurgence in piracy.
"Some of the vessels that have been taken under hijacking have had some food and some oil on them. Moreover, these particular ships have been very small in statute and really a lucrative target for pirates," said Waldhauser at a briefing with U.S. Defense Secretary Jim Mattis at Camp Lemonnier, a U.S. naval base in Djibouti, which neighbors Somalia.
Somalia, along with several other countries in East Africa, is currently suffering from widespread food insecurity because of a drought that is likely to escalate into famine, according to aid agencies.
More than 6 million people require humanitarian assistance, with 2.9 million living in areas that are at heightened risk of famine, according to the United Nations. A lack of access to clean water has also contributed to a cholera outbreak of some 13,000 cases.
Somali pirates hijacked a Comoros-flagged vessel carrying fuel in early March, the first time that pirates had taken control of a commercial ship in the region since 2012. The ship was later released without ransom. But since then, pirates have successfully hijacked at least another four vessels off the coast of Somalia and in the Gulf of Aden, a channel that experiences a high volume of commercial maritime traffic.
At its peak in 2011, Somali pirates launched 237 attacks, according to the International Maritime Bureau. Piracy in the region cost the global economy more than $6 billion in 2011, according to antipiracy NGO the One Earth Future Foundation.
"We're not ready to say there's a trend yet, but we'll continue to watch it," said Waldhauser, referring to the recent series of attacks. The AFRICOM commander also urged civilian shipping companies to increase security measures in order to deter pirates from trying to launch attacks.
Waldhauser made the comments during a visit by Mattis to Camp Lemonnier in Djibouti,the U.S. military's only semi-permanent base in Africa. The base allows the U.S. military to monitor piracy in the region and also to coordinate efforts with the Somali government in fighting Al-Shabab, a jihadi insurgent group at war with the federal government in Mogadishu.
President Donald Trump recent authorized a Pentagon request granting additional authorities for U.S. airstrikes in Somalia,
The U.S. has launched at least 42 strikes in Somalia in the past decade, killing at least 300 people, most of whom the Pentagon has claimed were militants but a fraction of whom were reportedly civilians, according to the Bureau of Investigative Journalism. The presidential directive makes it easier for U.S. commandos to authorize strikes without having to go through high-level interagency vetting, but analysts have raised concerns about a higher risk of civilian casualties.
Waldhauser said that the U.S. military was aware of the precarious situation in Somalia, where 600,000 people have been displaced due to the drought and people are constantly on the move in search of food, and that it would not authorize strikes unless it could be sure that it would avoid unnecessary casualties.
"The point I really want to make with these enhanced authorities, we still have a very high bar for certainty, because when a missile may come off the rail of an airplane or a drone, we need to know what's underneath there," said Waldhauser.