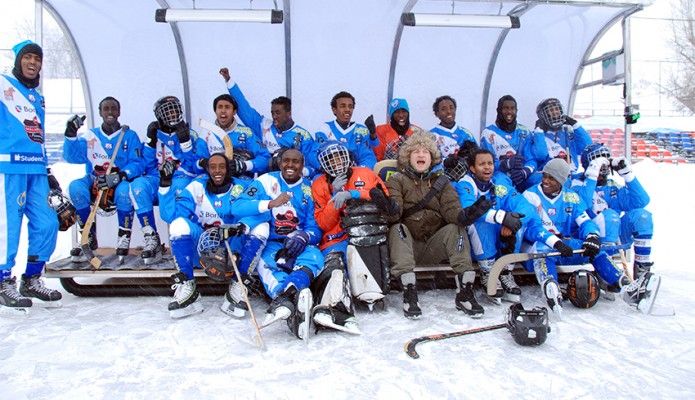 In an underdog story reminiscent of Cool Runnings, a group of Somali asylum seekers have embraced an unlikely sport to try to ease the increasing tensions around Sweden's refugee policies.
Before they moved to the Swedish industrial town of Borlänge in their teens, many of the 11 players in the Somali Bandy Team had never seen ice. But that didn't stop team founders Patrik Andersson and Hans Grandin from bringing them together three years ago to teach them the winter sport, which is like ice hockey but with a ball instead of a puck.
Since then, Africa's first bandy team has become a mini Swedish success story, making history in 2014 as the first African team to compete in the bandy world championships. They came last in the competition, but got another chance in the spotlight when a documentary about their journey to compete in Siberia, Nice People, hit the big screen in January 2015. Now the Somali players are getting ready for another burst of local fame as they prepare for the next Bandy World Championships in Russia in February.
"Sport plays a crucial role in integration," Grandin says to Newsweek over email. Andersson, 50, and Grandin came up with the idea of a Somali bandy team in December 2012, as they sat in a local patisserie mulling over an integration project that they hoped would transform the tense relations in Borlänge between refugees and locals. "Both Patrik and I are native Swedes who felt something should be done about integrating newcomers in Borlänge," says Grandin. According to the Swedish Migration Agency, Sweden currently hosts up to 5,500 refugees from Somalia out of a total of 142,207 refugees.
Speaking to the U.N. Refugee Agency in January last year, Andersson said that at first, building up the team was "difficult." "People in the community didn't take the team seriously, and many laughed," he said. "But this adversity made all of us together very strong from the beginning."
Andersson decided to pull out all the stops in April 2013, when he hired former local bandy star Per Fosshaug, winner of five tournaments, to coach the team. It soon paid off when the Somalis competed in the 2014 Bandy World Championships in Russia. "Every year we have a goal to take to the world cup," said Ahmed Hussein, 20.
"The first year we wanted to score a single goal," Hussein said. "And we made it, we even made three goals! It was so amazing! I saw all the players were crying and were so happy!"
But while a group of ice-skating Somalis have become minor celebrities in Borlänge, the rest of Sweden is still struggling to balance its desire to help refugees with its capacity to integrate them. The Scandinavian nation received more than 150,000 asylum applications last year—making it one of the more popular European countries for refugees to settle in. After raising arrival forecasts to 190,000 on November 6, Swedish Prime Minister Stefan Löfven called for "respite" on November 24, signaling a U-turn from its open-door policy. Unable to cope with the influx of arrivals, authorities on Monday introduced stricter border controls with the implementation of identity checks.
As the next Bandy World Championships edges closer, the team hopes to inspire enough support and raise enough momentum to bring the country together. It might not defeat all of its opponents to bring home the trophy, but maybe the Somali Bandy Team can at least win against the fraught relations between Swedish locals and refugees.