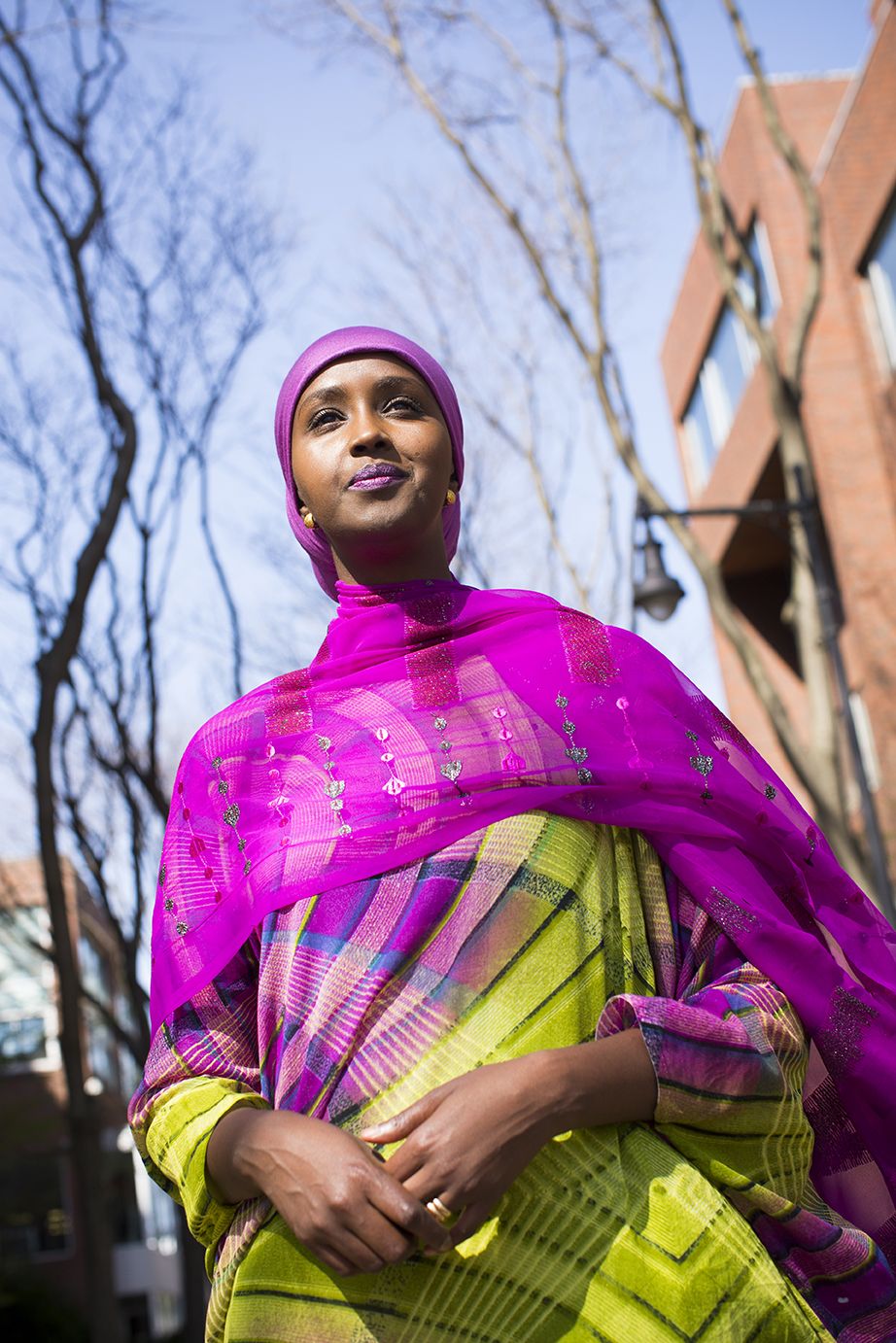 During her last visit to Somalia in January, presidential hopeful Fadumo Dayib, 43, decided to let off some steam by visiting the Liido beach in the capital Mogadishu, a place she frequented as a child.
After posting pictures of her visit on social media, the Finnish citizen was bombarded with calls from friends checking that she was still alive. Some two hours after she had left in the late afternoon Somali sunshine, gunmen affiliated to the militant group al-Shabab descended on a restaurant at the popular beach. Twenty people were killed by eight attackers in the deadly encounter.
Dayib, who announced in 2014 that she intends to run for the Somali presidency if popular elections scheduled for 2016 go ahead, is convinced the timing of the attack was linked to her visit. Before she visited Mogadishu, she had prepared her will after receiving death threats from al-Shabab, which is aligned to al-Qaeda, due to her decision to put herself forward for public office.
"I find this to be very shocking that as a female, just by virtue of you standing up to exercise your human rights, someone is willing to take your life for doing that," said Dayib, who currently works in Helsinki helping refugees arriving in Finland to find work and also has a master's degree in public administration from Harvard University.
Al-Shabab's threats toward Dayib are ironic, considering the novel position she would adopt if she were to come to power— talking to the militants. "I would negotiate with al-Shabab, not because I am a sympathizer or agree with what they're doing, but because we need to survive," she said.
Dayib stresses there would be conditions to such negotiations—al-Shabab would be required to disarm, stop attacking civilians and disavow links to international militant groups.
Getting to such a position of power where she could negotiate with the militant group would appear a dim prospect for a woman in Somalia. The country has a high rate of gender-based violence—almost 4,000 cases were recorded in 2012 by UNICEF partners, and Dayib describes rape as a "national hobby"—and the highest prevalence of female genital mutilation (FGM) in the world.
After Somalia was ranked the fifth worst place to be a woman in a 2011 survey, then-Somali women's minister Maryan Qasim admitted she was surprised the country did not rank worse. But Dayib insists that Somalia is ready for "a capable leadership that can get it out of the rut that it's in," whether that is male or female. "If Somali citizens were given an option and opportunity, they would elect a woman into office," she said.
Born in Kenya and raised by a single mother, Dayib spent much of her early life moving between the country and neighboring Somalia until she was finally deported, along with her mother and siblings, from the Kenyan port city of Mombasa to Mogadishu in 1989.
Just two years later, civil war broke out in Somalia and engulfed the capital and Dayib's family. Her mother was temporarily imprisoned because her brother—Dayib's uncle—was believed to be funding a group opposed to the then-Somali dictator Siad Barre.
Dayib had to live with her extended family, who despised her and her siblings because they were from another clan. "I recall repeated beatings, very physical to the extent I would lose consciousness," she said. "I still have those scars on my body."
As the country descended into chaos, her mother decided that Dayib and her siblings had to leave the country. Dayib recalls her mother being torn between going with her children and being threatened by Dayib's grandmother that she would be cursed if she abandoned her elders.
"This is the way the Somali [clan] system works—when your family calls, you go and leave even your kids," said Dayib. So her mother stayed behind in Somalia. Dayib feels no bitterness towards her, only admiration. Her mother had already lost 11 children and letting her remaining three leave was "the most selfless thing that my mother could have done."
Eventually, Dayib was reunited with her mother in Finland through a family reunification scheme, and her mother spent the last years of her life in Helsinki, learning to read and write at the age of 68 before dying in 1995.
Dayib's own traumatic journey from Somalia to Finland means she is acutely aware of the plight facing thousands of her countrymen in the present day. Along with her two younger siblings, Dayib boarded what she describes as "the last plane out of Mogadishu" after pleading with a Russian aviation official to get her on the full-capacity flight, which was destined for the Romanian capital of Bucharest via Moscow. Once she landed in Moscow, Dayib had to rely on the good grace on another official in order to get a day visa to leave the airport, whereupon she found a smuggler who obtained her tickets to Helsinki.
She has set out to change the condition of young people in Somalia so they are not forced to flee, often with tragic circumstances—earlier in April, the Somali government estimated that up to 300 of its citizens had died in an unconfirmed shipwreck in the Mediterranean.
"We want to make sure not only that our children are safe, but that they're not taking boats, walking through the Sahara to get to the West, to countries that don't want them and where they stay as beggars and second-class citizens," said Dayib.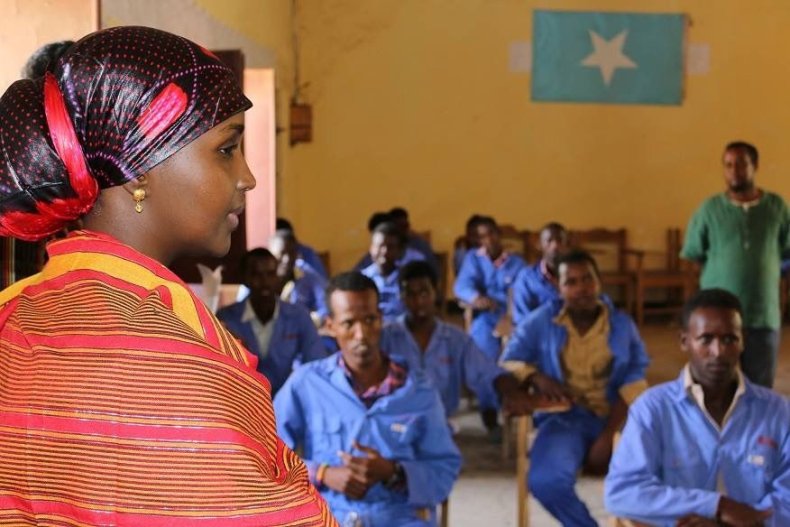 Dayib, who returned in 2005 to work in Somalia's semi-autonomous region of Puntland for a short period with the United Nations (UN), has already made history as the first woman to put herself forward to become president of Somalia. But her efforts to become the country's first female leader could be thwarted due to the lack of progress in implementing democracy in the troubled Horn of Africa state.
Dayib has always insisted that she will not run for election under the controversial 4.5 formula—a system whereby parliamentary seats are distributed among the four major Somali clans, with a coalition of minority clans receiving a smaller share—but only with a popular vote involving all Somalis.
The country's National Leadership Forum—that includes current President Hassan Sheikh Mohamud—held a meeting earlier in April, in which they agreed that prospective elections in 2016 would not follow a one-person, one-vote system. Rather, members of the two houses of parliament—the upper house is yet to be established—would be selected by an electorate of less than 14,000, chosen largely by traditional clan elders, in a country with a population of 10.5 million.
"None of us are actually running for the presidency, it's not an election as we know it—it's rather a 4.5 clan system selection," said Dayib. (The Forum also made the proviso for 30 percent of the members of both houses to be female, an ambition Dayib is highly doubtful will be achieved.)
If popular elections don't go ahead, Dayib aims to do the next best thing and act as the opposition to the Somali government. She is critical of President Mohamud's perceived failure to deliver on Somalia's Vision 2016—a series of goals released in September 2013.
These included establishing conditions for a one-person, one-vote election in 2016, such as setting up an independent electoral commission within six months (the commission was eventually approved by parliament in July 2015, almost two years after the Vision was released).
Dayib also points out that the security situation in Somalia—where al-Shabab has been carrying out almost daily gun attacks and car bombs, particularly in Mogadishu, during the first four months of 2016—is worse now than it was when the government was established in 2012. "We've never had such incidents, not even during the civil war," she said.
Even if Dayib does not become Somali president in 2016, her very public campaign—she announced her candidacy on Somali TV and intends to visit universities to drum up support—could be significant for future generations of Somali women.
Dayib insists that women are already driving the country forward—putting bread on the table, taking care of families and running businesses.
"If a woman can do all of these things, she has every right to lead the country because she is already leading the country on so many fronts," said Dayib. "We will no longer negotiate for our existence."
Whether in 2016 or in 2020—when Somalia is next scheduled to hold what she hopes will be a one-person, one-vote election—Dayib is determined to alter Somalia's politics of the future.