Somalia's Al-Shabab Militants Ramp up Attacks After Rejecting President's Amnesty Offer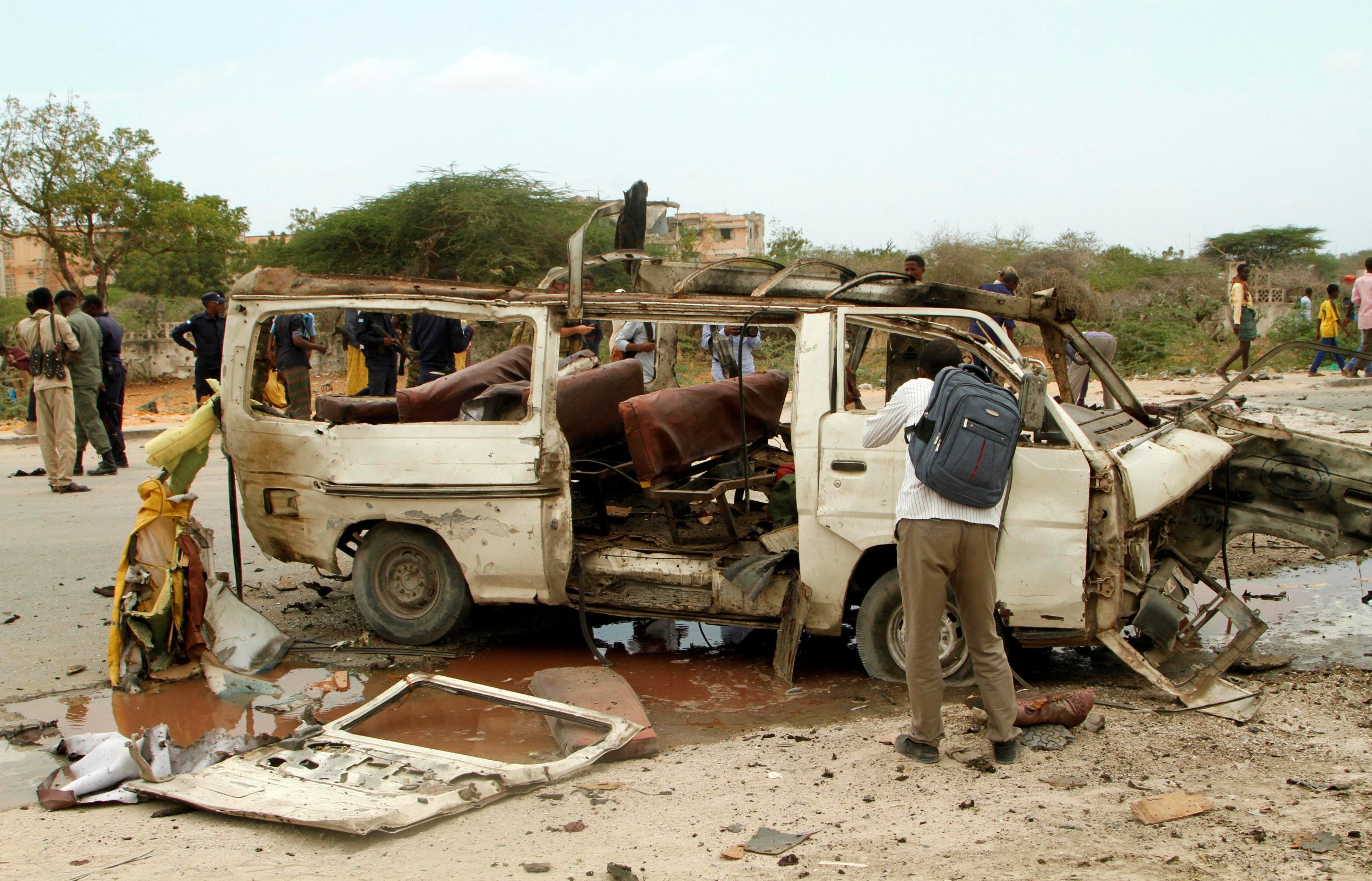 Al-Shabab militants killed at least 15 people in a suicide bombing targeting military officials on Sunday, as the Al-Qaeda affiliate rejected the president's offer of an amnesty. Two further attacks on Monday signaled that the militants are ramping up violence following a declaration of war on Al-Shabab by Somali President Mohamed Abdullahi Farmajo on Thursday. President Farmajo said that militants had a 60-day period to take up a government amnesty offer, but the militant group dismissed the declaration as a statement made "just to please the West," the BBC reported.
The car bomb on Sunday targeted a military convoy carrying the newly-appointed chief of the Somali army, Ahmed Mohamed Jimale, as he left a ceremony at the defense ministry in the capital Mogadishu, Voice of America reported. Jimale survived the attack but the explosion destroyed a minibus carrying civilians, soldiers and private security guards, Reuters reported. A spokesman for the mayor of Mogadishu, Abdifatah Omar Halane, said that it was difficult to count the number of casualties as most of the victims' bodies were no longer intact.
Read more: Somalia's ex-president urges Trump to "collaborate" to fight al-Shabab
Al-Shabab has been waging a deadly insurgency on the Western-backed Somali federal government since the mid-2000s. The group has ties to Al-Qaeda and has threatened to attack U.S. interests before. Al-Shabab has also launched attacks in neighboring countries in East Africa, particularly Kenya, which invaded Somalia in 2011 in an unsuccessful bid to destroy the group.
The extremist group frequently attacks military and government targets, but also kills civilians and kidnaps aid workers. A bomb killed a junior government official on Monday after it was planted in his car while another suicide bomber blew himself up on Monday at a military training camp in Mogadishu, Reuters reported. Al-Shabab claimed responsibility for the latter attack and has previously used bombs planted in cars to kill government officials.
Somali parliamentarians elected President Farmajo in February, and the new head of state has prioritized addresses Somalia's chronic insecurity. In his offer of an amnesty, Farmajo said that he felt sorry for "the youth who have been misled with the wrong extremist ideas" and called upon members of the group to surrender or "face the consequences," AFP reported.
The Somali National Army is supported by some 22,000 African Union peacekeepers, who are stationed in the country with a mandate to fight Al-Shabab. The African Union mission is due to withdraw by 2020.
Around 100 U.S. military personnel are stationed in Somalia in order to coordinate airstrikes on the militant group. President Donald Trump recently signed off on a directive that means that U.S. strikes in Somalia require less high-level interagency vetting and give more flexibility to American forces to target the militant group. The directive has raised concerns that civilian casualties in Somalia may increase, although the U.S. military command for Africa (AFRICOM) has said it will take all necessary steps to avoid civilian casualties.