Two Somali-Americans Killed in Mogadishu Bomb as Minnesota Vigil Honors Victims of 'Somalia's 9/11'
At least two Somali-Americans were reportedly among the more than 300 people killed in a double truck bombing in Somalia's capital Mogadishu on Saturday.
Mohamoud Elmi, a Somali-American in his early 30s from Ohio, and Ahmed Abdi Karin Eyow—a 50-year-old father of three from Minnesota—have both been confirmed as killed in the attack, which is thought to have been perpetrated by an Al-Qaeda-linked militant group in Somalia, Al-Shabab.
Dozens of people gathered at a vigil in Minneapolis on Monday to honor the victims of the attack. Ilhan Omar, the first Somali-American to be elected as a U.S. lawmaker, attended the vigil. Omar's husband was in Mogadishu when the bombs went off but was not injured in the attack.
Omar said that while all her family in East Africa were safe, she was "trying to think about what mothers must be going through who have lost their children, what children like my children are going through who lost parents," Minnesota Public Radio reported.
Around 76,000 Somalis live in the United States, with Minnesota home to the largest community.
The State Department and the U.S. Mission to Somalia both issued statements condemning the attack, but some in Minnesota questioned why President Donald Trump has not spoken out. Trump regularly tweets condemnations of alleged or actual militant attacks in other countries.
"If this attack had targeted people of other faiths or races, we believe there would have been an immediate response from the president in a statement or on Twitter," said Nihad Awad, the national executive director of the Council on American-Islamic Relations (CAIR).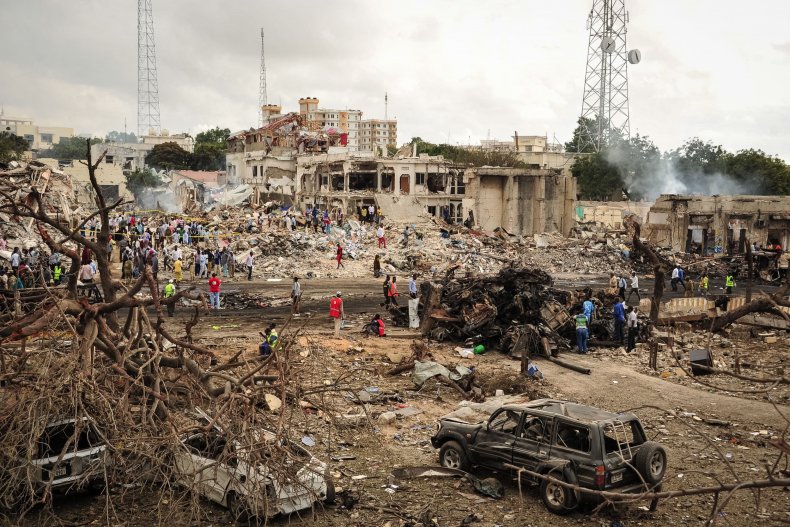 One of the Somali-Americans killed in the attack, Elmi, returned to Somalia in 2007 after graduating from Franklin University in Columbus, USA Today reported. Elmi wanted to help with rebuilding Somalia, which has been ravaged by decades of conflict and instability since civil war broke out in the early 1990s.
Elmi worked as a coordinator in Somalia's Ministry of Humanitarian Affairs and Disaster Management and was returning from a meeting on Saturday when his car was caught in the attack.
His death was confirmed by Maryan Qasim, the minister of humanitarian affairs and disaster management.
Eyow, the other Somali-American confirmed dead in the attack, was on a short trip to Kenya and Somalia when the blast occurred, according to Jaylani Hussein, the executive director of CAIR-Minnesota.
Eyow fled Somalia for the United States as a refugee in the early 1990s and worked as a welder. He was working on a master's degree and was exploring job options during the trip to East Africa.
"We here in Minnesota know we have lost a great community activist and leader," Hussein said, referrring to Eyow at a press conference at the Dar Al-Farooq Islamic Center in Bloomington on Sunday, the Star Tribune reported. Hussein added that more Somali-Americans may have been caught up in the attack and community members were waiting for news of family and friends.
Eyow's wife, Ruun Abdi, told the Star Tribune that her husband was a "great man" who "loved America so much."
The attack occurred on Saturday afternoon at a busy intersection in Mogadishu. One truck bomb detonated in a traffic jam outside the Safari Hotel, leveling the building. The truck was thought to have been targeting a government ministry but was detonated prematurely.
A man who was detained after trying to drive a second explosive-packed vehicle into the city on Saturday admitted that Al-Shabab was behind the attack, the Guardian reported.
"This is the Somali 9/11. The man we arrested has confessed. He is proud of what he has done. He says it was for jihad," said one official cited by the Guardian.
The U.S. military has been conducting covert operations against Al-Shabab in Somalia for a decade. Since coming to office, President Trump has loosened restrictions on drone strikes against militant leaders and deployed regular U.S. troops to Somalia for the first time in decades.
But relations have been strained by Trump's decision to include Somalia on his travel ban, blocking immigration from the Horn of Africa country to the United States.
Trump also made derogatory comments about Minnesota's Somali community on the election campaign trail, saying that the state had witnessed "first hand the problems with faulty refugee-vetting, with very large numbers of Somali refugees coming into your state without your knowledge, your support or approval."