What is Al-Shabab? Somalia Militant Group in Spotlight After Mogadishu Truck Bombs Kill Over 200
Somalia experienced the deadliest attack of its ten-year battle with Islamist insurgents over the weekend, when a truck bomb packed with hundreds of kilograms of explosives detonated near a hotel in the capital Mogadishu.
Somalia's Information Minister Abdirahman Omar said on Sunday that 276 people had been killed and more than 300 wounded, the AP reported, with the death toll likely to rise.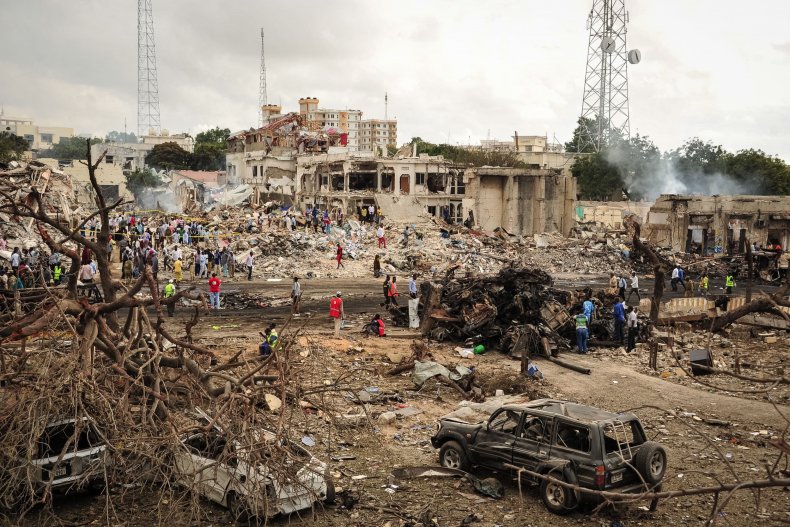 In the wake of the attack, attention has turned to Al-Shabab, an Al-Qaeda affiliate with which Somalia's federal government has been battling for more than a decade.
What is Al-Shabab?
Arabic for "The Youth," Al-Shabab is a Somali militant group that was spawned by the Islamic Courts Union (ICU), a coalition of shariah courts that briefly controlled Mogadishu in 2006.
Al-Shabab originated as the ICU's militant wing, and when Ethiopian troops invaded Mogadishu in December 2006 and ousted the ICU, Al-Shabab began its war on Somalia's government.
In 2012, Al-Shabab formalized ties with Al-Qaeda, becoming the international militant group's wing in the Horn of Africa.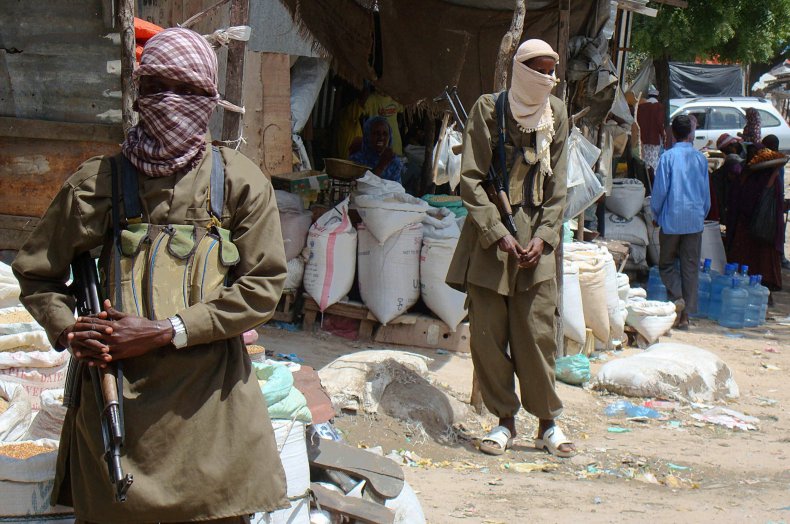 The group's rise is set against a background of decades of instability in Somalia. The Horn of Africa country has been mired in conflict since the outbreak of civil war in the early 1990s and has suffered from several humanitarian crises—including two major famines that killed a combined total of more than half a million people.
How much territory do they control in Somalia?
Somalia is divided into three main regions: the self-declared independent Somaliland, the semiautonomous region of Puntland, and southern Somalia, which is governed from the capital Mogadishu. Al-Shabab is concentrated largely in southern Somalia, with significant presence in many rural areas.
A 22,000-strong African Union force has been steadily taking back territory from Al-Shabab in recent years: the group was ousted from Mogadishu in 2011 and the key port of Kismayo in 2012.
Somalia's ex-president, Hassan Sheikh Mohamud, told Newsweek while he was president in 2016 that Al-Shabab controlled less than 10 percent of territory in Somalia.
Who is fighting Al-Shabab?
Since Somalia's armed forces have been decimated and divided by decades of conflict, the African Union Mission in Somalia (AMISOM) has been leading the battle against the militants. The force is composed of regional troops, with significant numbers from Uganda, Burundi, Ethiopia and Kenya. But AMISOM is due to withdraw from Somalia by 2020, raising fears that gains against Al-Shabab could be rolled back if the Somali military is unable to contain the group.
Kenya, which shares a 425-mile border with southern Somalia, invaded in 2011 after a series of cross-border raids by Al-Shabab. The move prompted Al-Shabab to declare Kenya a target in its insurgency, and the group regularly carries out kidnappings and killings along the border between the two countries.
What is the United States doing?
Washington has a long and chequered history in Somalia and has been carrying out covert operations there since at least 2001, according to the Bureau of Investigative Journalism, which has recorded at least 52 confirmed U.S. strikes in Somalia since 2007. U.S. involvement has taken out a number of key Al-Shabab officials, including the group's former leader Ahmed Godane, who was killed in a U.S. airstrike in 2014.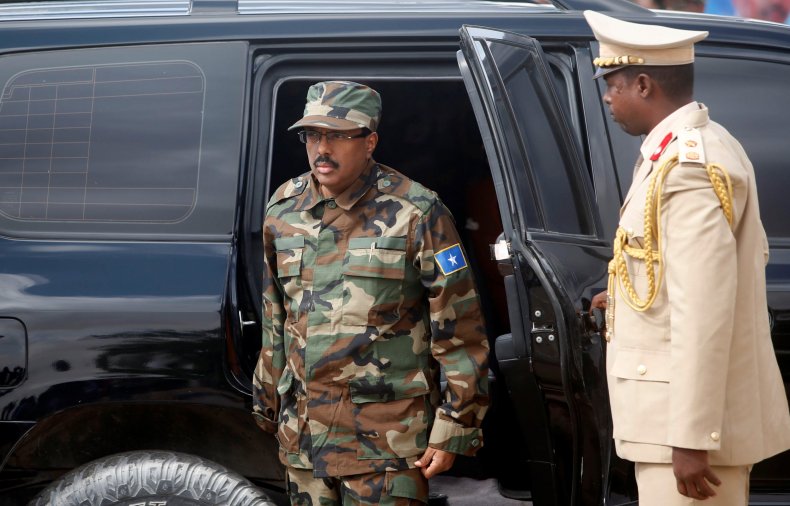 President Donald Trump has expanded U.S. powers to fight Al-Shabab, loosening the restrictions on airstrikes against the group and deploying a small number of ground troops to the country for the first time in decades. There have been at least 16 U.S. strikes in Somalia in 2017, but a U.S. Navy SEAL was killed in a confrontation with Al-Shabab in May, the first American military casualty in Somalia for two decades.
Did Al-Shabab carry out the truck bomb?
Al-Shabab has not claimed responsibility for Saturday's truck bomb, possibly due to the large civilian death toll and the possibility that the group would suffer reputational damage among ordinary Somalis as a result. Protesters gathered in Mogadishu wearing red headbands to symbolize their anger at the attack, and first responders described the bombing as the worst in a decade.
But government officials have pointed the finger on Al-Shabab, and the attack fits the group's tactics of using vehicle-borne explosive devices to target government institutions—the bomb detonated close to the ministry of foreign affairs.
A small band of Al-Shabab fighters broke away in 2015 and declared loyalty to the Islamic State militant group (ISIS), but it appears unlikely that the faction would have the strength or resources to carry out such an attack, according to experts.