Is the United States Getting Into Another Forever War in Somalia?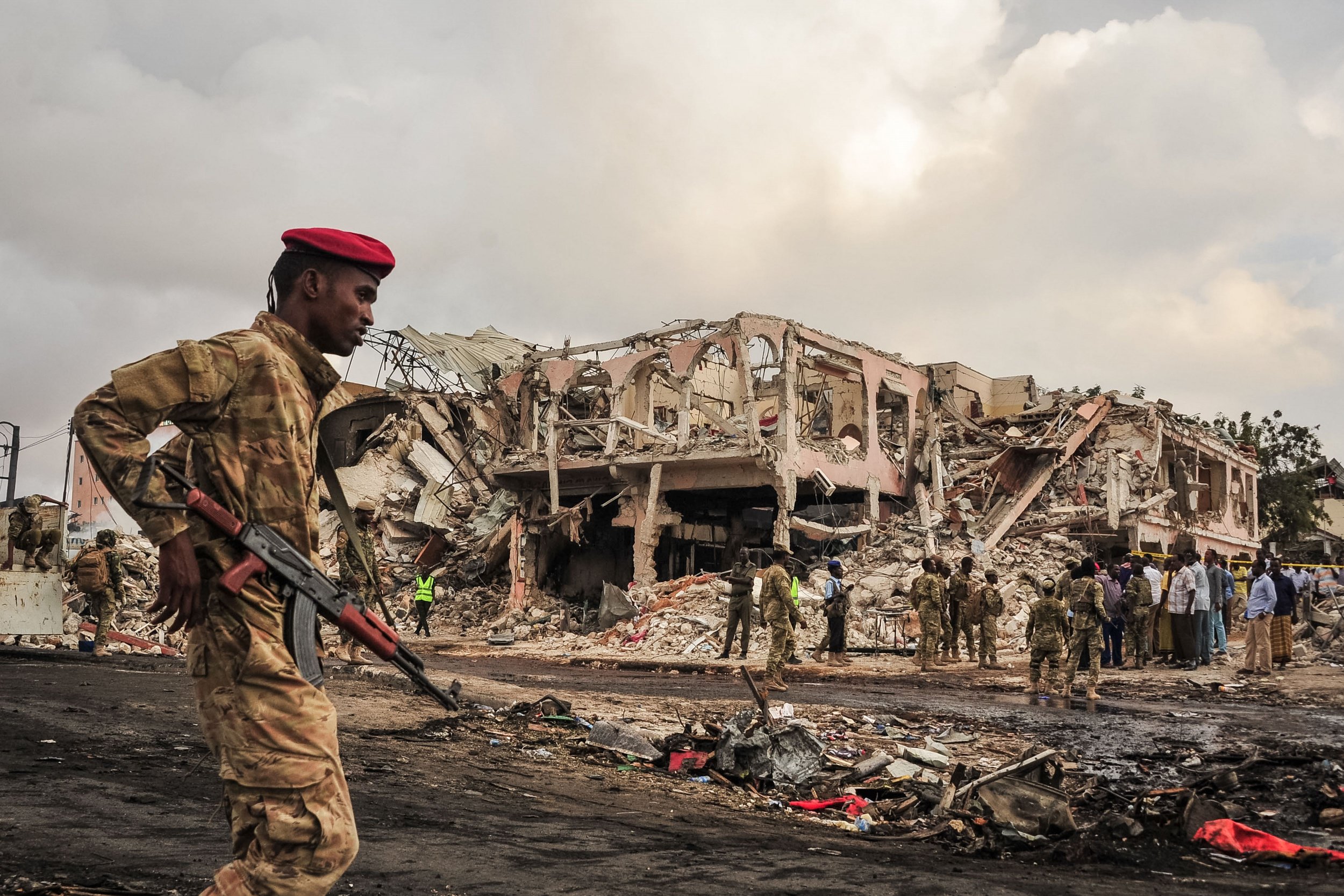 Somalia was the site of one of the U.S. military's biggest disasters in living memory.
Two Black Hawk helicopters were shot down and 18 U.S. soldiers killed in a failed operation to capture a warlord in the capital Mogadishu. The incident prompted President Bill Clinton to order an American withdrawal from the country and shaped U.S. military policy in Africa for years to come.
But not only have American troops returned to Somalia, but early this year, the United States suffered its first military casualty in the country since Black Hawk Down. A U.S. Navy SEAL—Senior Chief Special Warfare Operator Kyle Milliken—was killed during a joint U.S.-Somali raid targeting Al-Shabab, the Al-Qaeda affiliate waging war against Somalia's Western-backed government.
The death, combined with an aggressive stance adopted by President Donald Trump and a sharp rise in airstrikes targeting both Al-Shabab and a small, local branch of the Islamic State militant group (ISIS), has left some experts questioning whether the United States is embarking on another long war in Somalia, just as its military activity elsewhere—in Iraq and Syria, for instance—appears to be winding down.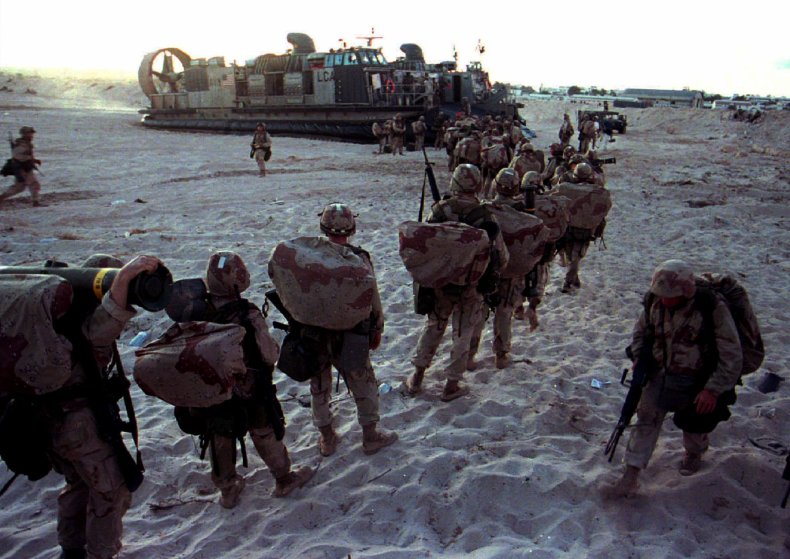 Robyn Mack, a spokeswoman for the U.S. military command in Africa (AFRICOM), told Newsweek that 27 strikes had been carried out in Somalia in 2017 as of November 13. AFRICOM later released a statement detailing a strike against Al-Shabab militants on November 14, taking the year's total to 28.
That figure eclipses the number carried out in 2016, according to most sources: the Long War Journal and the Bureau of Investigative Journalism—both of which record U.S. military actions in Somalia—counted 15 and 14 strikes in Somalia in 2016, respectively.
The Pentagon also confirmed on Thursday that the number of troops in Somalia stands close to 400, a significant increase from the estimated 50 on the ground earlier in the year.
Lieutenant General Kenneth McKenzie Jr., director of the Pentagon's Joint Staff, denied that there has been a "ramp-up" in activity in Somalia and said that recent strikes were the result of long-term vetting of targets. "There's no particular rhythm to it, except that as they become available and as we're able to process them and vet them, we strike them," McKenzie said in a press briefing.
Read more: Somalia's Al-Shabab in spotlight after Mogadishu truck bombing
Covert U.S. operations have been ongoing in Somalia since at least the early 2000s, but Washington has always sought to keep troops at arm's length from the chaos on the ground. U.S. military actions have been largely limited to drone and airstrikes, with Washington insisting its presence was in an advise-and-assist role and that Somali security forces were taking the lead.
Milliken's death in May cast doubt on that claim. A top U.S. general said that Milliken was on an "advise, assist and accompany mission" with Somali forces, and that U.S. forces and their Somali counterparts were traveling in a single group when they came under fire. Thomas Shannon, a senior State Department official who was acting as Rex Tillerson's deputy at the time of Milliken's death, told Newsweek in May that U.S. troops were not on the frontline in Somalia, but that "advise and assist is sometimes from a distance and sometimes not."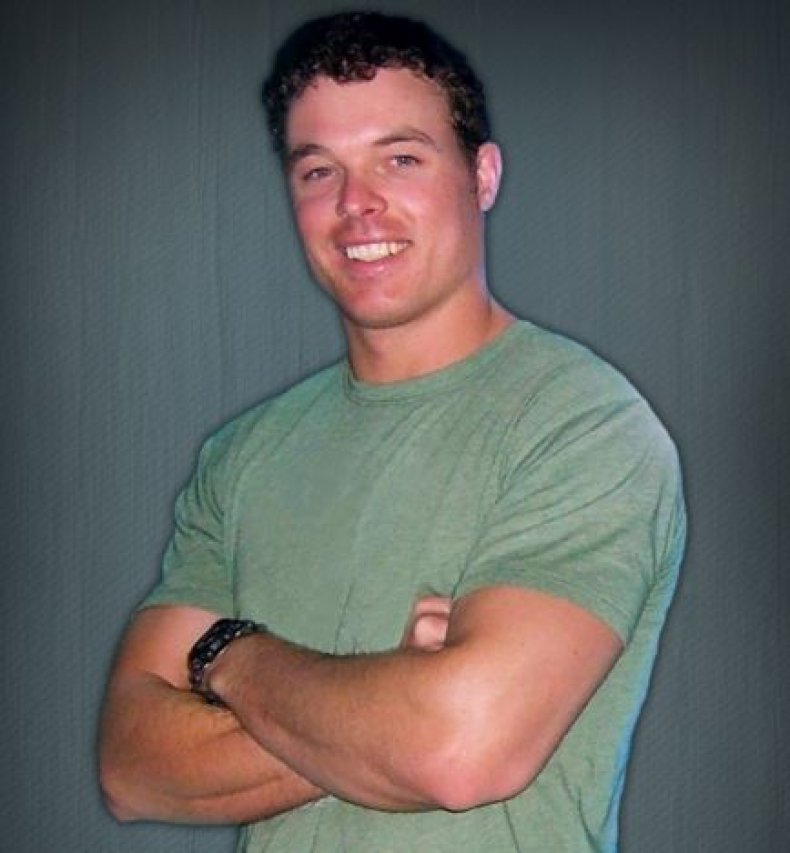 Tricia Bacon, a former counterterrorism analyst at the State Department and now assistant professor at American University, says that American troops appear to expanding their roles. "I think that there is already some mission creep going on and there is a possibility of more," Bacon says.
Ostensibly, the U.S. mission in Somalia is purely based on security. For the past decade, Somalia's fragile federal government and embattled national army has been fighting against Al-Shabab, an Islamist militant group that formalized its ties with Al-Qaeda in 2012.
The Somalis have been assisted in this by a 22,000-strong African Union force—known as AMISOM—which has done most of the ground-level fighting in recent years and has received significant funding from the United States, among others.
While AMISOM and Somali forces have retaken major urban centers previously under Al-Shabab's control, the group's capacity for violence appears undiminished. Al-Shabab was blamed for a massive truck bombing that killed more than 300 people in Mogadishu in October. The attack was the deadliest in Somalia's history.
The battle against Al-Shabab has been complicated by several factors. Firstly, AMISOM is scheduled to withdraw from Somalia by 2020. The drawdown due to begin with 1,000 troops leaving in December, a move opposed by Washington. Secondly, a small ISIS branch has sprung up in northern Somalia—led by an Al-Shabab defector, Abdiqadir Mumin—and has begun launching minor attacks.
AFRICOM spokeswoman Mack says that the "overarching goal" of the Pentagon's operations in Somalia is to help its government "provide a safe and secure environment for the people of Somalia, and deter organizations such as Al-Shabab and ISIS." (The U.S. launched its first airstrikes against ISIS in Somalia earlier in November.) On the question of AMISOM's withdrawal, Mack says that the U.S. is urging for a "well thought-out, conditions-based handoff" to ensure that Somalia's security forces do not relinquish the gains made against Al-Shabab.
In a bid to bolster those counterterrorism efforts, President Trump broadened the scope of U.S. airstrikes in Somalia in March. The president designated large parts of the country as areas of active hostilities, reducing the requirement for high-level, interagency vetting of targets before strikes are carried out. Mack says that the additional authority granted by Trump "helps deny terrorists safe havens from which they could attack U.S. citizens or U.S. interests in the regions or our allies."
But the enhanced authorities also appear to have led to civilian casualties. U.S. and Somali forces conducted a joint raid on the town of Bariire, 30 miles west of Mogadishu, in August. Somali forces killed 10 civilians—including three children—in the raid, prompting protests from the families of those killed, who are members of a powerful clan in Somalia that has traditionally backed the government. AFRICOM confirmed in August that it had taken a "supporting role" in the operation and was investigating allegations of civilian deaths.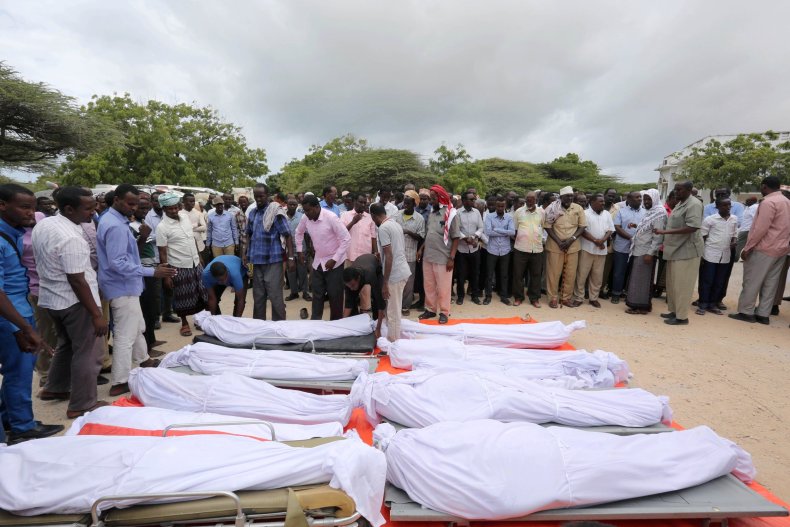 Bronwyn Bruton, the deputy director of the Africa Center at the Atlantic Council, says that the enhanced authorities granted by Trump "have been detrimental to the fight in Somalia" by increasing civilian casualties and forcing U.S. forces to take sides in clan warfare.
"The U.S. is also suffering a blow to its reputation in the country," Bruton says. "The U.S. was the only actor in this entire conflict that was actually seen to put a premium on protecting civilian lives...That had real value in terms of promoting democracy and winning hearts and minds—and that advantage has been lost."
The next few months could prove determinative to the U.S. military's long-term strategy in Somalia. The country's president, Mohamed Abdullahi Farmajo, who was elected in February, has increased operations against Al-Shabab since the Mogadishu truck bombing. How the strategy progresses may provide an indication of how well Somalia will fare when AMISOM pulls out, and whether the U.S. may need to hang around to pick up any slack.
According to Bacon, Somalia will remain a priority due to Al-Shabab's links with Al-Qaeda. And while the Trump administration will likely continue to focus on counterterrorism rather than state-building, Bacon says that the possibility of more U.S. boots on the ground should not be ruled out.
"It is difficult to predict what the Trump administration will do but it has seemed more willing to deploy U.S. troops than the last administration, so I would think this option would be on the table," she says.