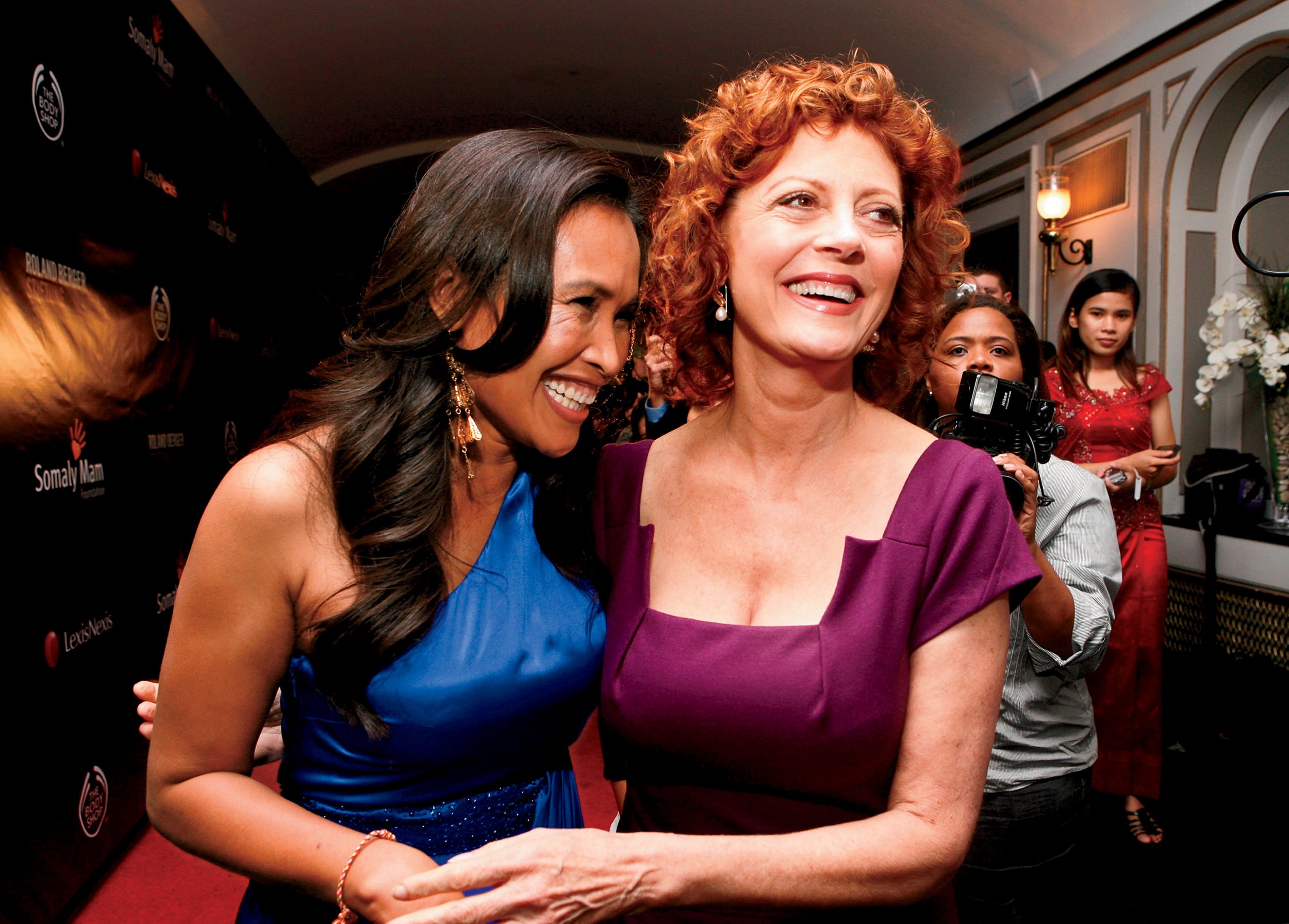 The Somaly Mam Foundation, a nonprofit organization dedicated to combating sex trafficking in Cambodia, has "officially ceased all operations, ended all grant funding and permanently closed [its] doors," the foundation announced in a statement October 18.
Although the statement, signed by the foundation's former board of directors, did not say why it had shut its doors for good, the foundation and its eponymous founder, Somaly Mam, have hemorrhaged popular support after journalist Simon Marks wrote a cover story about Mam for Newsweek in May.
In his story, Marks showed that many details of Mam's life story—including her tale of being abandoned by her parents and raised by a tyrannical character she called "Grandfather," who later sold her into sexual slavery—were fabrications. He also reported that Mam had instructed young Cambodian girls to lie about their pasts as sex slaves to drum up backing for the Somaly Mam Foundation. Marks interviewed employees of AFESIP, Mam's charity in Cambodia, one of whom called Mam "tyrannical," "moody," "erratic" and "entitled," a far cry from her beneficent public image.
In April, before that story appeared in Newsweek, but after Marks had made repeated requests for an interview with Mam as part of his reporting for Newsweek and Cambodia Daily, Gina Reiss-Wilchins, the Somaly Mam Foundation's executive director, announced the foundation had retained the law firm Goodwin Procter to conduct an independent investigation into questions about Mam and her methods. The results of that investigation were not released to the public, but, "as a result of Goodwin Procter's efforts," the board accepted Mam's resignation from the foundation at the end of May.
In a statement from June that has vanished along with most of its website, the Somaly Mam Foundation announced it would rebrand, rename and relaunch itself in the wake of Newsweek's cover story and the subsequent independent investigation by Goodwin Procter.
Mam gave no interviews and made no attempt to defend herself until September, when she spoke to journalist Abigail Pesta for Marie Claire. "I was not silent," Mam told Pesta. "I had so many lives to fix." In her story, Pesta wrote Mam's retreat from the spotlight "reveal[s] a cultural chasm." Pesta wrote:
In the West—where media savvy is part of the drill of being famous—it was assumed that, because Mam had become an international figure, she had lawyers or public relations gurus at her disposal to manage her message. Her silence for months, then, was taken as confirmation of the truth of the claims against her.

Living a world away in Cambodia, one of the poorest places on earth, Mam had a different perspective. "I didn't need a lawyer. Lawyers are all about money. You can kill people and have a lawyer, and if you're rich, you can go free," she says. "I did nothing wrong. My heart is my lawyer.
But Mam did have public relations gurus at her disposal. Hours after Pesta's story appeared in Marie Claire, Mam landed in New York and began a public relations blitz. Mam's publicist, Scott Gorenstein, who also represents Liza Minelli, wrote in an email to journalists:
Somaly Mam wants her dignity and reputation restored. It is her hope that having set the record straight, she can return to the work of rescuing and rehabilitating victims of human trafficking and to helping to halt sexual slavery in all its forms. Please let us know if you are interested to speak to Somaly Mam.
Two weeks after Mam's redemption tour began, Cambodia Daily reported that Cambodian Council of Ministers spokesman Phay Siphan said his government would prevent Mam from starting another foundation. "We are not going to allow her to run this kind of activity again," he wrote. Siphan called Mam's fabrications a "breach of trust, because she used a huge amount of international money."
Siphan later changed his statement. "Since the miss-code [sic] by some articles and publicly articulated, may I reiterated that Royal Government of Cambodia have no intention of blocking or detouring the humanity activities of AFESIP as well as Mrs. SOMALY MAM for ongoing operates in the Kingdom of Cambodia," read a statement by Siphan sent to Newsweek.
Which brings us to today. Will the Somaly Mam Foundation truly close its doors or is this part of its "rebranding?"