Some Americans May Need Fourth COVID Vaccine Dose by End of March
It's unclear how often the general public will need booster doses of the COVID-19 vaccine, but the Centers for Disease Control and Prevention (CDC) is already recommending some people get a fourth dose about six months after their third.
Adults who are "moderately" or "severely" immunocompromised may consider receiving four total COVID-19 shots with the fourth occurring six months after their third dose. Eligibility for booster doses officially began in September, putting Americans eligible for a fourth dose of the mRNA vaccines on track to receive the additional shot by the end of March.
However, some people received booster doses in August before the CDC's official recommendation, making them potentially eligible for a fourth dose before March.
The CDC's fourth dose recommendation is only for immunocompromised individuals who received the Pfizer or Moderna vaccine as their primary inoculation. Immunocompromised people who received the Johnson & Johnson vaccine are currently only advised to get a second dose at least two months after their primary dose.
"A person who received one primary dose of Janssen COVID-19 vaccine should not receive more than two COVID-19 vaccine doses," the CDC website reads.
Newsweek reached out to the CDC for comment.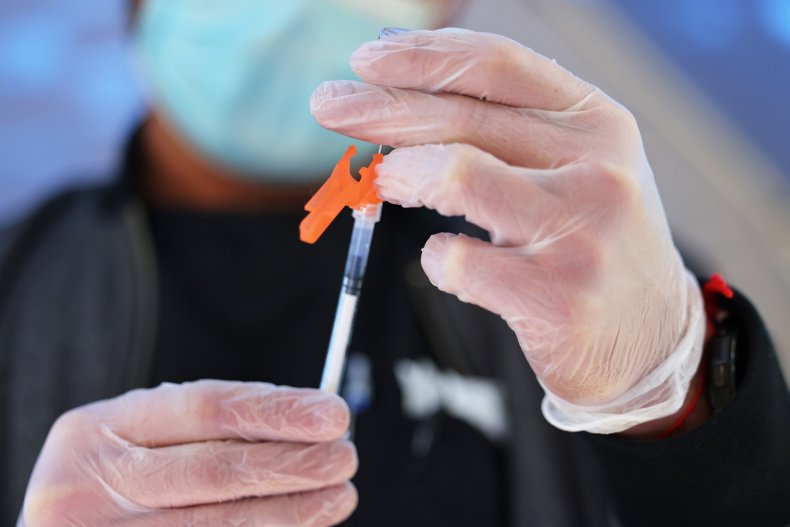 Adults who received one of the mRNA vaccines are eligible for a booster dose six months after their initial series if they're over 65 years old or have underlying medical conditions. Those over 18 who live in long-term care settings or work or live in high-risk settings are also eligible. All adults who received a one-dose shot of Johnson & Johnson's vaccine are eligible for a second dose two months after they received their shot.
While booster doses aren't uncommon for vaccines and people need to get a flu shot annually, the increasing number of shots needed to protect against COVID-19 has sparked some criticism. On the backdrop of vaccine mandates to participate in society, some have speculated mandates will be updated to include boosters and people have been left wondering how frequently boosters will be necessary.
The simple answer to the question about how often boosters will be needed is "we don't know." It's possible booster doses could be needed every year or even every six months, according to Dr. Mohammad Sobhanie, an infectious disease physician at Ohio State University Wexner Medical Center. But, as has been the case with many aspects of COVID, it's still relatively unknown.
"I think there will be a time where we think about this as a yearly flu vaccine," Sobhanie told Newsweek. "But the exact timing of that? I'm not sure at this point. Everything is a moving target."
Sobhanie noted that it's also possible the timing of booster doses could vary depending on the person. While adults generally only need a tetanus shot every 10 years, pregnant women are advised to get a shot in the early part of the third trimester of every pregnancy.
Regardless of the timing of booster doses, Sobhanie advised people to get the additional shot whenever it becomes available to them, especially if they're over 65 years old or immunocompromised.
"I have seen patients who were scheduled for their third dose and wound up getting COVID," Sobhanie said. "It is the most protective thing we have at this time against COVID-19."