Some Anti-Vaxxers Are Allegedly Gargling the Antiseptic Betadine as a COVID 'Cure'
Some anti-vaxxers are gargling the common antiseptic Betadine in an attempt to treat and prevent the coronavirus. These claims follow a video posted by an alleged doctor on Twitter and Facebook and have been proven false by experts.
The video garnered more than 155,000 views although experts have stated ingesting the antiseptic is highly toxic. The Thai caption under the video translates, "doctor suggests boosting immunity to prevent Covid-19 by gargling povidone-iodine, protecting the virus from entering the lungs #TokMaiTiang."
The video was widely shared across various social media platforms with many believing the "doctor" in the video was a licensed physician but it was quickly debunked by AFP.
Betadine – the brand name for povidone-iodine – is an antiseptic commonly used to kill bacteria in wounds and is occasionally used as a douche. It is widely used in emergency and operating rooms as a disinfectant. In some cases, a low 0.5 percent Betadine can be gargled to treat a sore throat but it clearly states on the warning label that it should not be swallowed.
"Betadine® Antiseptic First Aid products have not been approved to treat coronavirus," reads an official statement on the Betadine website. "Products should only be used to help prevent infection in minor cuts, scrapes and burns. Betadine Antiseptic products have not been demonstrated to be effective for the treatment or prevention of COVID-19 or any other viruses."
The statement continues on and says that the antiseptic sore throat gargle should only be used to relieve a sore throat and does not work to treat or prevent the virus.
Health experts are also warning people that ingesting the antiseptic is both toxic and not helpful in fighting off the virus. Swallowing the topical solution in large quantities can even lead to iodine poisoning and kidney failure.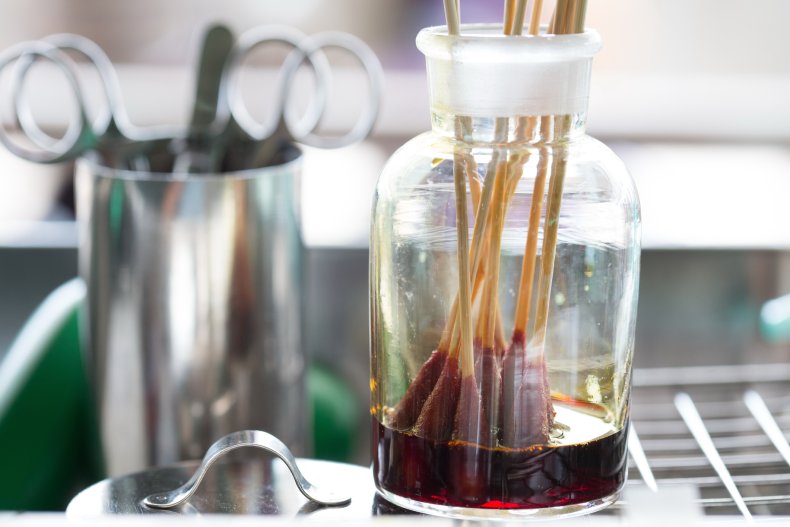 Yet, people are ignoring expert's warnings and the insufficient evidence and are taking to social media to promote the use of Betadine to combat COVID-19. Many are claiming that several studies back the video, but those studies only show some reduction in tissue samples and do not show any effect in regards to anti-viral efficacy.
"...also, got the nitric oxide nasal spray and betadine iodine gargle both of which have shown to radically reduce viral load in upper respiratory airways and potentially blunt virus proliferation into lower airways," wrote one user on Twitter.
"Betadine nose spray and throat gargle 4x/day. I was taking all these except IVM before I got sick. Betadine as soon as I found out I was exposed," someone wrote in a Twitter thread about COVID-19 prevention and treatment.
Another user wrote on Twitter, "They're not saying to ingest it though. Betadine is a throat gargle I've used when I've been sick and in the 4 examples they give NO-ONE says to ingest it. They're saying it may help with symptoms, that's it."
Even if you are not ingesting Betadine, the studies still don't show that gargling the solution will help with symptoms from the virus – just the sore throat. There is insufficient evidence that proves the antiseptic relieves any other symptoms of COVID-19 or prevents the spread.
The immediate side effects of ingesting Betadine or any povidone-iodine antiseptic include nausea, vomiting, general weakness, and diarrhea. In severe cases, Betadine ingestion can lead to acute renal failure, cardiovascular collapse, liver function impairment, shortness of breath, low blood pressure, and even death.
Experts recommend seeking medical advice immediately or calling poison control if you believe Betadine gargle is swallowed.