Some California Teachers Offered Temporary Pay Raise to Return to Classrooms to Fully Reopen Schools
The Sweetwater Union High School District is offering bonuses to teachers that choose to return to in-person learning.
"Our community highly values teachers, and in this instance this incentive is an acknowledgement of the manner in which teachers have had to provide additional supports to students by changing their pedagogy multiple times during the pandemic," Interim Superintendent Moises Aguirre wrote in an email to Newsweek.
The district, based in Chula Vista, California, approved a one-time 7 percent pay increase for teachers who return to classrooms on April 12 as well as a 2 percent bonus in May and June for teachers who return by May 3. The money is meant to entice teachers to return to their classes so the district qualifies for state school reopening incentive money, The San Diego Union-Tribune reported.
"I don't think there is an amount of money that's going to convince those folks that it's safe to return yet," Cesar Fernandez, vice president of the Sweetwater Education Association, said to Fox 5 San Diego. "Just because of what we see in our neighborhoods and Sweetwater has some of the most impacted zip codes in the county as far as COVID, so I just don't think that money really is the convincing issue for these teachers."
The city of Chula Vista had more than 28,000 daily COVID-19 cases as of March 24, representing 11 percent of the total cases in San Diego County, according to county data. Fernandez said a payment that amounts to about $400 in reality is probably not enough to encourage teachers to risk COVID-19 infection in classrooms.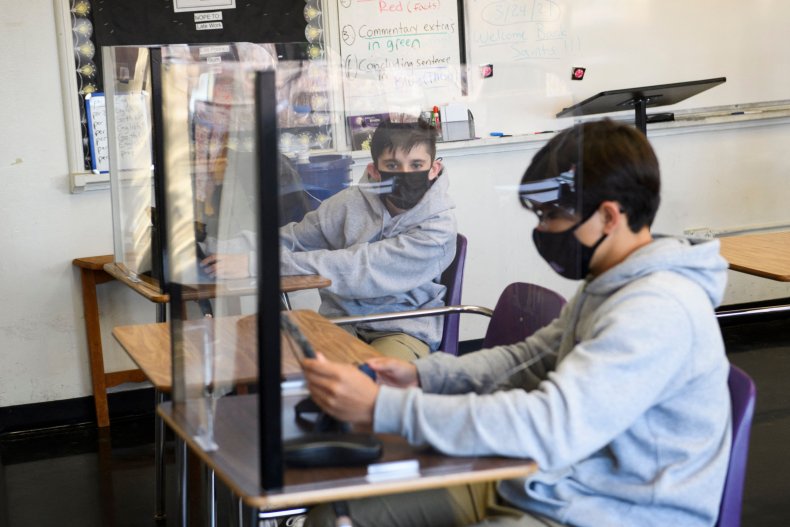 "I would not characterize them as a bonus. I would characterize them as an incentive," Aguirre said to the Union-Tribune. He added that the money accounts for $1.5 million of the $12.6 million in reopening incentives that the Sweetwater Union High School District is aiming to receive from the state.
Sweetwater is not the only California school district considering monetary incentives for teachers. The San Ysidro School District is offering a $1,400 payment to teachers who provide in-person help to at-risk students one day a week and $4,950 stipend to teachers who choose to teach in-person two days a week while keeping all other instruction virtual, the Union-Tribune said.
These schools are under pressure to reopen in time to receive reopening incentive funding from the state. In order to qualify for the reopening money from the state, the schools must open for certain grades by April. One percent of the reopening funding the school is eligible for will disappear for every day past April 1 the school does not reopen, the Union-Tribune reported.
"We will make funding decisions as appropriate, but really wanted to focus on supporting the state guidance we are receiving towards reopening of schools to our students living along the border and who were heavily impacted by Covid-19," Aguirre said.
Sweetwater Teachers Union President Julie Walker told the Union-Tribune that before the bonuses were offered, there weren't enough teachers volunteering to return by April 12. If too few teachers volunteer and the district does not qualify for the funding, the bonuses will not be paid.
Walker confirmed in an email to Newsweek that over 500 teachers said they were voluntarily returning on April 12 as of Saturday.
According to California state law, the school reopening money may legally be allocated toward the salaries of in-person teachers in addition to COVID-19 testing, cleaning, personal protective equipment, ventilation and other health and safety-related changes as well as mental health services.
The Sweetwater Union High School District will require all teachers to come to work in-person on May 3. Aguirre said since the incentive has been made available, there has been an increase in the number of teachers who are willing to return to in-person instruction without being fully vaccination. He added any negative feedback from parents and community members has been "fairly minimal."
Updated 3/27/21, 3:48 PM ET, to include comments from Aguirre and Walker.