Some Chicago Teachers Hold Classes In the Snow to Avoid COVID Risks Inside Schools
Chicago teachers are braving the snow and holding classes outside as Chicago Public Schools (CPS) and the Chicago Teachers Union (CTU) continue to meet at the bargaining table.
What began as a symbolic first day back transpired into a movement after Chicago Mayor Lori Lightfoot called on teachers to return to in-person classrooms.
Kirstin Roberts, a pre-K teacher, was asked to return to in-person on January 6 as part of wave 1, but she said none of her coworkers felt safe to do so. Roberts was especially concerned as she lives with her elderly mother.
"We decided that instead of going inside the building to teach our remote students, we would teach outside," Roberts told Newsweek. "It was snowy and it was cold."
The preschool team was the first group to be called back, but Roberts said they were quickly joined by other colleagues who wanted to show support.
"We set up small tables in our courtyards. We were lucky the internet reached into the courtyard. Some of us taught class off our phones. Parents brought us hot coffee and set up a little backyard fire pit for us on the sidewalk," she recalled. "We taught our preschoolers and kindergarteners and the rest of the kiddos online like we do every day, but we did it in the snow."
Although the teachers returned to their homes to continue teaching virtually the next day, the outdoor class caught the attention of other teachers concerned about their health and safety amid the coronavirus pandemic.
Elementary language arts teacher Dwayne Reed decided to follow suit when he was called back to work last week. Although the first day was manageable, he quickly realized on the second day what exactly he had signed up for.
"The wind started blowing unbelievably. I had a blanket and I was using the blanket as a cover but it became a wind tunnel and it was like a parachute," he told Newsweek.
Despite the cold weather, Reed, whose wife is pregnant with their first child, said he remains determined to continue teaching outside to avoid mitigate the risk of bringing COVID-19 home.
"I know that I can do my job effectively from my home," he said. "I just want to protect my wife and my child."
Roberts said she would continue teaching outdoors too if that's what it will take for CPS to reconsider sending teachers back at this time.
"It started at the school I work at and has spread to other buildings and other teachers are taking that stance. It's really a way to demonstrate how scared we are of the buildings and to make public what some of our concerns are," Roberts said. "I would certainly do that again."
Lightfoot initially insisted that K-8 teachers show up for work in person on Monday, or risk being locked out of their virtual classrooms.
But after most school buildings remained mainly empty, and CPS and CTU reached tentative agreements Monday night, it was announced that students would continue virtual learning through Wednesday after the district called for a "48-hour cooling off period."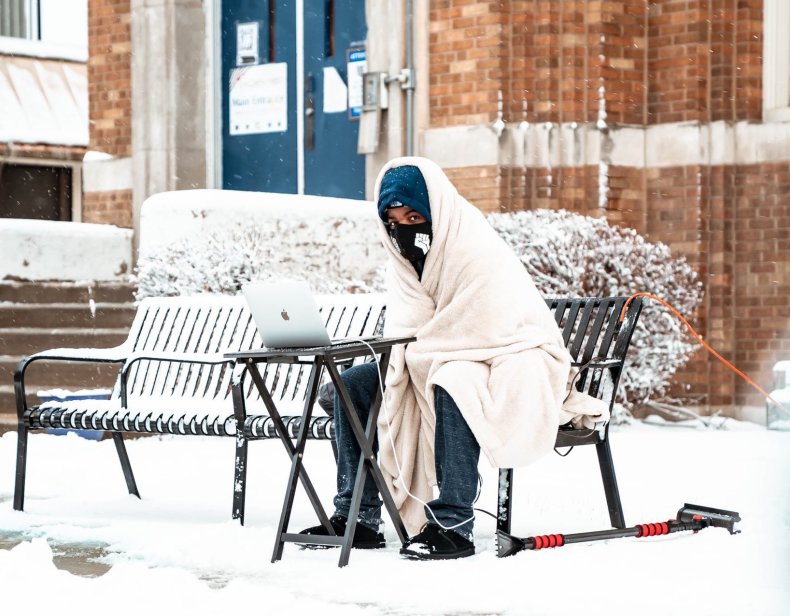 "Teachers need accommodations," elementary music teacher Quentin Washington told Newsweek. "We need to be able to say hey, I'm very uncomfortable with teaching in this building because I have a loved one at home who's at risk."
Washington, who is also on the executive board of CTU, also taught a few of his classes outside after CPS told him he was to return to in-person learning on January 12. If he didn't, he would be considered absent without leave (AWOL) and locked out of his classroom.
"The next day, I did actually go to the building—that's why they let me in [to the virtual classroom]—but with the intent of still teaching remotely outside of the building," he said. "I didn't want to be in that building because I really don't feel safe in there."
He said he was locked out after that day and has remained barred from his classroom.
CPS Communications Director Emily Bolton told Newsweek that Washington would be part of a small number of educators who were considered AWOL after not returning to in-person as part of wave 1. "Unless they went back into the building to work," these teachers will continue to be marked as AWOL, she said.
Washington says Chicago teachers should not only be provided a safe reopening plan, but have access to vaccines if CPS insists they return to in-person learning.
"Every teacher should have the opportunity to vaccinated before being asked to go back into that building," he said. "I understand there are vaccine shortages, but prioritize us. I'm not saying jump us ahead of the doctors and nurses. Of course they need to be vaccinated. They're dealing with sick people in a hospital in real-time, but we're essential workers too. If you're saying that we're essential, you need to vaccinate us."
CPS teachers are scheduled to begin getting vaccines this month.
Chicago schools moved online last March as the coronavirus pandemic swept the U.S. When schools reopened in the fall for the 2021-2022 school year, CPS said classes would remain virtual, but in November, the district announced that classes would return to in-person instruction after the winter break.
"Why should Chicago stand out when everybody else across the country has been able to safely do this? Why should CPS stand out when private and parochial schools in Chicago have been operating since the beginning of the school year?" CPS CEO Dr. Janice Jackson said on Sunday, according to the Chicago Sun-Times.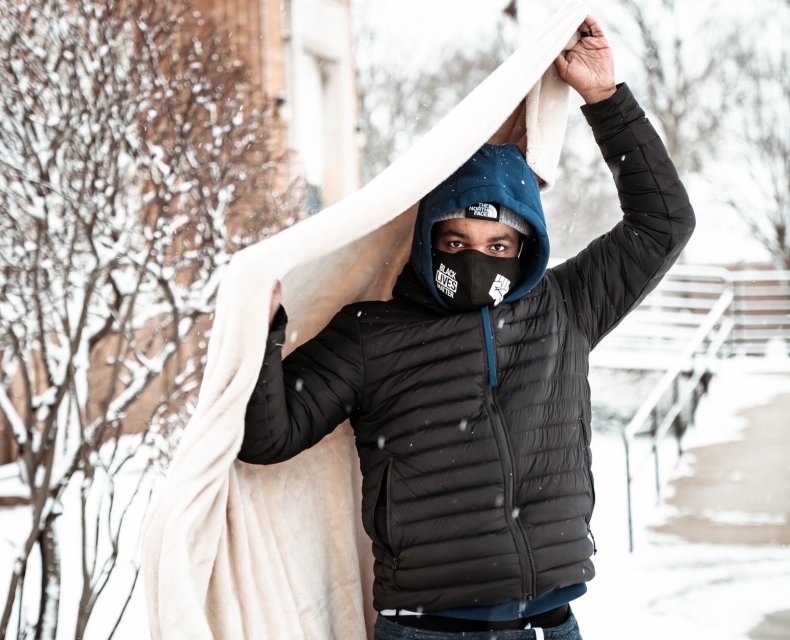 Washington said that teaching from remote has allowed him to conduct lessons that wouldn't be possible in-person.
"Prior to the lockout, my students were working on recorders and I was teaching them to read music," he explained. "I can't have them blowing on the recorder in my classroom in person. That would require them to remove their face mask and it would require them to blowing aerosol in the air."
He said limiting his curriculum seems even more detrimental when factoring in how many students this would impact. Washington said that only 20 percent of students are planning to return to in-person classes, but CPS is calling back 80 percent of their staff.
Jacob Martin, a middle school math teacher, echoed those confusions about the urgency to return to schools when most children have opted for the remote option. He said it is important for CPS to continue developing online teaching plans so that all students receive the same quality of teaching.
"Most teachers, most families and most principles have made it known that they don't think this plan is safe," he said. "I think it's important for a district, the third-largest district in the whole country, to make sure they're actually listening to the stakeholders who are involved in their education."
Martin, who has luckily remained indoors when teaching, called Monday "anxiety-inducing."
"After every class or during every class, my wifi would get a little sketchy and I was like is it happening now? But I ended up not getting locked out, which I'm really thankful for," he said. "I was able to see, talk to and continue to teach my students, which is exactly what we want to do."
But Martin is hopeful that the two parties will strike a deal and that if teachers end up returning to schools, they will be able to do so safely.
"Part of the hope comes from the fact that the mayor and the CEO of CPS have been constantly threatening us that they're going to lock us out, that they're going to declare us AWOL," he said. "But, they keep stepping back on that and allow us to keep teaching because I think they realize they need us to continue teaching and that's what we want to do. We want to keep teaching our students."
In a statement made Monday evening, Jackson and Lightfoot said, "teams remain at the bargaining table with the goal of reaching a sensible agreement that allows Chicago's students and teachers to safely return to the classroom."
With over 70 meetings conducted since June, Monday marks the first time CPS and CTU have reached tentative agreements.