Some College Students Are Buying Fake Vaccination Cards to Bypass COVID Testing
A professor at the University of North Carolina at Chapel Hill said Monday that he had spoken with students who knew where to buy fake COVID-19 vaccination cards.
Benjamin Mason Meier said in a Twitter post that every student he talked with knew a fellow student who had used one of the forged cards at the university. On Wednesday, he told Newsweek that hearing this information initially concerned him that "individual actions could threaten the community at large."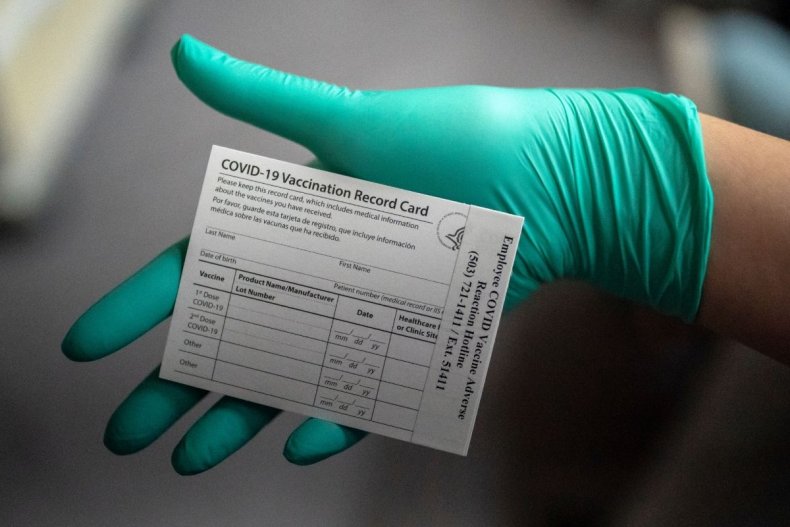 UNC-Chapel Hill students will return to campus in two weeks. When they do, they have to show a copy of their vaccine card before returning to campus or face weekly testing. However, Meier said some students are looking to cheat the system.
Meier is a professor of global health policy at UNC. On Monday, he tweeted about the presence of fake COVID-19 vaccine cards on his campus.
He wrote that he talked to "worried" students and that "every single one of them" told him they "knew exactly how to buy" a fake card and "knew a fellow student who had submitted one to the university."
He asked how the school would "respond to those who submit false medical information."
Speaking to Newsweek, Meier elaborated. "My worry is that lots of students will become sick. Universities will say that '95 percent of our students are vaccinated'—and that would shed doubt on the effectiveness of vaccines—when all it shows is that we lack the ability to show who is vaccinated who isn't," he said.
Meier also emphasized he didn't want to demonize students at UNC. Instead, he said, the issue is "universities haven't created enough accountability checks."
Local NBC affiliate station WRAL followed up on Meier's tweet by speaking with some UNC students. A sophomore, Simon Palmore, said he has overheard classmates talking about buying the fake cards to sell them around campus.
Palmore also said the cards are selling for up to $200 apiece.
"It is really disturbing the lengths that some students are willing to go to subvert the university requirements and really subvert their duty to their fellow students to keep everyone safe," he told WRAL's Lora Lavigne.
"I think if there was a vaccine requirement, the university would be forced to look more closely at these vaccination cards and verify that they're in fact legitimate," Palmore said.
On Wednesday, reporter Jackie Pascale of fellow NBC affiliate station WXII tweeted about a development in the story. She wrote that members of UNC faculty "will push for a vaccine mandate on campus during a special meeting, saying they do not believe requiring testing is enough."
"I imagine we'll move toward a system of greater accountability, but we're not there yet," Meier told Newsweek. "Universities' entire reopening plans are premised upon the word of students. Universities don't have in place the kind of rigorous checks that this pandemic requires."
Jonathan Sauls, the senior associate vice chancellor of student success and administration at UNC, provided WRAL with a statement regarding the matter.
"We trust our students to do the right thing, but for anyone who may be considering falsifying information about their vaccination status, we have a simple message: don't," his statement said, according to WRAL.
"Providing false information about vaccination status is a violation of University Honor Code and our COVID-19 Community Standards. Violations may result in disciplinary action up to suspension from the university," Sauls' statement said.
Newsweek contacted UNC for comment but did not hear back in time for publication.