Some Eastern Pennsylvania Voters Think Joe Biden is Repeating Hillary Clinton's Mistakes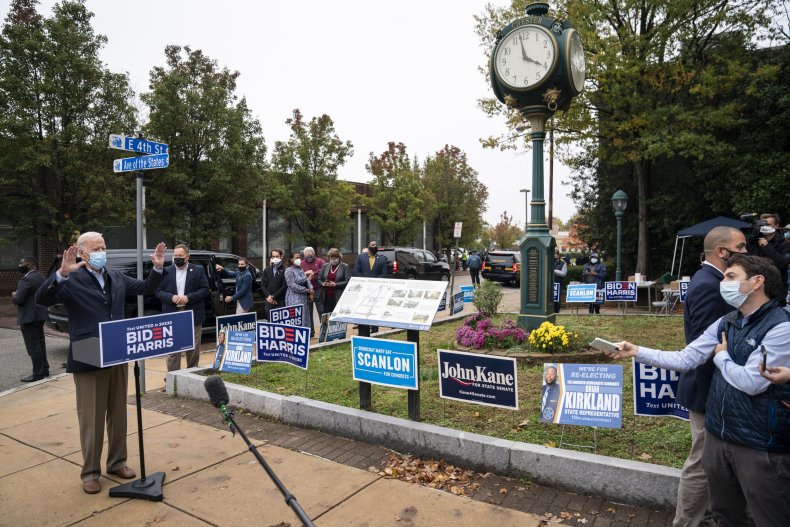 Donald Trump narrowly won Pennsylvania four years ago, striking a chord with voters who felt that they had been overlooked by his then-Democratic rival Hillary Clinton. Now some voters in Eastern Pennsylvania say they think that pattern is reemerging this year and that Biden could be making a similar mistake.
During call-in segments on WILK News Radio (WILK-FM/AM), (WBZU-AM), (WKZN-AM) that Newsweek took part in this week, multiple voters who identified themselves as life-long Democrats until the 2016 cycle said that Trump's frequent trips to the state and his appeals to voters persuaded them to vote for the Republican, and they said they are happy to stick with him this time around, even as polls show Trump badly lagging in most battlegrounds.
"Trump really, four years ago, really campaigned this state," said caller John, 70, of Luzerne County. "[Clinton] thought she had Pennsylvania in the bag."
For more than an hour, supporters of both Biden and Trump shared their insights, illustrating the debate that's taking place as voters cast their ballots and determine whether Trump will get a second term. On both sides, voters expressed confidence that their candidate is really in the lead—possibly foreshadowing the contentious fights over ballot tallies that could erupt in the election's wake.
Biden, 77, is a native of Scranton. Hillary Clinton's father was also from Scranton, giving both Democratic candidates deep ties to the community, but several voters said they weren't swayed and felt both candidates had forgotten Pennsylvania in their campaigns for president.
"Joe Biden left us behind a long time ago," said caller Frank, who added he thinks that if Trump loses the state, it would be because of a rigged system.
Radio host Jason Barsky told Newsweek that the calls during the segment painted a typical portrait of what he hears during the show as Election Day nears.
"There are a lot of people who feel like they were abandoned," Barsky said in a follow-up interview.
But not everyone's been swayed by Trump's push for Pennsylvania. Biden supporter name Bernie from Scranton argued that the ongoing pandemic has created a situation that's too serious for a "reality TV show-styled president."
"I think Joe Biden is going to win," he said.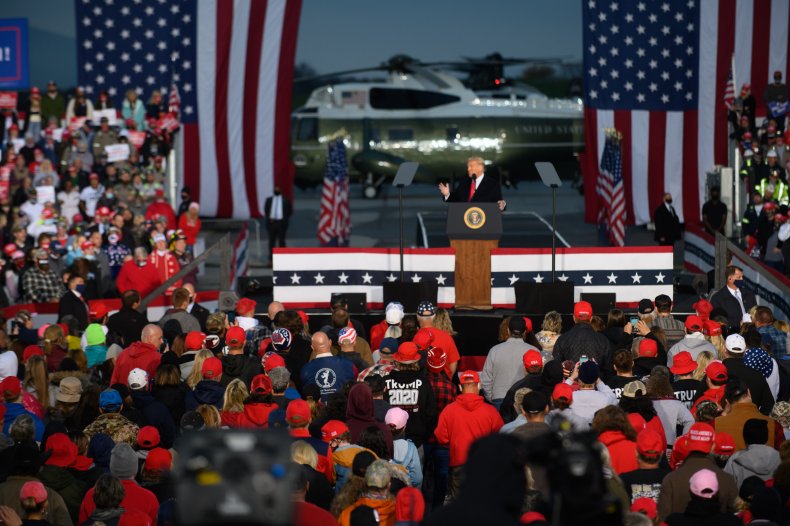 Trump, 74, attended college at the University of Pennsylvania, which is located in Philadephia, 120 miles from Scranton.
Some callers accused Trump of tapping into fears that have been stoked by the area's fragile economic situation.
Caller Dave chalked up Trump's win four years ago to "fake populism and racism."
Another caller said Trump is out of touch with the voters.
"He's a billionaire who doesn't give a damn about anyone in this area," said Biden supporter Mark.
Before Trump pulled off the 2016 upset, besting Clinton by less than a single percentage point, the state had not gone to the GOP presidential candidate since George H.W. Bush in 1988.
It's once again been identified as a crucial battleground this year, as Biden has an edge over Trump in most polls. According to RealClearPolitics' polling tracker, Biden holds nearly a 5-point lead over Biden in Pennsylvania. But the Trump campaign argues that the race is tightening, and Pennsylvania polls a week out from the election similarly showed Clinton up about 5 points.
"More and more poll numbers come out every day that show a tightening race," Trump campaign manager Bill Stepien told reporters on Monday as Trump held three separate rallies in Pennsylvania on that day alone.
Biden, who has limited his travel schedule throughout the campaign because of the ongoing pandemic, made a brief trip to Pennsylvania on Monday for a small meeting with supporters at a voter service center just across the Delaware state line. Biden told reporters he hopes to carry Pennsylvania "by the grace of God."
"The blue wall has to be reestablished," he said.
In a separate statement, Biden said Pennsylvania families "deserve a president who will fight every day for their families, their health care and their jobs."
Biden has opted for virtual events and drive-in rallies, while Trump has continued to hold multiple mass rallies, drawing packed crowds, every day.
Trump's campaign surrogates, featuring Vice President Mike Pence and Trump's three oldest children, have made repeated campaign swings through Pennsylvania. First lady Melania Trump also held an event there this week.