Some Hershey's Employees Want to Unionize, Say Workplace Not So Sweet
As many as 1,100 employees of a Hershey's Chocolate plant in Stuarts Draft, Virginia, are considering unionizing after complaining of a relentless work schedule in a demoralizing "prison"-like environment.
"It's known as the Hershey prison and we get home release," Hershey's employee James Gibson said in a video released by More Perfect Union on Thursday. "I've worked 33 days straight...people are going on their breaks and just not coming back and not wanting to be a part of it and leaving."
Former Hershey's employee Janice Taylor recalled working 72 days without a break and allegedly being denied time off if she could not cover her shifts while she was at the plant.
"I was exhausted both physically and mentally," said Taylor in the video. "Did I try to get days off? Yes. I was denied that weekend unless I got my own coverage. We were considered essential employees, So yes, the overtime was there. Yes, the overtime was forced."
Taylor said that she had "no doubt" that she was fired for supporting the unionization effort and claimed that management had been monitoring her pro-union activities online before she was let go allegedly for returning from a break 14 minutes late.
"They obviously had people or agents watching our Facebook posts or our social media," Taylor added.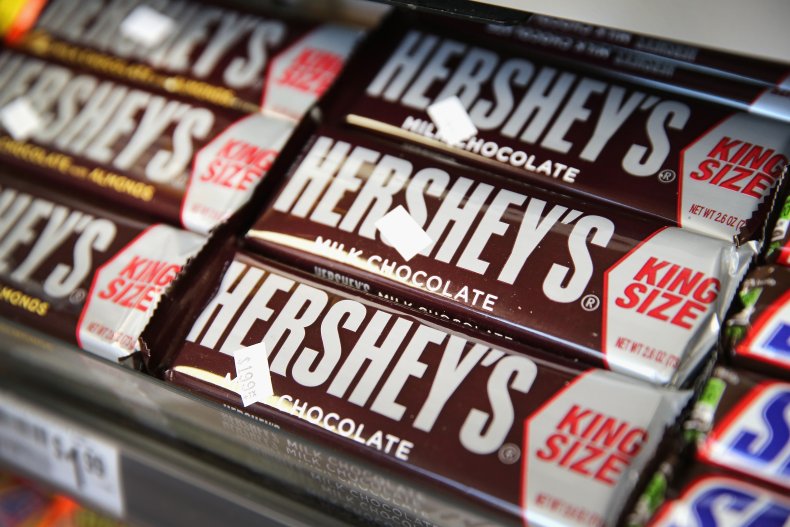 Some of the workers also complained of nepotism and what they said was an inequitable two-tiered pay structure, with "tier one" employees receiving significantly more pay and vacation time than others.
"There's not really much room for advancement if you're not in one of the cliques [or] if you're not a family member of someone that's in power," said former employee Eve Crutchfield.
Director of Organization John Price of The Bakery, Confectionery, Tobacco Workers and Grain Millers' International Union (BCTGM) said in the video that unfair labor practice charges would be filed against Hershey's and that the union was "not going to turn our heads on spying on union activities."
A website allegedly put up by Hershey's warned plant employees that unionizing would subject them to union leaders taking "gambles with employees' wages and benefits" and that the plant "always puts its employees first."
The site claims that a union is "a business with goals, objectives, philosophies, and rules that don't always align with those of the company and our employees."
It denounced BCTGM (the same union that represented Kellogg's workers on strike last year) for causing "over 1 million workdays lost over 10 years due to strikes." It also accused the organization of "criminal activity."
Workers at the Hershey's Stuarts Draft facility had a change in management amid the push for unionization, with a new plant manager taking over earlier this month. Price told The News Leader that the change may have been part of an anti-unionization tactic that attempts to calm displeased workers.
"Hershey is committed to being an employer of choice for our teams in Stuarts Draft and around the world," Jeff Beckman, director of corporate communications for The Hershey Company, said in a statement to Newsweek.
"While we respect our team members' right to make an educated decision on whether they want to be represented by a third-party like a union, we believe the insertion of a union would be counter-productive and undermine the open and collaborative environment that has allowed the Stuarts Draft plant to thrive for nearly 40 years," added Beckman.
Workers at the plant are expected to begin voting on unionizing next week, with ballots to be counted on March 24.
Newsweek reached out to BCTGM for comment.
Update 02/18/22, 4:10 p.m. ET:This article has been updated to include a statement from Jeff Beckman, director of corporate communications for The Hershey Company.