Some Key Republicans Are Working to Help Biden Beat Trump. What Do They Want if They Win?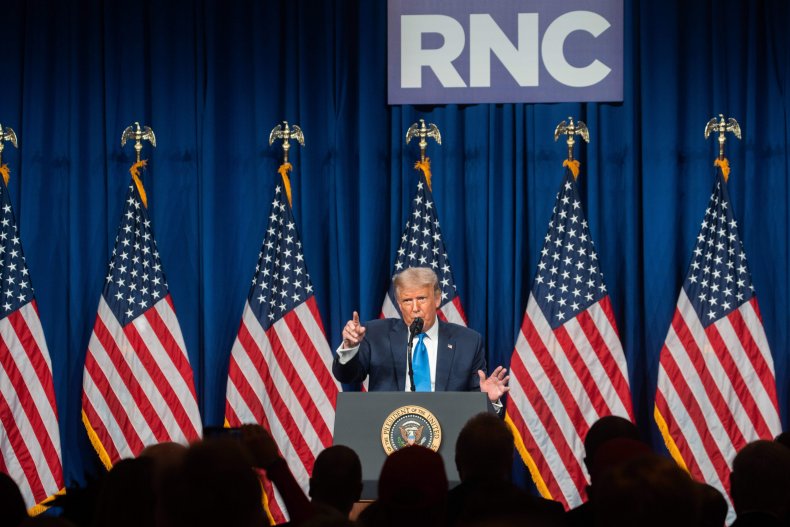 Joe Biden's presidential campaign is getting a big boost from an unlikely source—an increasingly long line of prominent Republicans who want to help him beat President Donald Trump.
The Lincoln Project, headed by GOP campaign operatives, has unveiled some of the most stinging rebukes of Trump through its digital and television ads.
"We're just trying to make sure Trump doesn't win reelection," Mike Madrid, one of the founders of the group, told Newsweek.
It's just one of several Republican-driven efforts to campaign against Trump.
"This is an important moment for our country to try to build a broader coalition that brings in a wide range of people who fall on various places on the political spectrum to try to defeat Trump," conservative political strategist Sarah Longwell told Newsweek.
Longwell is a founder of Republican Voices Against Trump (RVAT), an organized, research-driven effort to oust the nation's 45th president. RVAT has spent recent weeks rolling out a multi-million dollar digital and television ad campaign featuring lifelong conservatives detailing why they won't be voting for Trump this year.
Republicans who spoke to Newsweek about the efforts say they do not expect anything in return from Biden if he defeats Trump in November, and they have not secured promises of political favor.
"I don't expect there to be an influx of Republicans into a Biden administration," Loongwell told Newsweek.
From slick campaign ads to speeches at last week's Democratic convention and public endorsements, members of the GOP have been publicly showing their support for the former Obama vice president rather than the bombastic leader of their own party who is seeking a second term.
"We're not just going to be tortured by this guy anymore," Madrid told Newsweek.
Most of the efforts are based on a desire to reclaim the Republican Party from its Trump-centric focus and restore a more traditional party structure.
Biden's campaign and the Democratic National Convention (DNC) did not respond to Newsweek's requests for comment, but Biden's team has shown a willingness to embrace its new GOP allies. During last week's DNC, former Ohio Gov. John Kasich, who sought the Republican nomination for president just four years ago, was given time for a prominent address urging people to vote for Biden.
"Many of us have been deeply concerned about the current path we've been following for the past four years," Kasich said. "It's a path that's led to division, dysfunction, irresponsibility, and growing vitriol between our citizens. Continuing to follow that path will have terrible consequences for America's soul because we're being taken down the wrong road by a president who has pitted one against the other."
This week, former Arizona Senator Jeff Flake joined more than two dozen other Republicans who have served in Congress in making a public Biden endorsement announcement.
The DNC also played several of Republican Voices Against Trump's video monologues. The Republicans have used the same tactic at their convention, featuring some Democrats on their convention podium, including Georgia state lawmaker Vernon Jones.
Trump's campaign, meanwhile, has dismissed the efforts and, though less polished than the GOP against Trump campaigns, pointed to support among Democrats.
"President Trump has unprecedented support—over 95 percent—among real Republican voters," Trump campaign spokesman Tim Murtaugh said in a statement to Newsweek, "and is also making strong inroads in Biden's core Democrat constituencies, like Black Americans, Latinos and union members."
President Trump frequently touts the 95-percent support claim, though the source for that figure is unclear. An Economist/YouGov poll released this week showed Trump's approval among Republicans at 88 percent. His support among Democrats was 9 percent, according to that survey.
Madrid said the marketing approach the anti-Trump Republicans are taking focuses on a narrow segment of voters—the small percentage of moderate Republicans who may have voted for Trump four years ago but can be convinced that Biden is acceptable.
When the Lincoln Project was founded last year, many of the people who had declared themselves as part of the "Never Trump" base were less active, Madrid said.
"Now it's more and more every day," he said. "It's extraordinarily unusual to have the volume and the consistency that we are seeing. We're no longer in this place that Republicans need this cover to come out."
Longwell agreed that Trump loyalists are not their target audience.
"This is an attempt to build a third tribe," Longwell told Newsweek, "a tribe in which people can retain their Republican identity but feel comfortable voting for a Democrat."