Some Male Democrats Have 'Moved On' From Trump Sexual Misconduct Accusations—Their Female Colleagues Haven't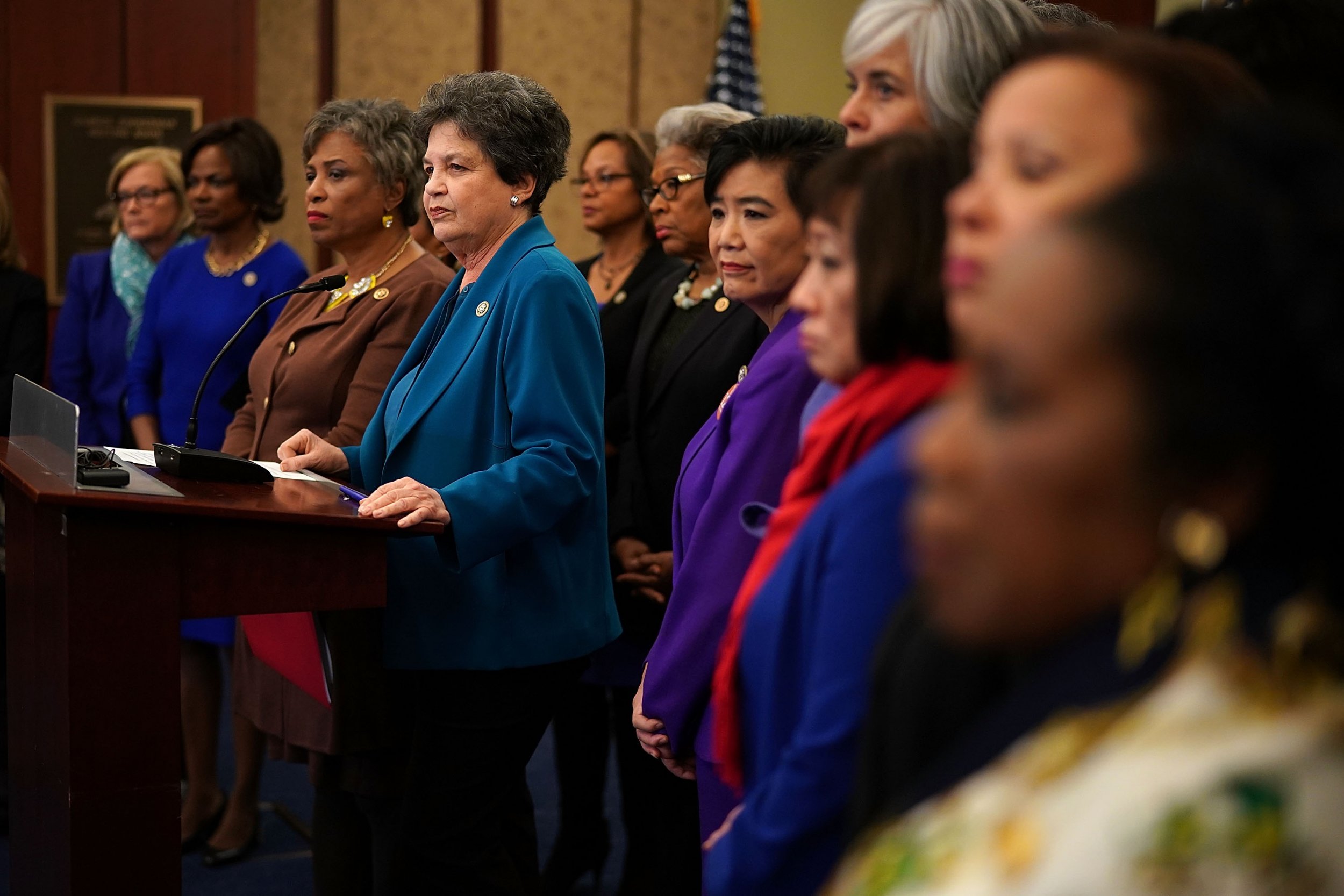 Amid a national reckoning over the issue of sexual misconduct, some men in the Democratic Party are calling for Congress and the American people to overlook the allegations against the president—but their female colleagues are not following suit.
On Sunday, Senator-elect Doug Jones—who lask week secured what looked like a near-impossible victory in Alabama against a Republican opponent who had been accused of sexual predation—said he doesn't believe President Donald Trump should step down due to sexual misconduct accusations.
"We need to move on and not get distracted by those issues," he told CNN host Jake Tapper. "Let's get on with the real issues that are facing the people of this country right now." Jones went on to echo the White House's stance on the president's alleged misconduct, stating that the public had the opportunity to assess Trump's fitness for office in the months prior to the 2016 election.
Another Democratic senator, Joe Manchin of West Virginia, took a similar position on Monday, when he said on CNN's New Day that he was no longer focusing on the more than a dozen sexual harassment and assault allegations against Trump. "I've moved on," Manchin said. "I really have moved on."
Their female congressional colleagues have done anything but moved on.
"Let's just say I respectfully disagree," Representative Lois Frankel (D-Fla.) told Newsweek of Jones's and Manchin's statements. "You should be able to chew gum and walk at the same time. We're not asking anyone to stop the business of the country to let these accusers be heard and to have the president respond in a forum with some real judgment of the truth. A lot of things can go on at the same time."
There are some prominent male Democrats who have called on Trump to resign over the allegations—including Senators Cory Booker (D-N.J.), Bernie Sanders (D-Vt.), Jeff Merkley (D-Ore.), Ron Wyden (D-Ore.) and Bob Casey (D-Pa.). But it has been the women in the party who have largely led efforts to hold Trump accountable for the accusations he is facing.
Last week, more than 50 congresswomen in the Democratic Women's Working Group filed an official request to the House Committee on Oversight and Government Reform for a congressional investigation into the president. Though the committee's chairman, Trey Gowdy (R-S.C.), denied their request, they won't be "moving on" from Trump's alleged misconduct anytime soon.
"It's a terrible message to say that all you have to do is be president and you can get away with whatever you want," Frankel said.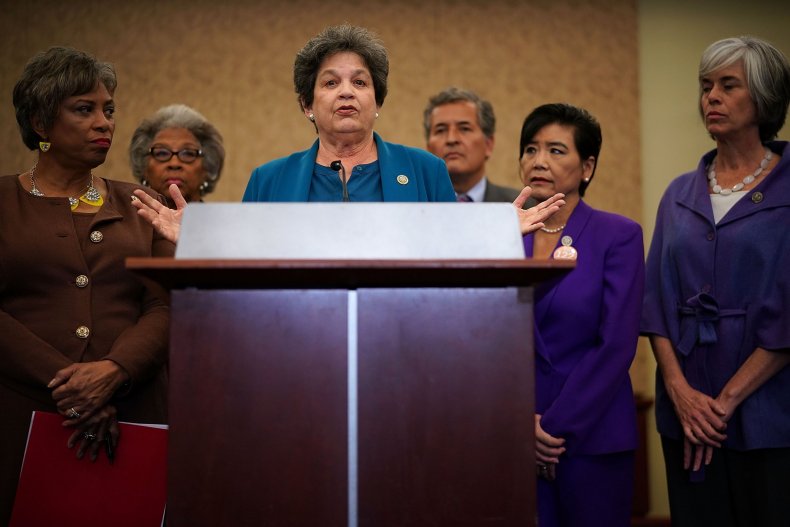 Some other male Democrats have disappointed members of their party by saying they are reconsidering their initial calls for Senator Al Franken (D-Minn.) to step down following multiple accusations that he groped women.
Manchin, Senator Patrick Leahy (D-Vt.) and two other unidentified male Senate Democrats told Politico they felt pressure from the party to make a quick judgment on the allegations against Franken.
Manchin in particular suggested his colleagues' strong public condemnation of the senator's alleged misconduct was disingenuous, calling it the "most hypocritical thing [he's] ever seen done to a human being." He said he hopes Senate Democrats change course on pushing Franken to resign his post.
"I hope they have enough guts...and enough conscience and enough heart to say, 'Al, we made a mistake asking prematurely for you to leave,'" Manchin said.
Senator Kirsten Gillibrand (D-N.Y.), who has been outspoken regarding the allegations against both Trump and Franken, isn't taking back her calls for her colleague to resign. Through a spokesperson, Gillibrand told Politico: "He was entitled to a process, but he was not entitled to my silence."
Frankel said that while she appreciates the men who have "stepped up to the plate" to support women's calls to hold men in power accountable for their actions, the more voices, the better.
"We want both men and women to be in this effort to say sexual harassment and abuse is not to be tolerated," Frankel said. "Everyone should be saying it."