Some More Welcome Than Others: What Ukrainian Refugees Reveal About U.S. Policies | Opinion
As the first Ukrainian refugees escaping the war with Russia arrived recently at the U.S.-Mexico border and entered the country, the U.S.' disparate treatment of asylum seekers and refugees re-emerges.
Though the U.S. Customs and Border Patrol has not released data on numbers of Ukrainian refugees since the start of the crisis in February, U.S. support to Ukraine has been mostly a diplomatic and economic one historically. While Russian-Ukrainian war victims started arriving in Tijuana, Mexico, over the past several weeks, many are calling out immigration policies from the earlier administration, while President Joe Biden is reshaping policies.
Title 42 is at the center of the debate. It is a clause of the 1944 Public Health Service Law that was rarely implemented, until March 20, 2020, when policy makers, under the previous administration, started using it to deny and expel asylum seekers.
For the last two years, more than half of the migrants who encountered the Border Patrol were turned away without any screening. The COVID pandemic provided the argument to shut down the border and to refuse entry of refugees indefinitely. The policy was implemented against the advice of epidemiologists and public health experts, who called to end the policy.
It is possible Title 42 may end for all. In a recent statement, the Centers for Disease Control and Prevention (CDC) said that the "expulsion of unaccompanied noncitizen children is not warranted to protect the public health," permanently ending the policy for children. The CDC decision does not mention adults.
This decision, however, of opening the borders to European refugees, is evidence that American policymakers see some refugees as more deserving of help than others.
Before he was elected, then-candidate Biden promised to challenge this provision, but since March 2020, the U.S. has expelled more than 1.2 million people, according to the American Immigration Council.
During the first two years of his presidency, Biden has mostly avoided discussing the U.S.-Mexico border, though in June 2021, Vice President Kamala Harris famously warned Central Americans seeking refuge in the U.S. by saying, "Do not come."
Filippo Grandi, the United Nations high commissioner for refugees, said on Twitter that 3 million Ukrainians have fled their homes in the midst of war. The United Nations reported that a total of 4 million refugees are expected.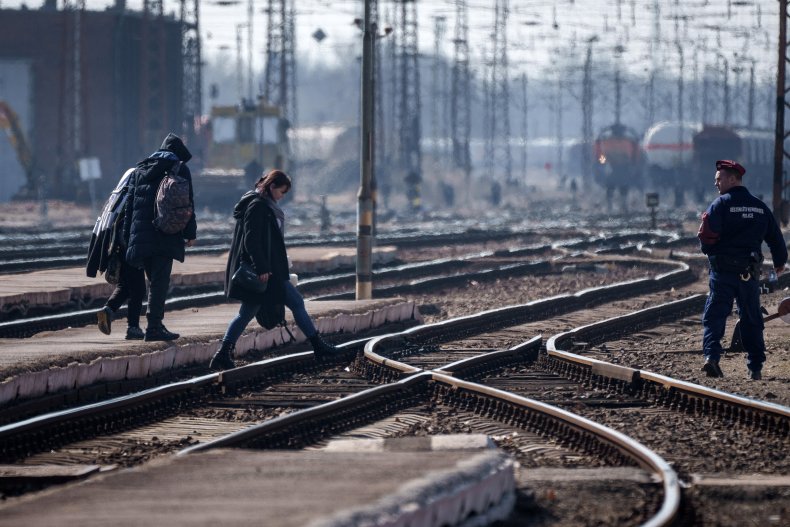 Certainly, Ukrainian refugees seeking asylum from the bombings, killings and inhumane attacks by Russia deserve assistance. But the 450,000 migrants at the U.S.-Mexico border from Mexico, Honduras, Guatemala and El Salvador also need assistance and welcoming.
At borders in Europe, people fleeing Ukraine arrive in Hungary, Poland, Germany and other neighboring countries. Images, stories and videos of Ukrainian women and children arriving at train stations show they are welcomed with baby strollers, hot beverages, food and offerings of places to stay. This is contrast to the historic refusal of entry to other refugees escaping other wars, who have not been able to legally enter Europe. According to UNHCR, in Europe, Germany has welcomed the largest number of refugees, hosting in 2020 1.2 million people. In the same report in 2020, 68 percent percent of all refugees originated from just five countries: Syria, Venezuela, Afghanistan, South Sudan and Myanmar.
Yes, Ukrainian refugees need and deserve all the attention and help from the world right now. How the world, especially Europe, has responded to the refugee crisis has been a ray of hope in a catastrophe. However, this warm response contrasts with the way refugees from the Middle East, Latin America or Africa have been historically treated in Europe and the U.S.
Why are all refugees not treated equally?
How journalists in Western media reported on the war in Ukraine included blatant discriminatory comparisons between Ukrainian refugees and others.
Recently Kelly Cobiella from NBC said, "These are not refugees from Syria, these are from Ukraine, they are Christians, they are white, they look very similar to us." CBS' Charlie D'Agata, reported, "This isn't a place, with all due respect like Iraq or Afghanistan that has seen conflict raging for decades. This is a relatively civilized, relatively European—I have to choose those words carefully."
Not to minimize the difficulty of covering the war for journalists (also acknowledging the recent killing of American journalist Brent Renaud in Kyiv by Russian soldiers), the disturbing language some journalists use to comment on the war is noteworthy. The takeaway is that Ukraine is similar to some reporters geographically, ethnically and culturally. It is perhaps one reason why Ukrainian refugees have overwhelming support from the West. This justification, however, falls short, as other refugees escaping wars are being denied their humanity.
Most Ukrainian refugees will remain in Europe, but others will try to seek refuge in the U.S. How the U.S. welcomes this new wave of refugees will be on display. The wish is that the same treatment will be offered to refugees from other parts of the world, who belong to other races and practice other religions.
Ana María Ferreira, PhD, is an assistant professor of Spanish and Latin American literature and culture at the University of Indianapolis. She is a Public Voices Fellow through The OpEd Project.
The views expressed in this article are the writer's own.