New York is considering lowering the overtime threshold for the farming industry, but some workers and lawmakers who joined a petition in fighting against it say implementing a 40-hour threshold wipes out small farms and harms employees.
New York farmworkers often work long hours six days a week. Workers won the right to overtime in general in 2020, but aren't eligible to earn overtime until after 60 hours of work. Now, the wage board is deciding whether or not to change the overtime threshold once again to 40 hours per week, the Associated Press reported, which is when most industries pay overtime.
While the policy may seem like it would benefit the farming industry, some farmers say covering the cost of additional overtime would wipe out smaller farms. Additionally, the policy could harm workers by reducing their earnings if farmers decided to cap hours to manage the costs, according to the AP.
Dairy farmer Bill Peck from Welcome Stock Farm said under the new threshold, overtime for his 18 full-time employees would cost him an extra $12,000 a month, the AP reported.
Peck said spending the additional money on overtime means he can't invest in new equipment or expand his farm by adding an additional barn, thus hurting them in the long run.
"That money is going to go just into payroll, so which is good for them in the short term, but long term the business can't survive," he said.
Dairy farmers are put in a tight spot because they're not allowed to raise the prices of their products to cover the additional expenses as wholesale milk prices in the U.S. are regulated, according to the AP.
Crop farmers who grow fruits and vegetables say, according to My Twin Tiers, they would be hit especially hard for labor costs when it came time to harvest.
Farmer Jim Bittner testified they left produce in the field on their farm because they would've lost money paying time-and-a-half to harvest them. Additionally, the prices offered for his produce wouldn't have covered the cost of harvesting or packing.
"We're cutting those orchards down as I speak. Please keep it at 60 hours," he said.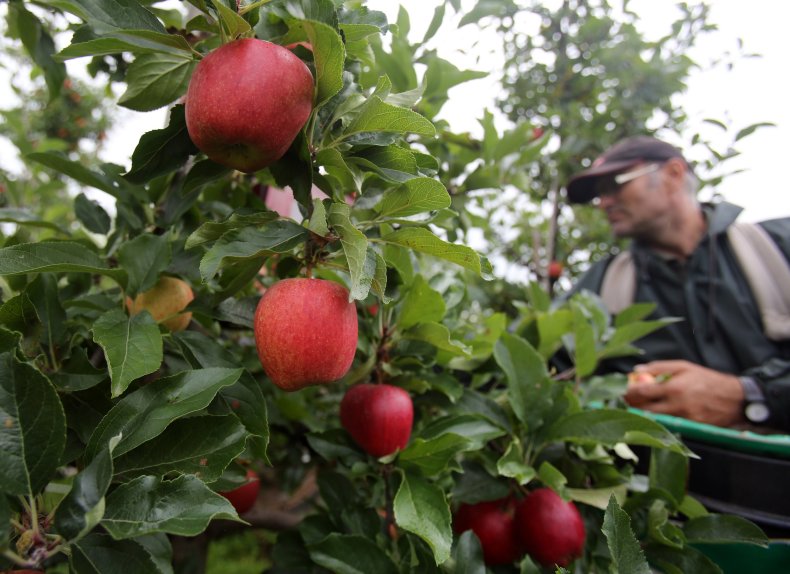 However, some farmworkers in support of the change in threshold say the new mandate would provide a better quality of life.
"I will be able to have checkups at the doctor, I will be able to buy personal items. I will have time for me," dairy worker Lazaro Alvarez said, according to the AP.
Meanwhile, at the first three Farm Laborers Wage Board hearings in January, 66 percent of those who testified on January 4 asked to keep the threshold at 60 hours; 74 percent on January 18; and 77 percent on January 20, according to Grow NY Farms Coalition, which opposes the change for overtime.
"While the industry overall may survive, many individual farms will not," Chris Laughton of Farm Credit East testified earlier this month, according to the AP.
New York Senator Daphne Jordan wrote a letter to the board explaining why they should reject the overtime threshold.
"Over 96% of farmers, most of whom are family operators, indicated that should this regulation be changed, they would be forced to cut their employees' hours," she said.
Jordan added the change in the threshold would reduce production for farmers and increase food prices at a time when inflation is already doing so.
"Let's not punish them at the time they can least afford it," she said.
The Farm Laborers Wage Board scheduled an additional hearing after a large turnout of registrations for farmers to give testimony. The next hearing is scheduled for January 28 at 2 p.m., according to My Twin Tiers.