Some Republican 2016 Hopefuls Condemn High Court's Gay Marriage Ruling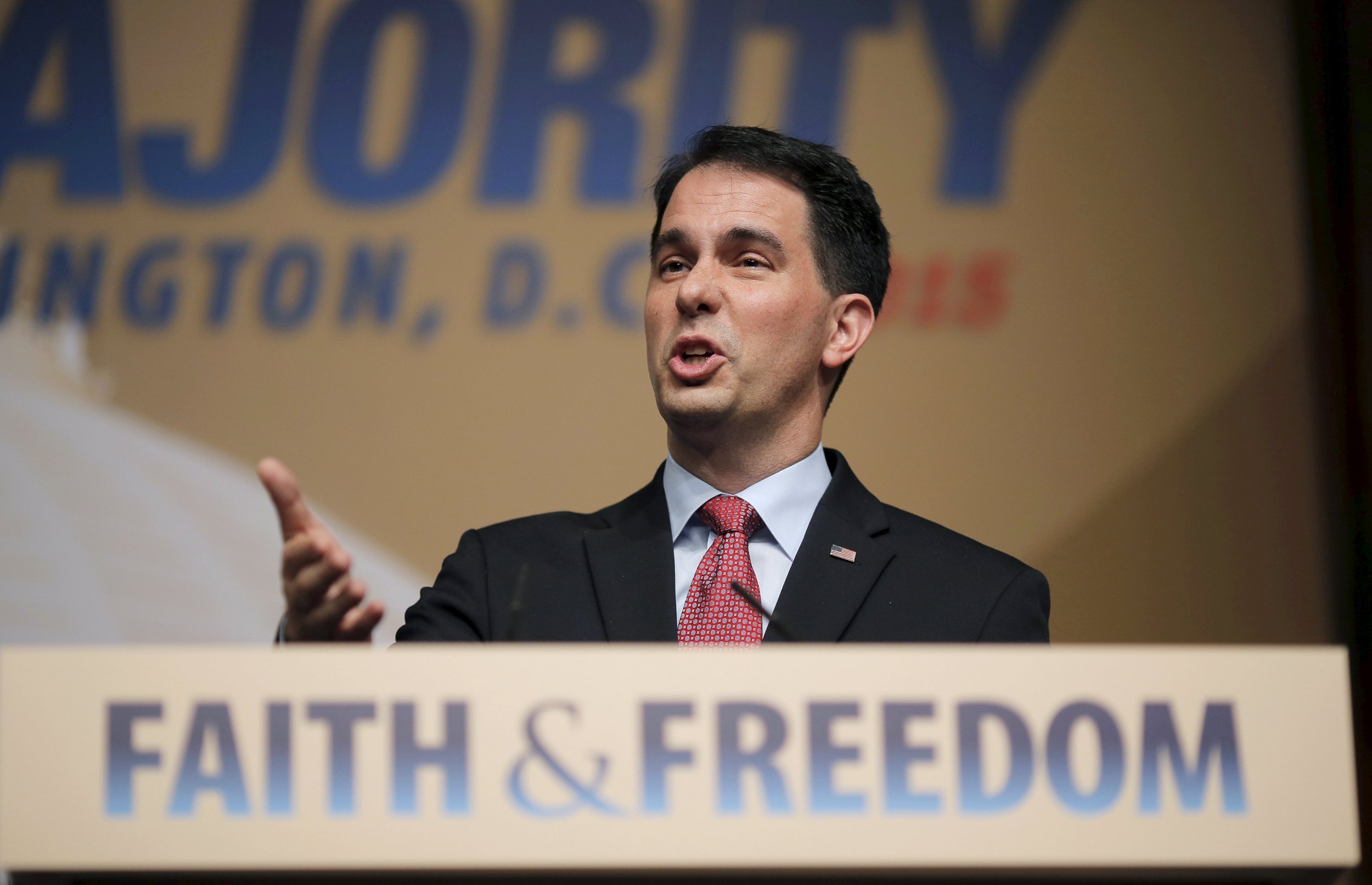 WASHINGTON (Reuters) - Some of the Republican Party's presidential candidates reacted angrily to the U.S. Supreme Court ruling on Friday to legalize same-sex marriage nationwide, despite a shift in public opinion in recent years toward acceptance of it.
Wisconsin Governor Scott Walker, who is among more than a dozen people seeking the Republican nomination for the November 2016 election, called the court's decision a "grave mistake."
"The only alternative left for the American people is to support an amendment to the U.S. Constitution to reaffirm the ability of the states to continue to define marriage," Walker said in a statement, one of many swiftly sent out by Republicans.
In a May 2015 Gallup poll, 60 percent of respondents said same-sex couples should have the same legal rights as traditional marriages, versus 37 percent who said they should not. That was up from 27 percent support for same-sex marriage recognition in March 1996, versus 68 percent opposition.
The Iowa Republican Party, which has played an influential role historically in picking its party's presidential candidates as an early voting state, said the 5-4 Supreme Court decision snuffed out "by fiat" state laws banning gay marriage.
Iowa party Chairman Jeff Kaufman said, "We must redouble our effort to elect a Republican to the White House in 2016, one who will nominate judges who respect" legislative actions.
Five of the nine current Supreme Court justices, including Chief Justice John Roberts, were appointed by Republican presidents.
Louisiana Governor Bobby Jindal, who just this week entered the presidential race, accused the Supreme Court of being "completely out of control." He said in a statement, "If we want to save some money, let's just get rid of the court."
Former Florida Governor Jeb Bush, seen as a leading candidate for the Republican presidential nomination, took a softer tone than some of his opponents.
He said "good people who have opposing views should be able to live side by side," while emphasizing he believes in "traditional marriage," which Republicans define as a bond between a man and a woman only. Almost universally, Republicans cited concerns that the court ruling could trample the religious beliefs of those who oppose same-sex marriage.
Democrats celebrated the decision, with President Barack Obama saying Americans should be proud that the court had reaffirmed equal protection for all under the law.
Hillary Clinton, front-runner for the Democratic presidential nomination and former secretary of state, said in a statement: "Our work won't be finished until every American can not only marry, but live, work, pray, learn and raise a family free from discrimination and prejudice."
Gay rights supporters celebrated in front of the Supreme Court in Washington and on the subway. "I'm equal now!" declared one beaming activist to a subway-car crammed with friends.