Some Republicans Want Stricter Gun Control, Assault Weapons Ban in Wake of Mass Shootings
Not all congressional Republicans are pivoting toward mental health initiatives and pushing back against gun control policies, such as universal background checks and bans on assault-style weapons, in the wake of two deadly mass shootings that occurred over the weekend.
Many Republicans, both in Congress and across the country at the local and state levels, are advocating for so-called "red flag" laws to address the ability for law enforcement officials to temporarily confiscate weapons from people with mental illnesses. But a handful of Republican lawmakers in the House and Senate want to go a step further and have joined bipartisan efforts to demand that universal background checks be implemented for firearm purchases and the sale of military-style assault rifles be outlawed.
Shootings in El Paso, Texas, which resulted in 22 deaths after a man opened fire at a Walmart with a semi-automatic assault rifle, and in Dayton, Ohio, where another man killed nine people at a bar with an AR-15 style firearm, were the catalysts for several Republicans to either advocate or revive previous calls for stricter gun control.
"The carnage these military style weapons are able to produce when available to the wrong people is intolerable," Representative Mike Turner, an Ohio Republican, said in a statement Tuesday.
As Dayton's representative in Congress, Turner announced his support for any legislation that would prevent civilians from buying assault style rifles and high-capacity magazines, in addition to establishing "red flag" laws that would "quickly identify people who are dangerous and remove their ability to harm others."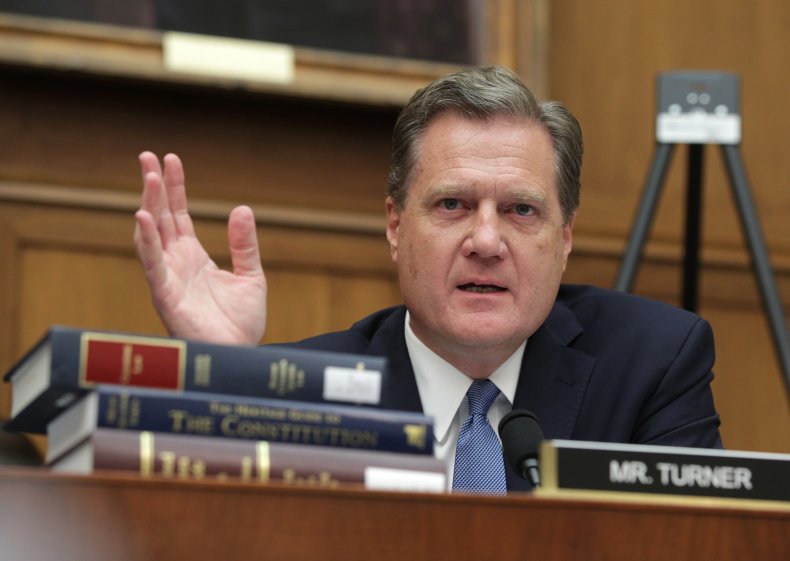 "I believe these are necessary steps forward in protecting our country and a testament to American values, which include protecting human life," he elaborated. "I understand not every shooting can be prevented or stopped from these measures, but I do believe these steps are essential."
During Trump's planned visit to Dayton on Wednesday, Turner further said he planned to "[discuss] these measures with the President."
Republican Congressman Peter King of New York stood alongside the Senate minority leader, Democratic New York Senator Chuck Schumer, on Tuesday as he demanded that Senate Majority Leader Mitch McConnell of Kentucky allow senators an opportunity to vote on House-passed legislation that would require universal background checks for firearm transactions. Hundreds of protesters outside the White House made similar demands of McConnell, a Republican, but there has been no indication he plans to take such action.
"I believe it's essential that Senator McConnell allow this to come for a vote. He doesn't have to support it; he doesn't have to get behind it. Just let it come to a vote. This is common sense legislation," King said. Trump, however, has threatened in the past that he'd veto any such legislation, should it reach his desk.
"If President Trump would just come out and say that he believes background checks should be held and bring this to a vote on the Senate floor," King continued. "If there's any specific objections people have to certain parts of it, get it out. But let's get this done."
In a statement on Monday, McConnell said Senate Republicans were "prepared to do our part." He spoke with fellow Republican Senators Lindsey Graham, Lamar Alexander and Roger Wicker. It was an attempt to find a path forward with legislation that Trump would ultimately support. McConnell warned that only measures able to muster bipartisan support in both chambers would be accepted by Trump.
"Only serious, bipartisan, bicameral efforts will enable us to continue this important work and produce further legislation that can pass the Senate, pass the House, and earn the president's signature," McConnell said. "Partisan theatrics and campaign-trail rhetoric will only take us farther away from the progress all Americans deserve."
Senator Pat Toomey, a Pennsylvania Republican, has said he'll team up with various Senate colleagues to support the "red flag" proposals that would temporarily restrict access to firearms for people believed by family to be an imminent threat to themselves or others. The "red flag" laws are something that Ohio Governor Mike DeWine said earlier in the day that he would push state lawmakers to support. Lindsey Graham has also said he'll introduce "red flag" laws in a bill with Democratic Senator Richard Blumenthal.
But Toomey also said he would push for an effort to allow law enforcement to pursue charges against those who are prohibited from purchasing firearms but try to do so anyway and will revive a bill by himself and Democratic Senator Joe Manchin of West Virginia that would strengthen background checks for firearms. It would, however, stop short of the House's universal background check bill, which would offer few exemptions for needing a background check, even in the case of private sales.
On Twitter, Toomey revealed Monday that he'd spoken of the years-old Manchin-Toomey proposal to Trump. Previous votes on the measure in 2013 and 2015 failed to clear a 60-vote threshold. Toomey claimed that Trump, despite previous promises to veto universal background check legislation, "showed a willingness to work with us on the issue."