Some Rioters Dared to Call Nancy Pelosi's Office After the Chaos Looking for Lost Items
Capitol Police received unexpected help a day after last year's January 6 riot, when members of the mob called asking for help recovering lost phones, purses and other personal items.
Democratic Representative Jamie Raskin of Maryland made the revelation to Insider on Friday. A member of a congressional committee investigating the insurrection, Raskin told the news outlet that a day after ransacking the Capitol, rioters called House Speaker Nancy Pelosi's office asking if there was a lost and found to retrieve their personal effects.
"The officers quickly got on the phone and said, yeah, just give us your name, your address, your Social, you know, and we'll tie up those loose ends," Raskin said, according to Insider. Officers took down their information, he said.
Newsweek has reached out to Capitol police for additional details on the calls.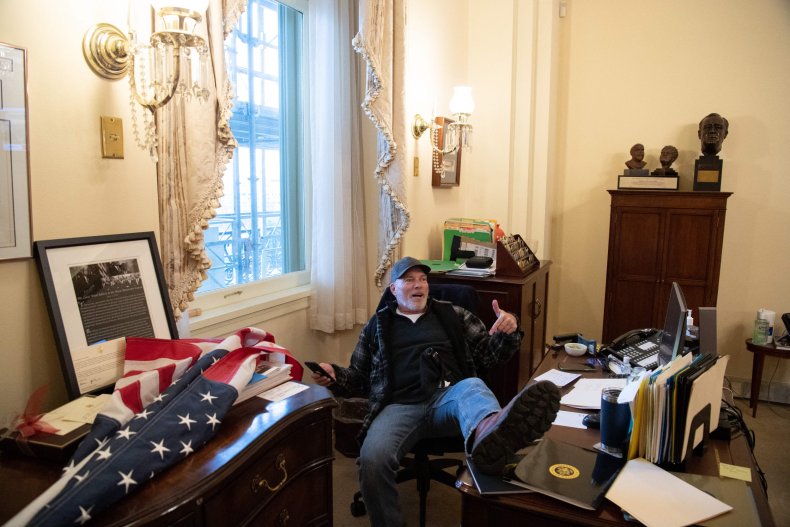 Raskin, in the interview, said he was struck by how the self-incriminating calls from the rioters underscored that "there really were people who felt as if they had been summoned to Washington by the president."
"It underscores the central role that Donald Trump played in it," Raskin continued.
In the lead-up to the riot, Trump held a rally on the Ellipse where he instructed his supporters to march to the Capitol where Congress was certifying the results of the 2020 election.
During the speech, Trump said it was up to Congress to "confront this egregious assault on our democracy," referring to debunked claims of widespread voter fraud. He told the crowd "we're going to walk down, and I'll be there with you."
"We fight like hell," Trump said during the speech. "And if you don't fight like hell, you're not going to have a country anymore."
Trump also said, "I know that everyone here will soon be marching over to the Capitol building to peacefully and patriotically make your voices heard."
Raskin told Insider the calls also "create a problem for assigning guilt at different levels of conduct." He explained his "three rings" framework for understanding the different components of the event.
The first ring included thousands of protesters who walked from the rally to the Capitol, followed by the second ring: extremist groups looking to stop the election certification. Finally, the third was Trump's inner circle seeking to overturn the election results.
Raskin's remarks come days after House Minority Leader Kevin McCarthy (R-Calif.), refused to cooperate with the committee. Shortly after the riot, McCarthy said Trump "bears responsibility" for the attack and should have "immediately denounced the mob when he saw what was unfolding."
But McCarthy said on Wednesday that the committee is "not conducting a legitimate investigation" and is instead seeking to "damage its political opponents."