Some States Denied Request to Provide National Guard for Extended Deployment at U.S. Capitol
Some governors declined to comply with requests from the U.S. Capitol Police to extend placement of national guard troops in Washington, D.C., past the term originally agreed upon after January's violent attack. Unnamed officials at the Department of Defense reportedly told the Associated Press that a sufficient number of state leaders were inclined to cooperate with an initiative to maintain the added presence of troops, stationed in Washington to assist Capitol Police since the insurrection, by Tuesday.
Capitol Police confirmed that it submitted a formal petition to the Defense Department asking for an extension of the national guard troops' stay last Thursday, recognizing their initial contract was set to expire on March 12.
"Wednesday, Acting Chief Pittman testified to the House Legislative Branch Subcommittee that threats to members are up 93% during the first two months of this year compared to last year," the law enforcement agency said in a statement. "The Department takes its mission seriously and will do whatever is necessary to achieve that mission. The USCP is extremely grateful for the Department of Defense and the National Guard support provided since January 6th. We understand the Guard has a tremendous service need back home responding to the COVID-19 pandemic."
Having gained adequate support from state governors, the Pentagon is expected to approve the Capitol Police's request for continued assistance from national guard members for roughly two more months.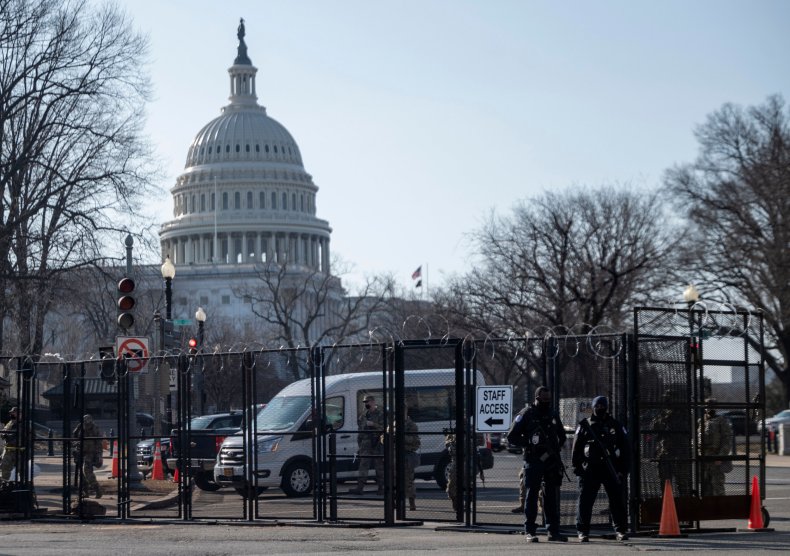 For more reporting from the Associated Press, see below:
Officials said final details were being worked out, but Defense Secretary Lloyd Austin is expected to give final approval, and have Guard troops continue to provide security in Washington, D.C., at the request of the Capitol Police, amid worries about continued threats. Officials have been scrambling in recent days to determine if and how to fill the request for more than 2,000 Guard forces, as the original March 12 deadline for them to leave Washington looms.
The decision underscores concerns about the ongoing threat of violence at the Capitol, two months after rioters breached the building in violence that left five people dead. Law enforcement have remained in a heightened security posture in response to intelligence suggesting possible threats to the Capitol by militia groups.
Compounding resistance from some governors, army leaders had also initially questioned whether the Capitol Police had exhausted all other options to fill the need, such as asking other federal law enforcement agencies to provide security. But officials said military leaders thought it was important to find ways to work out the details.
It was unclear Tuesday if Guard troops currently in Washington would have to stay an extra day or two while the new forces arrive and get trained and settled in.
The threat was tied to the far-right conspiracy theory promoted by QAnon supporters that former President Donald Trump would rise again to power on March 4, the original presidential inauguration day. That day passed with no problems, but law enforcement has said threats to buildings and personnel remain.