Some Supporters Back Away After Nevada Rancher's Racist Statements but Not All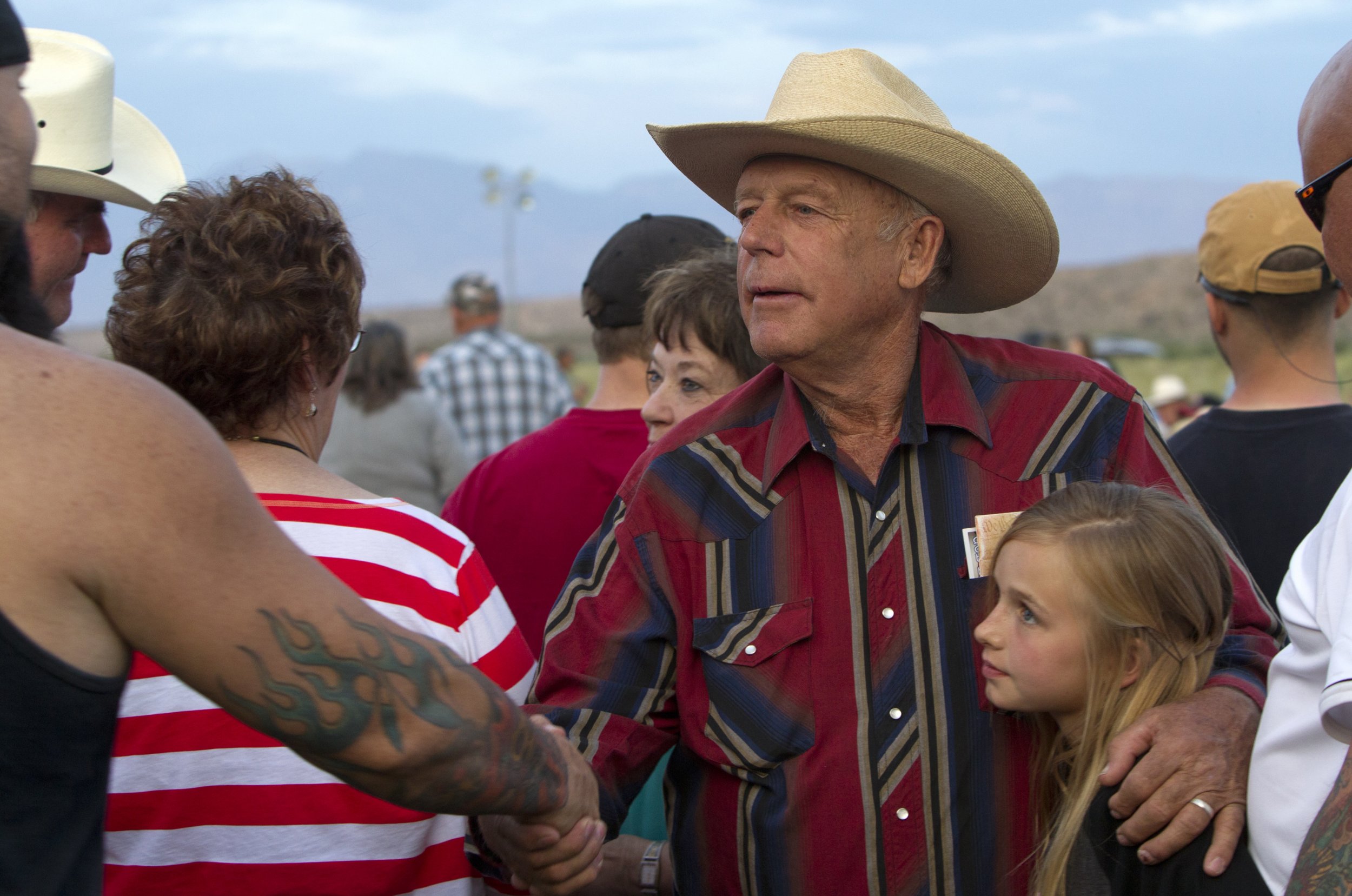 Cliven Bundy's 15 minutes of fame continue. Now the Nevada rancher's racist ramblings on "the Negro" have some—but not all—of his allies looking to back away.
Bundy became a cause célèbre for a wide swath of conservatives from Republican legislators in Washington, D.C., to far-right militia activists in Oklahoma due to his refusal to pay fines for grazing his cattle on federally owned lands. His supporters, many of them armed, converged on his ranch for a tense standoff with federal agents looking to collect his cows.
The standoff ended peacefully when federal agents backed off. Bundy was hailed as a defender of individual rights against the federal government.
But being an icon for the right has put Bundy in the national spotlight. A New York Times story on the iconoclastic rancher reported:
"I want to tell you one more thing I know about the Negro," he said. Mr. Bundy recalled driving past a public-housing project in North Las Vegas, "and in front of that government house the door was usually open and the older people and the kids—and there is always at least a half a dozen people sitting on the porch—they didn't have nothing to do. They didn't have nothing for their kids to do. They didn't have nothing for their young girls to do.

"And because they were basically on government subsidy, so now what do they do?" he asked. "They abort their young children, they put their young men in jail, because they never learned how to pick cotton. And I've often wondered, are they better off as slaves, picking cotton and having a family life and doing things, or are they better off under government subsidy? They didn't get no more freedom. They got less freedom."
Bundy's racist tirade has landed him in hot water. A spokesman for Dean Heller, Nevada's Republican senator who had called Bundy and his supporters "patriots," said that the senator "completely disagrees with Mr. Bundy's appalling and racist statements, and condemns them in the most strenuous way."
Senator Rand Paul, a Republican from Kentucky and a rising star in the party, had previously spoken positively about Bundy's standoff. On Thursday Paul wrote on Twitter, "Cliven Bundy's remarks on race are offensive, and I wholeheartedly disagree with him."
Bundy's cause has received significant backing from the militia movement. And, some say, the movement's core beliefs aren't necessarily out of line with Bundy's racism.
"They have bought into this notion of taking America back from those who have taken it away," says Devin Burghart, who researchers right-wing movements and is the vice president of the Institute for Research and Education on Human Rights. "When you unpack that you often find that it's a cabal between the internationalists from above and multicultural hoards from below who are usurping their rights and privileges as white men."