Some 'Texit' Tech Companies to Cover Abortion Costs as New Texas Law Impacts Hiring
The technology companies that left California for Texas over the last couple of years are not yet ready to consider relocating in the wake of the new abortion law that went into effect earlier this month.
Several technology companies and executives have packed up their bases in California and planted new roots in Texas, a state where employers can escape high personal income tax rates and purchase real estate for less than they can in California. The move has come to be known as a "tech exodus" or "Texit," the latter of which was a term originally used in reference to Texas' hypothetical succession from the U.S.
Companies like Oracle and Hewlett Packard Enterprise (HPE) announced their plans last year to move from the Silicon Valley area and establish new headquarters in Texas, as have many other smaller tech companies. Tesla CEO Elon Musk also announced plans to move to Texas last December, though his company's headquarters is currently still based in California.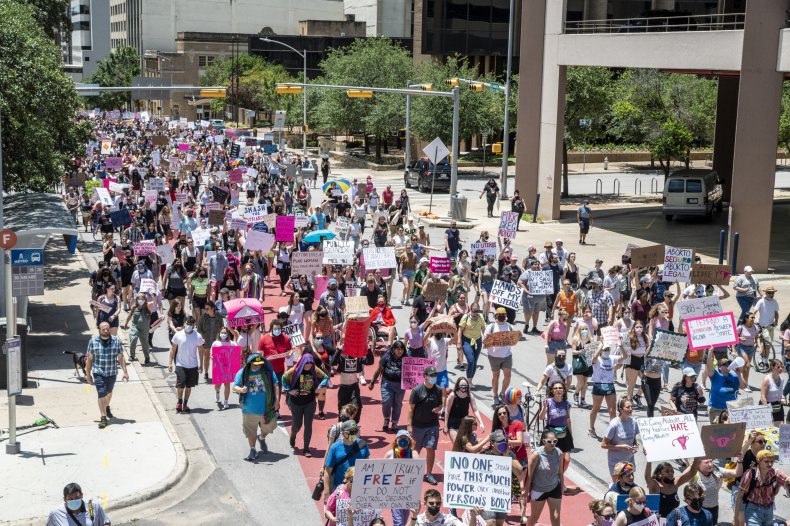 For some of the companies that have already made the move, Texas' new abortion law has inspired political discussions during hiring conversations—an occurrence that QuestionPro founder and CEO Vivek Bhaskaran said he cannot remember having during previous hiring conversations he's held over the last 15 to 20 years.
"The conversation around this has come up in almost all my conversations in our recruiting efforts," Bhaskaran said during a recent conversation with Newsweek. Though Bhaskaran said it was impossible to predict the long-term impact of the new law on his company's hiring process, he said "the fact that this is coming up in conversations gives you an idea that it's bubbling up."
QuestionPro is a survey software company Bhaskaran founded in Seattle in 2005 before moving to California. The company moved again from San Francisco to Austin in January 2020, citing an interest in finding "the best talent" in a blog post announcing its latest move.
"Every tech company knows attracting and retaining talent is becoming extremely challenging, extremely difficult—and this is not helping," Bhaskaran said.
The new abortion law in Texas, known as the "heartbeat bill," was signed into law by Governor Greg Abbott in mid-May but didn't take effect until the beginning of September. It blocks pregnant women from getting abortions when cardiac activity can be detected in a fetus, an occurrence that experts have said can begin as early as six weeks into pregnancy. The law includes limited exceptions for pregnant women experiencing medical emergencies. It also allows civilians to file lawsuits against medical professionals who perform abortions in violation of the new law and others who help those procedures occur.
Two years ago, a similar law in Georgia saw the film industry backing away from production within the state in protest until the law was blocked. Earlier this year, industries have similarly been protesting states that moved to enact tighter voter restrictions following the 2020 general election. But as The New York Times noted in an article published earlier this month, many Texas-based companies refrained from speaking out about the new abortion law before it went into effect.
Unlike Texas, abortion is "accessible" in California with "few to no restrictions," according to the Planned Parenthood Action Fund. In the wake of Texas' new law, Bhaskaran and a spokesperson for HPE both told Newsweek their companies are willing to cover costs associated with out-of-state travel for any of their Texas-based employees who need to have an abortion performed.
Newsweek reached out to Oracle and several smaller technology companies that moved from California to Texas over the last couple of years for comment on Texas' new abortion law but did not receive responses in time for publication.
"As a global company of 60,000 team members, HPE encourages our team members to engage in the political process where they live and work and make their voices heard through advocacy and at the voting booth," said Adam Bauer, the director of issues management and policy communications at HPE. "HPE's medical plan allows participants to obtain care out of state, including abortion, and will cover lodging costs depending on distance traveled."
Bauer told Newsweek the company has no plans to move from its new Houston headquarters, where HPE settled in December 2020.
Bhaskaran said his company has hosted town hall discussions about the new law and is prepared to "cover the costs" for employees in need of abortions as those situations arise.
For QuestionPro, Bhaskaran said the new law has both material and perception impacts. He said it was "a big deal" for the company to decide to move to Texas in the first place, and it's "too early" to make long-term decisions based on the new law, which the U.S. Department of Justice is already looking for ways to challenge.
"From our perspective, clearly this is not necessarily very conducive to our business, conducive to hiring," Bhaskaran said. "On a personal level, as well as a company level, actually, we are obviously against it."
For now, Bhaskaran said QuestionPro is "staying put."
"At some point if our values do not match, or if our employees do not feel comfortable, at that point we'd have to make a decision," he said. "We are not there yet."