Some Think Disney's Bad Week Is Proof of The Park's Curse
Various mishaps have been taking place at The Walt Disney World Resort in Orlando, Florida. Are these bizarre happenings evidence that the urban legend about Disney World being cursed is true? Unlikely, but fans aren't entirely convinced.
On Sunday, an incident took place on Splash Mountain. During the log flume ride, the boat started sinking into the water. Twitter user, @skyelaringrsoll, shared footage of the boat's empty seats being flooded.
"So we got out of our boat because it was sinking. While we were stuck there, the Disney world employee decided to tell us that we should've stayed in the boat. But it went under as soon as we all stepped out," they wrote.
@Kai_cece98 shared photos and wrote, "Before and after. My boyfriend and I were in the back seats."
Five days ago, TikTok user Hallie Grace witnessed her own strange occurrence at EPCOT's Spaceship Earth. The tablet on the ride started glitching and displayed an image from World of Warcraft. This is really odd, because the role-playing game has nothing to do with Future World. After that, all of sudden, the screen went mysteriously blank.
According to Syfy Wire, there are possibly "way too many spooky shenanigans happening at Walt Disney World." Though common sense explanations like random flukes and staffing issues could be to blame, the over-the-top curse speculation still abounds.
This isn't the first time speculation about Disney World being haunted or cursed has made the rounds, either. According to Bustle, a ghost named George allegedly haunts the Pirates of the Caribbean ride in Walt Disney World. George was rumored to either be electrocuted or killed by a falling beam during the ride's construction.
The truth is, George never existed. The ghost story was made up by the cast members.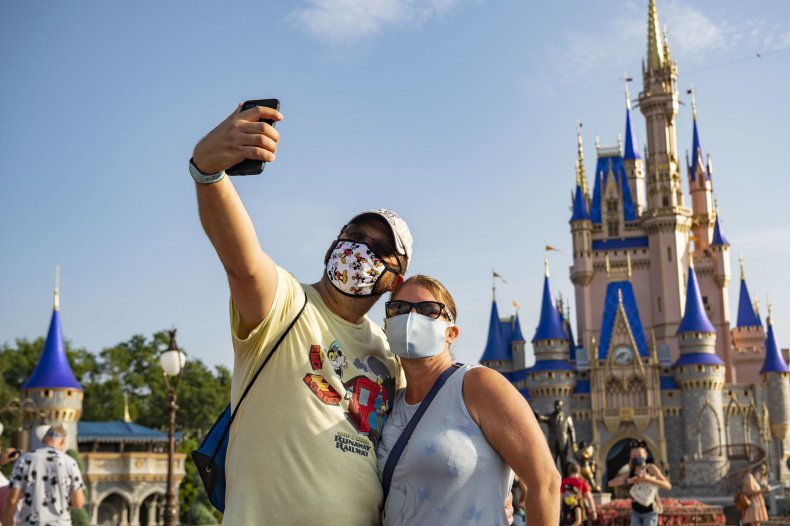 Another popular ghost story claims that Walt Disney's body has been cryogenically frozen and that his frozen corpse is locked away below Magic Kingdom. But, Disney's death certificate states he was cremated two days after his death in 1966.
Disney Tourist Bog has an entire list of urban legends about Walt Disney World that have been debunked. For example, one of the Haunted Mansion singing busts was supposedly modeled after the Mickey Mouse creator. The bust is actually modeled after Thurl Ravenscroft, best known as the booming voice of Tony the Tiger
When asked about the Splash Mountain incident, a spokesperson from Disney World Resort told Newsweek, "At the end of the ride, one boat took on water. The five guests got out of the boat safely and we worked with the guests individually so that they could enjoy the rest of their day in the park. We reviewed the incident and the attraction has reopened."