Some of Those Viral Australian Wildfire Maps Are Misleading: Here's What You Should Know
People around the world are sharing images and maps of Australia's wildfires in an effort to raise awareness about the national crisis, but some images can be misleading without the proper explanation.
A prolonged drought created prime conditions for wildfires as Australia headed into its hottest months, and the fires continue to be fueled by hot temperatures and strong winds. Since September, flames have burned through more than 17 million acres of land, claimed at least 26 lives and destroyed thousands of homes.
People around the world have donated to recovery efforts, raising millions of dollars, and images from the fires continue to circulate on social media. Some of the images that have made the rounds are screenshots from My Fire Watch, a government website for the state of Western Australia.
A simple glance at the map could cause observers to think they're seeing where the wildfires are burning across Australia. However, the data, according to the website, incorporate "any heat source hotter than its surroundings." While that includes wildfires, it also could indicate gas flares, refinery furnaces or highly reflective large industrial roofs.
The symbols also don't reflect the size of a fire or the danger that the blazes pose, and My Fire Watch urged people visiting the website to get information from their local emergency services.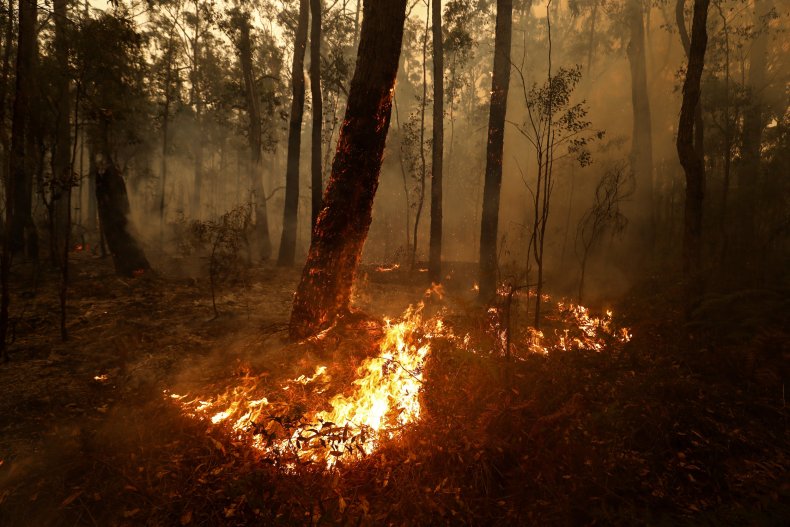 A number of images that overlay a map of Australia on other areas around the world have also circulated online. The intention is to reflect the scale of the tragedy in Australia, but the BBC says it's not entirely accurate because our curved planet is distorted when flat map projections are created.
Each Australia state—New South Wales, Queensland, South Australia, West Australia, Victoria and Tasmania—has its own fire service and a website that posts maps of where fires are located. They also allow people to learn additional information about each occurrence. Those seeking accurate information are advised to rely on those websites.
Another image that's gone viral was created by Anthony Hearsey. It depicts glowing red spots across Australia, and many people have assumed it indicates where fires are burning. But in fact the image shows areas that have been affected by the brushfires from December 12 until January 5.
It was created as an art piece, according to Hearsey, and he said on Instagram that the scale was a little exaggerated.
"This is a 3D visualization of the hotspots in Australia. NOT A PHOTO. Think of this as a graph," Hearsey wrote in his post.
Some have also claimed that the rendering is a NASA image, but Hearsey said that he created the image and just used data from NASA's satellite data regarding the fires.
Mitchell Whitelaw, an associate professor at the Australian National University School of Art and Design, told BuzzFeed that the speed at which images can spread on social media is "almost the worst possible thing" to happen in a situation that requires people to carefully interpret data. He added that you've "almost always got to look a bit closer."