Some Ukrainians Issued Weapons at Start of War Now Asked to Return Them
Ukrainians looking to defend their territory lined up in the cold weather just a year ago to enter local police stations and accept weapons to fend off any potential Russian attacks, as the country called upon its faithful citizen volunteers to form an extra line of defense.
Police gave citizens a quick training, a weapon and supply of ammunition. Some left with rifles, some with machine guns and others with rocket-propelled grenades. In the country's capital of Kyiv, sandbags were stacked near windows of the police station on February 26, 2022, just two days after Russia invaded Ukraine. This was in case of an attack on Kyiv, which many expected Russia to occupy within a few days.
Scenes like these happened across different regions of Ukraine as the war began.
Now, Governor Serhii Lysak in the Dnipropetrovsk Oblast has asked civilians who received such weapons to return them.
"Civilians must return their firearms and ammunition within 10 days," Lysak stated Monday on Telegram during a meeting with law enforcement officers in his region.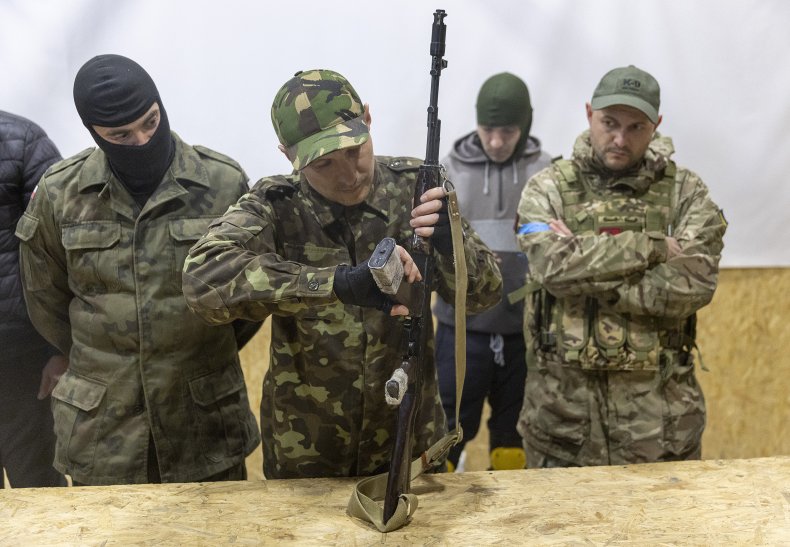 Lysak said that at the beginning of the war, "civilians were given weapons to protect their families and homes," and that some have already returned them, adding that the government supposedly knows the locations of other weapons.
"When the situation in the region stabilized, some people returned their weapons," Lysak said. "We know the lists of these citizens, we will not make them public yet. But, I emphasize once again, they have 10 days, starting today, to return the weapons in the established order."
Lysak's order actually follows a decree issued by Ukraine's interior minister on March 7, 2022, titled, "Ensuring the Participation of Civilians in the Protection of Ukraine."
The decree states that civilians must return their issued weapons within 10 days after the cancellation, or termination, of martial law. It also states that citizens can turn in their weapons if they do not feel like fighting.
Newsweek has reached out to Ukraine's Ministry of Defense for comment.
The war has now entered its 13th month, surpassing the one-year mark in February. Russia has reportedly lost more than 153,700 troops since the war started, according to estimates from Ukraine's Ministry of Defense. The estimate was unable to be verified independently, and Ukraine's estimate of Russian losses is typically higher than those from Western countries. Russia has not commented on its own losses since it said it lost 6,000 troops by September 2022.
Russia has failed to overtake certain areas of Ukraine, including Kyiv, since the war began. Ukraine has fought back Russia and even reclaimed previously occupied territories.
The Dnipropetrovsk Oblast is in southern Ukraine, near the heavily occupied eastern part of the country. Dnipro is the fourth-largest city in Ukraine and positioned along the Dnipro River, which leads south to the Black Sea.