Some Unvaccinated College Students Could Face $1,500 Fee Per Semester
Some unvaccinated college students could face fees of up to $1,500 a semester come the fall.
On Wednesday, Rhodes College in Memphis, Tennessee, announced that it would be charging a health and safety fee to unvaccinated students who don't have a waiver The $1,500 is meant to cover the cost of weekly testing that unvaccinated students will have to undergo.
The charge is expected to begin once the U.S. Food and Drug Administration (FDA) fully approves the COVID-19 vaccine, which the school expects to come over the summer. Currently, the vaccine is only authorized for emergency use authorization but is strongly recommended.
"We are pleased to see that a high percentage of our students, faculty, and staff have already chosen to be vaccinated," a statement from the school read. "A campus-wide commitment to vaccination will mean that we can move towards full capacity and reduced masking allowing for the intentional in-person campus life experience that we all love about Rhodes."
Rhodes said that while the school had heavily invested in resources for testing this past school year, it is shifting its focus to vaccinations and reducing the amount of asymptomatic testing for students.
Despite the change, unvaccinated students are still expected to undergo asymptomatic testing at least weekly, which is why the college is charging the new fee.
"Vaccines are now widely available in Memphis and throughout the U.S.," a spokesperson for Rhodes college told Newsweek. "We do not want to ask vaccinated students to pay for testing for unvaccinated students."
Students who have medical or religious exemptions will have the fee waived. International students who may not have access to vaccinations prior to arriving on campus are allowed to document their intent to get their vaccines to waive the fee.
Rhodes told Newsweek that to help encourage students to get their vaccines, the college offered an on-campus vaccine clinic this spring, as well as free transportation to local vaccine sites to students who wished to get vaccinated.
In August, the school will bring back the vaccine clinic specifically for international students who have not been vaccinated in their home countries but intend to do so.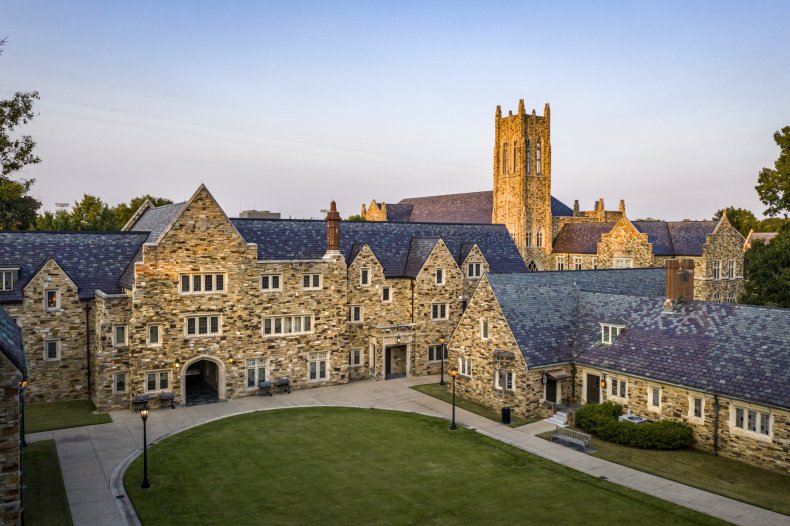 Unvaccinated students are still required by the school to wear masks when indoors and anyone else wishing to mask may do so. When it comes to unmasking, the school is trusting students to be honest about whether or not they've been fully vaccinated.
"In alignment with the tradition and history of the Rhodes Honor Code and the Lynx Promise, which commits each of us to honesty on all matters, I have no doubt that each of us will be honest regarding our vaccination status and mask in accordance with the campus policy," the school's website read.
The school may still require face masks at large, college-wide events but protocols will be up for review at the end of July.
Unvaccinated students are also still required to isolate for 14 days and get a COVID-19 test prior to arriving on campus, a step that vaccinated students can avoid.
Because the NCAA's current policy requires at least 85 percent for a campus to be vaccinated in order for unvaccinated students to forego stringent testing, Rhodes is hoping to make the process easier for student athletes, which make up roughly 30 percent of the college's student body.
Rhodes will continue to require flu vaccines in the fall.
Update 10/06/21 10:55 a.m. This story was updated with comments from Rhodes College.
Newsweek, in partnership with NewsGuard, is dedicated to providing accurate and verifiable vaccine and health information. With NewsGuard's HealthGuard browser extension, users can verify if a website is a trustworthy source of health information. Visit the Newsweek VaxFacts website to learn more and to download the HealthGuard browser extension.