Some of U.S.' Biggest Arenas Offer to Become COVID Vaccine Sites, but Supply Shortages Loom
A group of 12 live-entertainment organizations offered to help the U.S. distribute COVID-19 vaccines in a letter sent to President Joe Biden on Tuesday, but vaccine supply shortages threaten areas of the country.
"As you set about achieving the ambitious goal of vaccinating 100 million Americans in 100 days, we wish to offer the full support and resources of the live event industry," the letter said. "We have vast resources that, if fully utilized, could provide invaluable mechanisms in our country's vaccine distribution."
"In fact, because we are shuttered, we are able to offer the full weight of our industry to support vaccine distribution beginning immediately," the letter continued.
Two concert-promotion giants, Live Nation Entertainment and Anschutz Entertainment Group, are among the live-entertainment organizations that signed the letter alongside the National Independent Venue Association and others.
Together they offered thousands of large venues, workers and resources to aid federal and state governments' distribution of the coronavirus vaccines.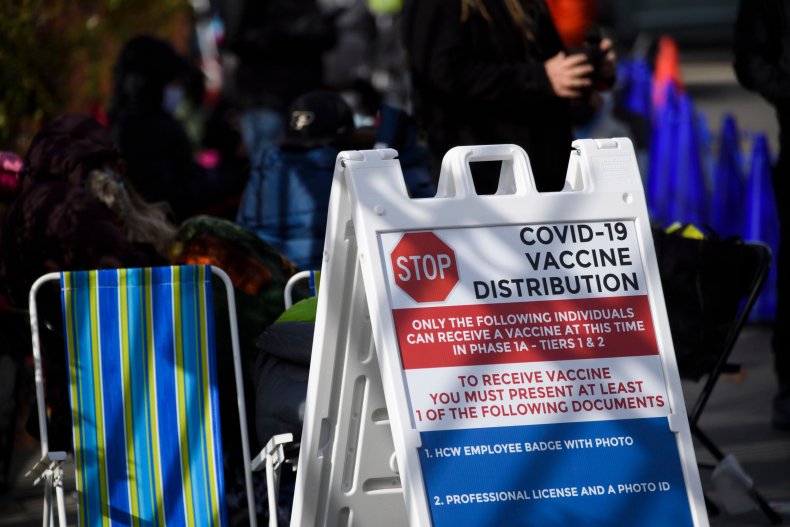 "We have been closed for nearly one full year to protect public health," the letter said. "Please let us go to work to protect public health."
The plan was hinted at in a January 16 tweet from Live Nation CEO Michael Rapino.
"If the live event industry was tasked with vaccination distribution we would have it done in a weekend, sold t-shirts and beer and a meet and greet with Fauci," Rapino tweeted.
Biden announced his aggressive vaccine distribution plan to administer 100 million shots in his first 100 days in office in late 2020. The president has since upped that goal to 150 million shots administered in the same time period.
"I feel good about where we're going," Biden told reporters Monday. "I think we can get it done."
Even if the government approved the live-entertainment organizations' proposal, several cities and counties across the U.S. have reported vaccine shortages, including areas of New York, California, New Jersey, Michigan and North Carolina.
Some areas are expected to run out of vaccines as soon as Thursday if supplies aren't increased.
Rochelle Walensky, the director of the Center for Disease Control and Prevention, said Sunday that Biden's plan could be hindered by the supply of vaccine doses.
"I think that the supply is probably going to be the most limiting constraint early on, and we're really hoping that after the first 100 days, we'll have much more production," Walensky told Fox News.
"We're really hoping we'll have more vaccines that will increase the pace at which we can do the vaccinations," she added.
Newsweek reached out to the White House, but didn't hear back in time for publication.