Some Virginia Schools Warn Parents of TikTok Trend 'Devious Licks' After Multiple Vandalism Incidents
Some northern Virginia schools are reportedly warning parents of a new social media trend that challenges students to steal and vandalize school property.
The new trend called "devious licks" challenges students to post videos of themselves destroying school bathrooms or stealing school belongings, NBC's News4 reported on Wednesday.
A parent of a school student at Rocky Run Middle School said that he learned that one student reportedly stole a trash can and "no one said anything."
In a letter sent to parents, Rocky Run Middle School Principal Amy Goodloe said that the social media trend is making it difficult to maintain a healthy and safe environment at school, according to News4.
According to the outlet, the social media trend is taking place in some counties, including Fairfax County. Some incidents that might be related to the trend were also reported at Prince William County Public Schools, Arlington Public Schools and North Stafford High School.
Fairfax County Public Schools said in an emailed statement to Newsweek that it was aware of several incidents that ruined school property.
"We are aware of several incidents of damage to school property related to a troubling TikTok challenge. Disciplinary action has and will be taken against those who participate in this behavior as part of our Students Rights and Responsibilities," the school district said.
Newsweek contacted Prince William County Public Schools and Arlington Public Schools but didn't hear back by the time of publishing.
TikTok took action and reportedly banned users from sharing the trend on its platform and from accessing the hashtags associated with this content, News4 reported.
"We expect our community to stay safe and create responsibly, and we do not allow content that promotes or enables criminal activities. We are removing this content and redirecting hashtags and search results to our Community Guidelines to discourage such behavior," a TikTok spokesperson told Newsweek in an emailed statement.
News4 obtained a photo from a parent of a student at Lake Braddock Secondary school, showing missing hand soap dispensers at the school's restroom.
The Lake Braddock Secondary school principal this week told parents in a letter that school staff will supervise school bathrooms more. The principal also added that some restrooms will be closed during lunchtimes and transitions, according to News4.
A spokesperson for the Stafford County Public Schools told Newsweek that the school district is currently addressing similar vandalism instances related to the TikTok challenge.
"Regarding the TikTok challenge, Stafford County Public Schools is aware of the issue and we are addressing any instances of vandalism first with parents and the School Resource Officers, and when necessary, through the Code of Conduct," the spokesperson said.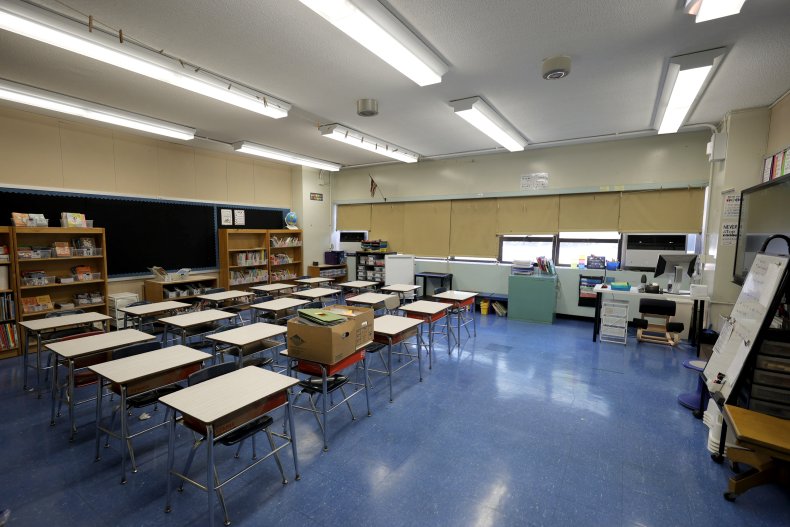 A number of controversial trends have been surfacing on social media, prompting users to post videos of themselves as they achieve a certain task or challenge.
Last month, a video showing a man participating in the so-called Milk Crate Challenge went viral and gained five million views on Twitter as of August 22. Later that month TikTok removed hashtags associated with this challenge, saying it "glorifies dangerous acts."
The challenge encourages people to climb and go back down a staircase made of plastic milk crates without falling. People have been filming the challenge and posting it under #MilkCrateChallenge on social media.
In June, another trend went viral on TikTok called the Starburst Challenge. The challenge urged people to kiss each other with the candy in their mouths.
Updated 09/16/2021, 5:28 p.m. ET: This story has been updated with statements from Fairfax County Public Schools and Stafford County Public Schools.