Some Women of Color Are Boycotting the Women's March, Here's Why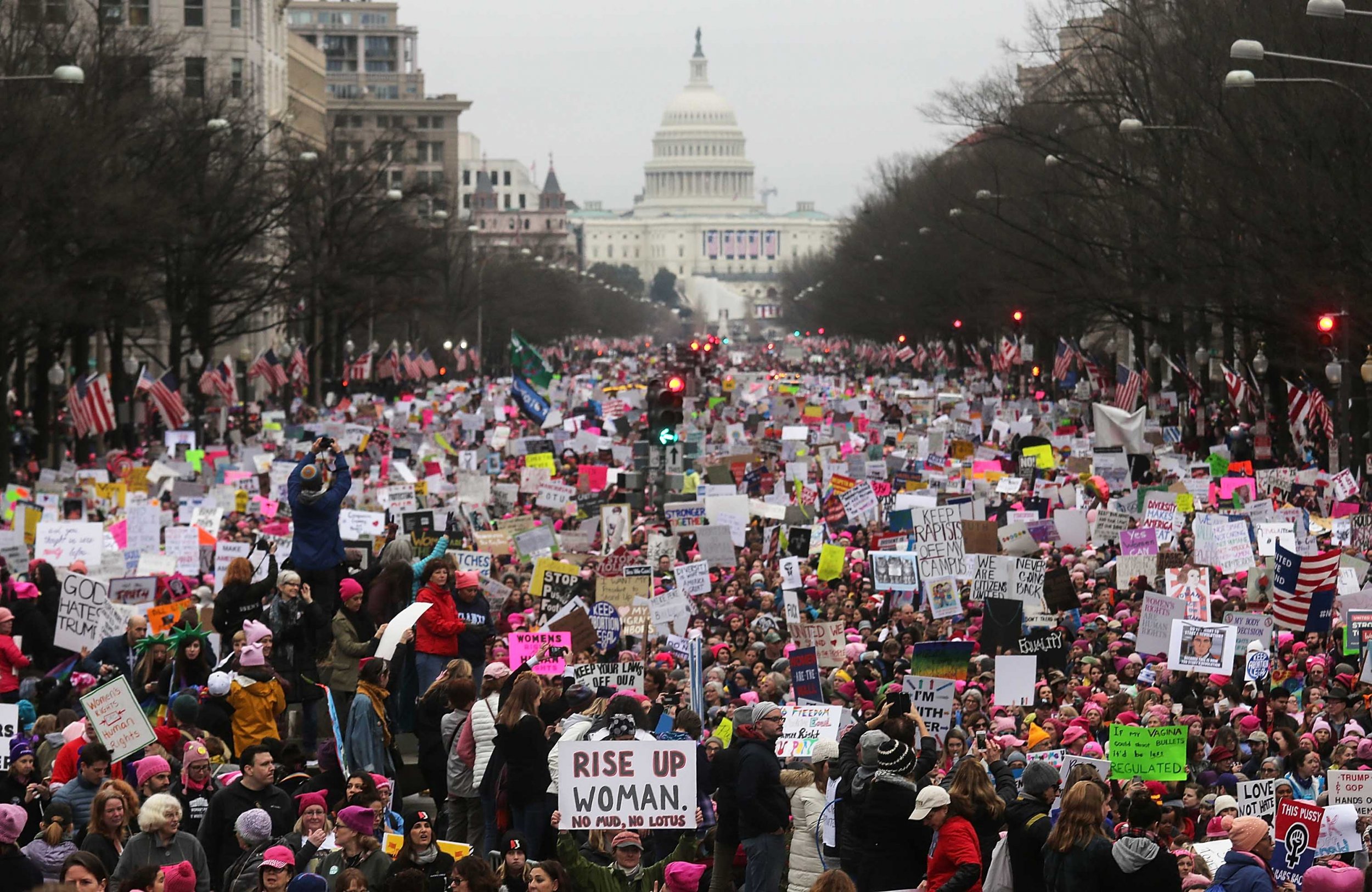 Women of color penned think pieces and took to social media last year to voice their frustrations over the Women's March, which many critics said excluded them. Despite claims from organizers that this year's march willl be more inclusive, some women are sitting out this weekend's events in a call for more diversity.
Last year's march unfolded in direct retaliation to the election of President Donald Trump. The event saw millions of women across the nation march, wear pussy hats and chant in resistance to the newly-elected president.
The march in Washington, D.C., and other cities were seen as a moment of unity and resistance on a massive scale. But before and after the gathering, women of color were accused of dividing and "hijacking" the movement for questioning its inclusivity and asking for more representation. This year, organizers said they are being more intentional and recognize that it will take some time to build trust.
"What has been important is that all of us have been very intentional about addressing issues and concerns not just of women of color and addressing the concerns of all women," Tamika Mallory,a black woman and co-president of the Women's March board, told Newsweek.
Raquel Willis, a transgender activist and lawyer, spoke out at the national march in Washington, D.C., where she stressed the importance of being intentional about inclusion, saying that "no one can be an afterthought anymore." But Willis, who is black, will not be at this year's national gathering in Las Vegas on Sunday.
She told Newsweek that while the event is inclusive in a broad sense, it fails to offer a real platform for transgender women. "We must go beyond having trans women speak and share their brilliance for a one-off event," she said. "We have to go beyond saying that transwomen are included, we have to show it by putting them in leadership positions and building pipelines to leadership."
The 2017 march was formed after Teresa Shook, a retired attorney from Hawaii, posted a Facebook event and called it the Million Woman March, a name that was already taken by a 1997 march by black women fighting against marginalization in Philadelphia. As more and more women began to join, the name of the event was changed to Women's March On Washington and women of color activists were brought on including Mallory, Linda Sarsour and Carmen Perez.
The origins of the march had already soured it for some. Some women of color said it was another way they were not being recognized.
"Because of the origins of the women's march, we are always going to be up against sort of the concern from women of color around inclusivity," Mallory said. "As women of color in the women's march, we have the same concerns...whether the white women in the organization..are really prepared to flip the narrative around feminism and what that has traditionally meant for women of color."
Last year, Alicia Garza, one of the co-founders of the Black Lives Matter movement, wrote an essay last year on why she had conflicted feelings as a black woman on attending the march.
"I'd had enough before it even began," she said. "53 percent of white women who voted in the 2016 presidential election did so for a man who aims to move society backward. Where were all of these white people while our people are being killed in the streets, jobless, homeless, over-incarcerated, undereducated?"
Garza decided to attend last year and will speak at this year's gathering alongside other speakers like political commentator Melissa Harris-Perry. Garza told Newsweek she changed her stance on the march after witnessing internally how the organizers "courageously" took on the question of race inside the organization.
This year, Garza said she is ready to commemorate what was an "incredibly powerful" mobilization of women and allies around the world
"I am really excited that the march is committed to making sure that it not just a moment," she said.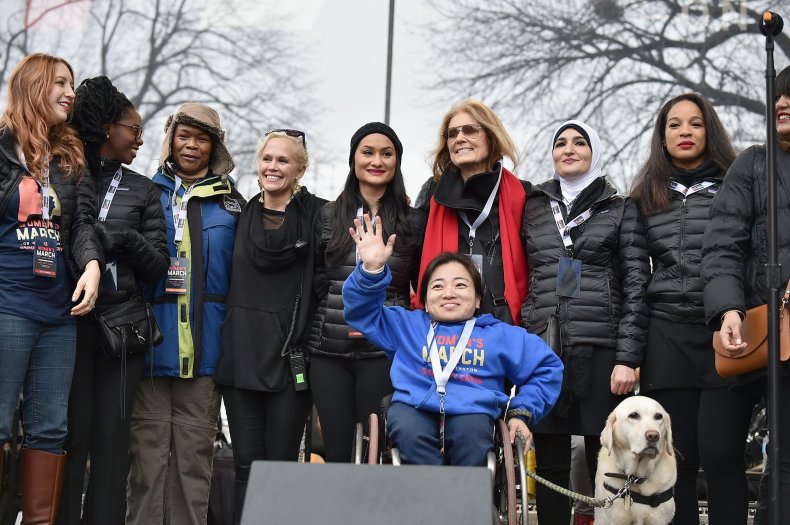 A group that goes by Black Lives Matter Cincinnati has decided not to participate in the 2018 Cincinnati Women's March after event organizers would not change the event's slogan from "Hear our vote!" to "Hear our voice!"
"Replacing "vote" with "voice" is a broader call," Black Lives Matter: Cincinnati said in a statement. "Voice can include voting for those inclined to do so. That's not true the other way around."
One woman shared her frustration on why she is not participating this year in a column titled "Why This Black Girl Will Not Be Returning To The Women's March."
S. T. Holloway told Newsweek that last year, she had to get a "Black Lives Matter" chant started because no one else had brought up the chant during the march and when she did, it was said with less enthusiasm as the other chants.
She said not attending this year is an act of self-care and preservation because women of color like her are tired.
"They are tired of lending their power and voice to a movement that won't respect their issues and concerns," she said. "It's to save yourself from the frustration, disappointment and hurt you feel when going to bat for others when that is not reciprocated."
The Women's March was one of the inspirations behind the March for Black Women, where several organizations including Black Women's Blueprint, BYP100 and Trans Sistas of Color Project, rallied together in September last year to give black women a space to be heard. Hundreds marched to "denounce the propagation of state-violence and the widespread incarceration of Black women and girls, rape and all sexualized violence, the murders and brutalization of trans women and the disappearances of our girls from our streets, our schools and our homes," according to the group's mission statement.
Farah Tanis, co-founder and executive of the civil rights organization Black Women's Blueprint, told Newsweek she congratulates the women's march on another year.
"It is really obvious we are on the eve of some dynamic change in our country around gender," she said. "We want to make sure women who exist on the periphery are able to have their stories told and are able to be included in this reckoning."
The Women's March will host sister marches around the world starting on Saturday. Women's March organizer's brought the national event to Las Vegas this year as Nevada represents a battleground state. The gathering will be held at Sam Boyd Stadium with doors opening at 10 a.m. The event will not feature a march. Los Angeles's march will take place on Saturday starting at 8:30 a.m. at Pershing Square. The New York City march will commence at 11 a.m. Saturday and marchers will start on 72nd Street and Central Park West.