Someone is Hospitalized for COVID-19 Every 30 Seconds in France, Prime Minister Says
One person is admitted to a hospital every 30 seconds in France due to COVID-19, Prime Minister Jean Castex said in a press conference on Thursday.
"The pressure on our hospitals has intensified enormously," Castex said, adding that one in four deaths across the country are related to the virus. As of Thursday afternoon, 32,683 people are currently hospitalized, up from a previous high of 32,292 in April when the virus' first wave peaked, according to data compiled by the French government.
France reported 35,879 new cases on Wednesday, bringing the total to 1.86 million, the highest in Europe. So far, the virus has killed over 42,000 people in the country.
Cases have risen so rapidly that French President Emmanuel Macron enacted a second national lockdown on Oct. 29. The lockdown is set to last until at least December but could be extended if numbers continue to climb.
"The virus is circulating at a speed that not even the most pessimistic forecasts had anticipated," Macron said when announcing the lockdown, adding that half of all intensive care beds in the country were being used to treat COVID-19 patients. Now, 92.5 percent of France's intensive care beds are being used due to the coronavirus. According to the French government, there are currently 4,899 COVID-19 patients in intensive care units.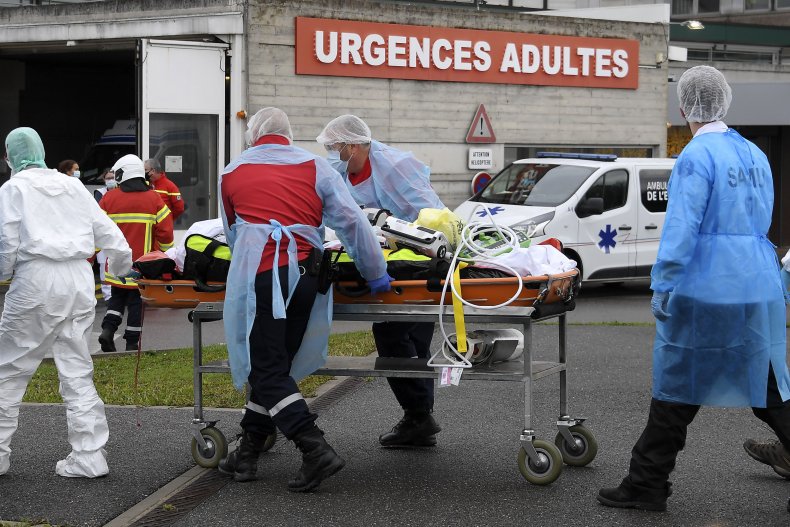 Under the current order, people are only allowed to leave their homes for essential work or medical reasons, and all non-essential businesses must remain closed as the nation combats its worst outbreak yet.
Under the current order, people can only leave their homes for essential work or medical reasons, and all non-essential businesses must remain closed.
In order for the lockdown to be lifted, Macron stated that daily new infections would need to drop to 5,000 per day.
On Thursday, Castex stated that he would not hesitate to add even stricter measures if the virus continued to surge.
"It would be irresponsible to soften the lockdown now," he said. "The gains [we are seeing] are fragile."
But if cases ease in the coming weeks, the prime minister said France could begin loosening restrictions on December 1. When asked if citizens would be able to travel outside of the country for the Christmas holiday, Castex said it was "a bit too early to say."
Earlier this week, Julien Lenglet, a hospital director at Anthony Hospital in the Paris region, told RMC Radio that Christmas and New Year's parties should be "canceled" to prevent a further surge.
As the virus continues to surge, other countries across Europe, including Italy, Germany and Greece, have also initiated new lockdowns.
The U.S. continues to be the worst-hit country in the world, and as of Thursday, reported at least 10.4 million cases and over 242,000 deaths.