Someone Put Jail Bars over Donald Trump's Hollywood Walk of Fame Star
A British-born street artist has defaced the Donald Trump Hollywood Walk of Fame star by placing prison bars over it.
Plastic Jesus, who lives and works out of Los Angeles, announced his latest work on Tuesday by saying he had put Donald Trump "behind bars." A video, revealed on Twitter, showed the metal jail bars sitting over the star while bystanders examine it.
In an email to the Huffington Post, Plastic Jesus said the bars were affixed with double-sided tape. "There have been calls to jail Trump since the day he was elected, and today he was certainly put behind bars," the artist said. "Although it was very quickly damaged by a Trump supporter trying to remove it, the bars did appear to be stuck fast and were there several hours later—to the amusement of thousands of passing tourists."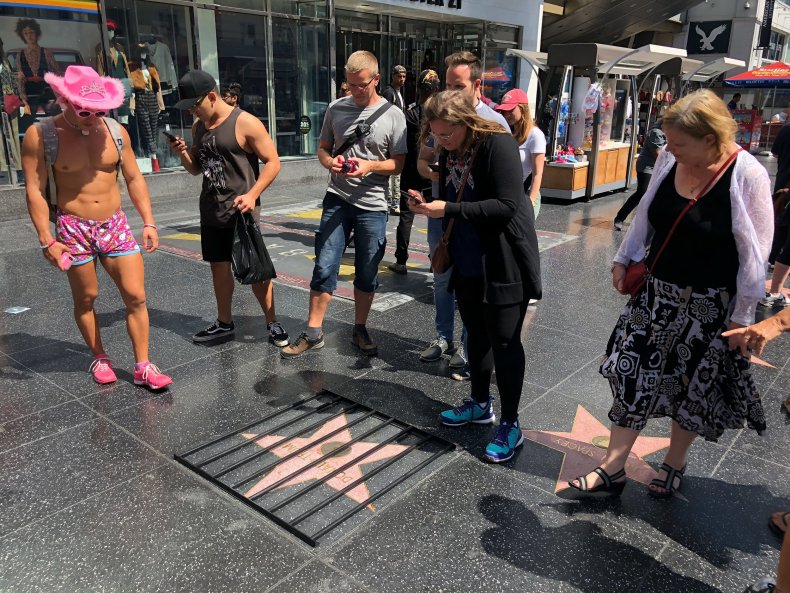 This is not the first time Plastic Jesus has taken aim at Donald Trump's star. In 2016, when Trump announced his plans to build a wall between the United States and Mexico, Plastic Jesus constructed a 6-inch concrete wall—complete with razor wire and a miniature flag—around the Hollywood Walk of Fame star.
Then in 2017, Plastic Jesus mocked President Trump's immigration policy by placing fake signs around the city in vacant lots. The signs read "Lot Reserved For: Future Internment Camp" and were accompanied by the United States seal.
Plastic Jesus said it was important to speak out. "Artists are able to connect and convey opinion in a universal way. I think art encourages dialogue and debate like no other media."
He's also not the only person to take aim at Trump's star. In July, someone took a pickax and completely destroyed the star's center while also defacing it with graffiti. The person has since turned themselves in and the star was replaced.
In August, the West Hollywood City Council voted unanimously to remove Trump's star from the Hollywood Walk of Fame. The council, however, has no jurisdiction over which stars remain, making the vote entirely symbolic.
In order to secure a space for your own star on the Hollywood Walk of Fame, you must be nominated by a member of the public (usually the star's studio or management) accompanied by a $40,000 fee for the ceremony and future upkeep. When a plaque is laid, they stay in place forever, according to the Hollywood Chamber of Commerce.