Someone Risked Electrocution to Hang a 'Trump 2020' Sign From Power Lines in Massachusetts
An individual risked electrocution in order to hang a sign supporting President Donald Trump across a street in Wilmington, Massachusetts, police said Friday.
The "Trump 2020" sign was attached to live electrical wires hanging above Main Street, according to the Wilmington Police Department. Police said in posts on Facebook and Twitter that officers did not know who was responsible for the sign, but encouraged the individual to come forward.
"Not only did they run the risk of electrocution, but the low hanging sign caused a hazard to passing motorists," police said in the posts.
Police said they discovered the sign early Friday morning. Photos of the sign posted on the department's social media pages appeared to show a pre-dawn Main Street with bold letters and numbers spelling out "Trump 2020" pulling the electrical wires down closer to the street. Part of the sign nearly touched the top of the police vehicle also seen parked beneath the sign in the photos.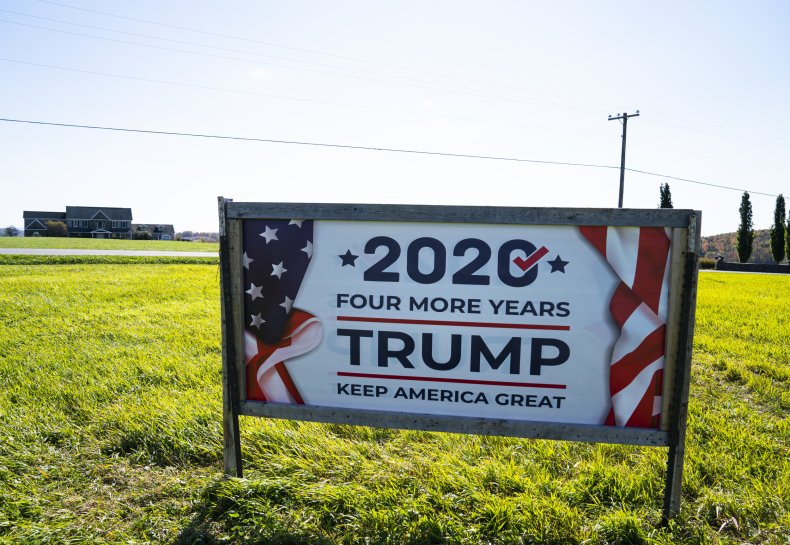 In the department's post on Facebook, police said that hanging a political sign on town property is a violation of Wilmington's bylaws. The section of the town's bylaws dedicated to signage says: "No person shall in any manner affix posters or signs or advertisements, whether for political purposes or for other purposes, upon town property, real or personal, or upon the poles and other equipment of utilities located within the limits of Town ways." The section continues to say that while political signs are allowed on private property, they cannot block drivers or pedestrians who are trying to use public roads or sidewalks.
Individuals in violation may have to pay fines and remove the illegally-placed signs, according to the town's bylaws. It was unclear what those fines might be for the individual who hung the Trump sign on Main Street. Wilmington police asked for the public's help in identifying the individual responsible and encouraged anyone with information relevant to the incident to come forward.
Newsweek reached out to the Wilmington Police Department for comment, but did not receive a response in time for publication.
Police discovered the sign just hours after Trump and Democratic presidential nominee Joe Biden completed their final presidential debate in Nashville with fewer than two weeks remaining until Election Day. By Wednesday, more than 1 million voters had already returned their ballots in Massachusetts, according to The Boston Globe, and Massachusetts Secretary of State William Galvin predicted that voter turnout this election season would exceed that of 2016. While former Secretary of State Hillary Clinton handily won the state four years ago, The New York Times' results for Wilmington specifically showed a much closer race—with Clinton receiving just 38 more votes than Trump in that area.