Something's Not Working in South Africa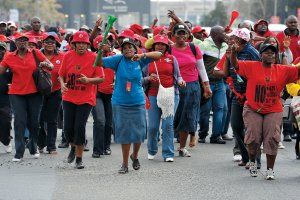 It may have been a relief to many when the World Cup's vuvuzelas finally stopped blaring, but now the Rainbow Nation's winter of good feeling is emphatically over. A recent government workers' strike grew so massive that the Army was called out to keep hospitals open. The walkout has exposed deep splits between the ruling African National Congress's business-oriented leadership and its trade-union allies.
Having seemingly forgotten that the unions helped him oust his predecessor, President Jacob Zuma has largely brushed off union demands for billions of dollars in wage increases. But now, even if the strikes end soon, Zuma will have to move left to salvage his governing alliance. A particularly sore spot is the question of black ownership in business. Though blacks are 80 percent of the population, they still own just 18 percent of the equity in the 100 biggest companies on the Johannesburg Stock Exchange. Handling that problem without scaring off investors could be harder than dealing with the strikes.