'My Son Is Autistic—The Pandemic Has Separated Us for 4 Months'
My son Antonio is 25-years-old and moved into his group home at the age of 21. Even though that was his new place to live, we always made sure that he knew that the family home here in Miami, Florida was still his home as well, and that we were still his family. We would pick him up every weekend to bring him to the family home so that we could all spend time together.
Antonio is autistic and has comorbid psychiatric disorders such as psychosis and anxiety, for which he takes medications. After he graduated from high school it was hard to keep him in a routine and to keep him safe.
He loves public transport and has memorized all the train stations, bus numbers and their respective routes. One night, my husband Alec and I received a call at 4am from the police station in Homestead, which is around an hour away from our home. An officer explained that Antonio had arrived at the station because he was lost. It took us completely by surprise as we didn't know Antonio had even left our house.
Fortunately, Antonio was carrying an ID card that shows his name and that he has autism. This card explains how he might react to certain situations and it has me listed as an emergency contact, so my husband and I picked him up when the police officer called us.
At that time, his mental health was declining and he became very aggressive. We also received calls from the police officers on two other occasions because of Antonio's disruptive behaviors in public. My husband and I brought him to the hospital where he had to be admitted in the psychiatric unit each month, for three consecutive months.
Eventually, one of the doctors suggested that we consider a group home for him because he needed 24-hour supervision, which we were not able to provide because we have three other children who also required our attention and emotional availability. This suggestion was painful to hear and my husband became very sad, but we had to consider the safety of Antonio and of the family.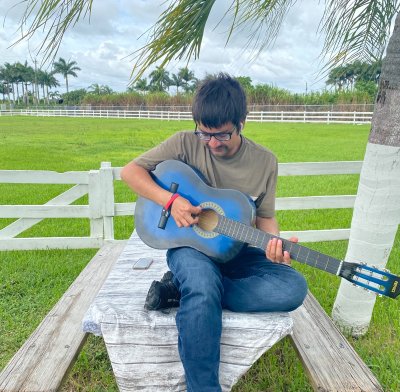 So, Antonio moved into a loving group home in the Redlands in June 2015. There, it became quickly apparent that he required more than supervision, he needed a specialized therapist that could help him through his meltdowns and sometimes aggressive behaviors. As a result, in February 2016, Antonio moved into J.R. Home Ranch in Miami, where he resides now.
In March 2020, just as COVID-19 hit, two of our kids got sick with common colds. This occurred during the weekend before a shelter-in-place order was announced in Miami. Antonio wasn't able to come and see us that weekend because we didn't want him to become sick. At that time, we thought we would only be on lockdown for just a few weeks, so we had to make the choice of whether to leave him in the group home or to bring him home.
We considered bringing him home with us. But, Antonio would not have been able to go outside for unsupervised walks and I was concerned that he'd want to go on public transport. It would have been stressful for him and for us.
My husband and I decided that weekend the Antonio should stay at the group home, where there is a lot of beautiful open space for him to move around and feel safe. We're glad that we made that choice because the group home staff ensures that he feels safe, secure, and that he stays healthy. Because the staff keeps the boys active and exercising, my son is the only one in the family who has lost weight during the pandemic: he looks fantastic. They run, play baseball and basketball. Antonio doesn't feel trapped because of all the space available for his regular walks. He needs to move around, a lot.
Antonio was diagnosed on June 17, 1997 with Pervasive Developmental Disorder (PDD), a diagnosis used when a child's symptoms did not meet the full criteria to be diagnosed with autism. In 2013, the American Psychiatric Association eliminated this and other diagnoses as individual diagnoses and grouped them all as Autism Spectrum Disorder (ASD). By the age of two, he was not engaging, nor relating. He was not speaking, nor making eye contact. His therapists and the special education teachers played a crucial role in his overall progress, including speech and language.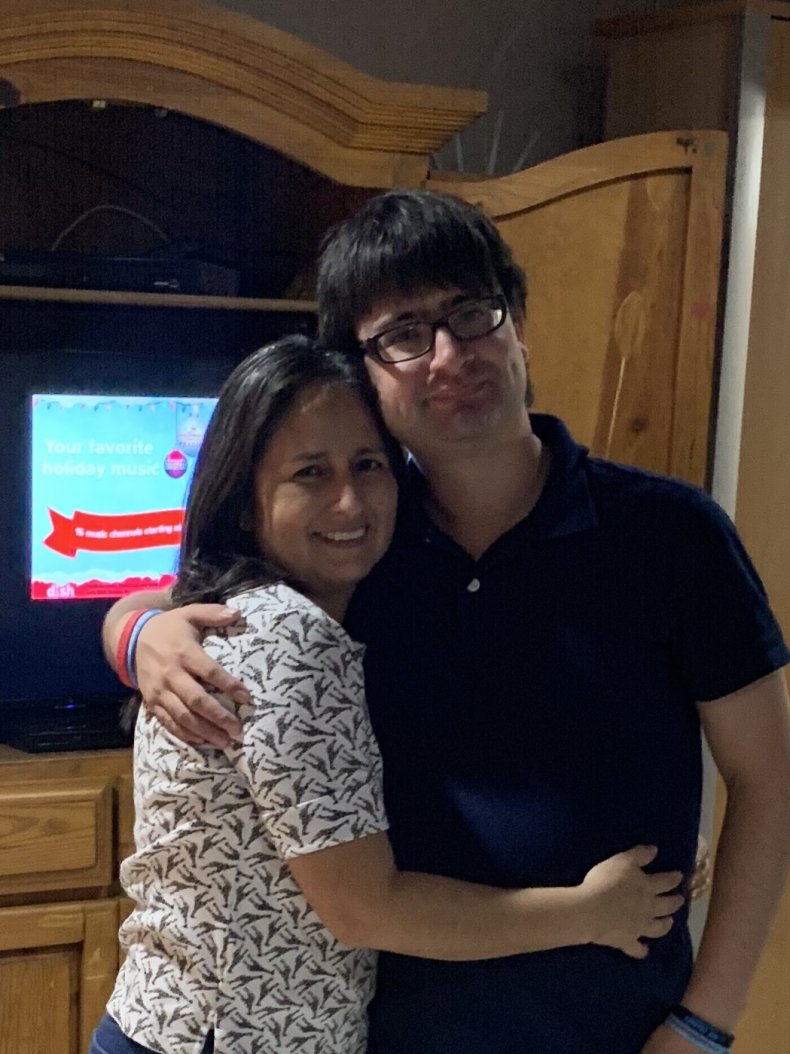 Antonio loves to tell people about his love for the Bee Gees and Selena, Jaco Pastorius and Steely Dan. He likes to be around people and tell you about the videos that he watches on YouTube, although his conversations can be limited due to his poor communication and social skills. He also has silent seizures, which have affected his short-term memory. He often forgets what he had begun to tell you. Silent seizures are a common comorbid disorder in people with autism.
He is very sensitive to loud voices and random sounds and he does pay attention to the way people are talking to him and approaching him. He has said to me before that because he has autism, people seem to assume that he can't think for himself, and don't consider that he should be respected like everybody else. He wants to be seen and treated like an adult person, not like a person with autism.
Before the pandemic, if there were ever any concerns or issues regarding Antonio's behavior that needed to be addressed, I would have been able to simply go over to the group home to resolve them—but now I can't do that. Our constant communication with the managers and the staff, who maintain a good relationship with Antonio and who listen to our suggestions, have insured that Antonio continues feeling safe and remains connected. But, I now have to approach these issues through the phone instead of in person.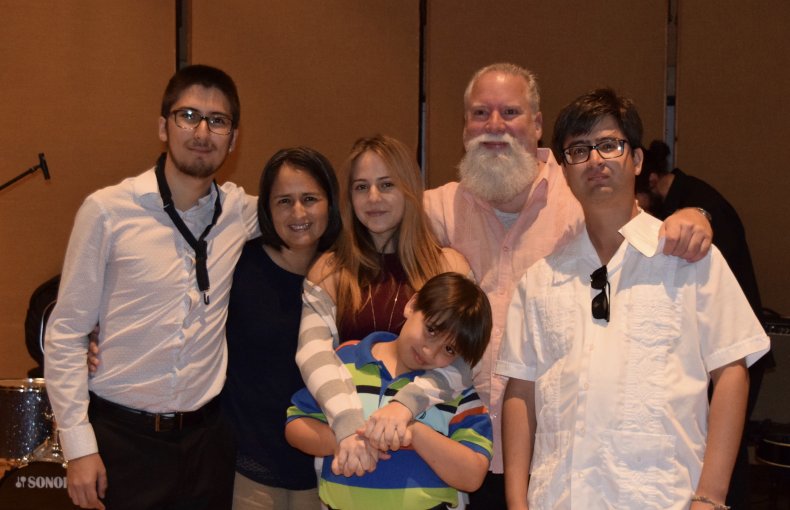 When we realised that the pandemic wasn't slowing down and that the lockdown would last longer than a few weeks, we all became really sad. We communicate every day with Antonio via FaceTime and he tells me, "Mommy, how come you're not picking me up?" or says that he feels left behind. Because his silent seizures affect his short term memory, I have had to repeatedly remind him that we were not picking him up to be safe, because many people were sick. We didn't want to risk him getting sick because if he did, then everybody else in the group home would get sick too.
Because Antonio has aged out of school, I am not experiencing what moms with young children with autism, or any other developmental difference, are going through during this pandemic. I recognize how hard it is to have your child at home who needs daily school routines, teachers, and classmates. Parents depend so much on therapists and schools to provide some of those routines and therapeutic services. My situation is different because Antonio is not home. I miss him so much and I worry when he doesn't call me, or he doesn't answer his phone.
The number of COVID-19 cases in Florida is still very high and the number of deaths due to the virus has increased. I don't know how much longer we're going to be separated, and I fear we're not going to be able to bring him home soon.
I have only seen him once since the pandemic hit. We met for 15 minutes at the end of June. We were able to meet him with a staff member at a neutral space to pass him an iPad in the car—so that we weren't going into the home and he wasn't leaving to visit us. He uses his iPad for his language and occupational therapies. We socially distanced and talked. I was so happy to see him looking healthy and sounding so happy. That brought me peace of mind—but it was only 15 minutes.
If parents have been separated from a child with a disability during the pandemic, it's really important to maintain communication. It is also important to be aware of our own emotions. I am part of an autism support group for moms led by a clinical social worker.
We have talked about the importance of recognizing and validating our own emotions and to show self-compassion. Sometimes, we are afraid of feeling anxious or sad. I had to give myself permission to feel this way. And I think it's also important to be honest and tactful with our children about what's going on. My conversations with Antonio are open and he can tell me how he is feeling, and I am grateful for that.
Antonio will call me sometimes and say "Mommy, I'm feeling sad" and I don't want to cover that up. His emotions are normal and we all experience these emotions. We should let our kids know that it's ok not to feel ok.
I tell him that it's ok to feel sad because he cannot come home, and that I'm feeling sad because I can't see him either. If I try to cover up what we are feeling, then I am not letting him know that I hear how he's feeling and I'm not being honest about how I'm feeling.
It's important to embrace your emotions. That way, you can better understand them and communicate them.
Giovana (Gio) Izzo is studying for a bachelor's degree in Early Childhood Development and works as a play specialist. She lives in Miami, Florida with her husband, Alec and their children Angelo, 24, Gioia, 23, and Alonzo, 12. Their eldest son, Antonio, currently lives at J.R. Home Ranch, a Miami-based group home. Antonio has inspired Gio to dedicate her professional life to helping families and children with special needs.
All views expressed in this piece are the writer's own.
As told to Jenny Haward.