Internet in Shock as Man Covers His Parents Entire Kitchen in Peanut Butter
A video of a kitchen covered in peanut butter has gone viral on TikTok, where it received over 36 million views at the time of writing.
The video shared by TikToker @corbinnmillet, which was credited to @mrcorbean, was posted with a message overlaid on it that read: "Covering my parents kitchen in peanut butter."
The clip showed a kitchen space, including the cabinets, countertop, stove, oven and refrigerator, covered from top to bottom in 28 pounds of peanut butter, the poster noted in a reply to TikToker Dominic21t who asked how much peanut butter was used.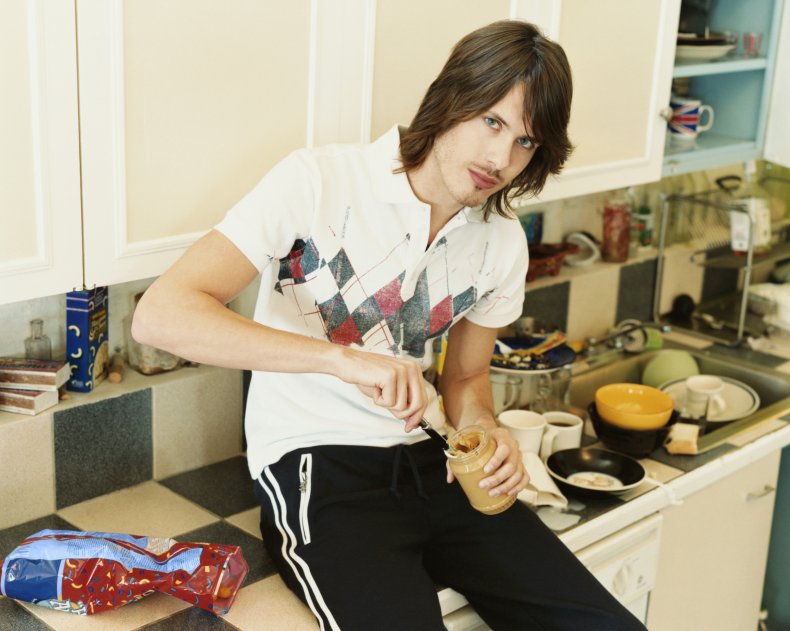 The video was captioned: "All peanut butter was [eaten] by doggies."
It's unclear why the original poster decided to execute the unusual kitchen makeover. But according to a viral follow-up video that received over 10 million views, the act appeared to be a prank to annoy the poster's dad.
A man in the video, which was posted with a caption that read: "It was at this moment that he knew," was seen quietly talking into the camera. He whispered: "F**** My dad just went downstairs and I think..." before being interrupted by another man's voice shouting: "Corbin! You sick f***. We're gonna get ants you d*******," as he was seen running up a flight of stairs.
As hilarious as the prank may have been, some users on TikTok called the latest stunt a waste of food, such as user @sonicdtivethrough who said: "bro wasted so much peanut butter," in a comment that got over 48,000 likes.
According to the United Nations, a third of all food produced worldwide—approximately 1.3 billion tons—is "lost or wasted" every year. Approximately 133 billion pounds of edible food in the United States (which is worth over $161 billion) goes to waste every year.
Food waste takes up the largest volume of material in U.S. landfills, accounting for more than a fifth of the waste stream, according to the U.N. In 2018, the Environmental Protection Agency estimated that in the U.S., more food was sent to landfills than any other single material in the country's everyday trash.
The latest video absolutely stunned TikTok viewers.
In a comment that got over 240,000 likes, user Ceeator simply said: "WHAT THE HELL [fire emojis]," while Al commented: "My jaw literally dropped."
TikTok Motorsportfanatic wrote: "Your gonna have a HUGE ant problem," in a comment that got over 111,000 likes.
User noenergy.net said: "YOU'RE GETTING DISOWNED [fire emojis]" in a comment that got over 82,000 likes.
Some users believed the original poster had covered the kitchen surfaces with plastic wrap before applying the peanut butter, as it appeared to be the case in another video they filmed.
BobLobChob commented on TikTok: "Guys it's wrapping paper [skull emojis]." INS wrote: "Look at the stove. It is originally black and now under the peanut butter you can see some white."
User ren said: "i dont care if theres plastic wrap i would change the locks and get a restraining order over this."
The latest TikTok video has not been independently verified.
Do you have a similar shocking video or picture to share? Send it to life@newsweek.com with some details and your story could appear in Newsweek.