Son Shoots Texas Man Dead after Seeing Him Attacking Parents, Police Say
A terrified son shot a man dead after witnessing him attack his parents as they left a restaurant in Texas, say police.
Alfredo Rodriguez and his wife had been enjoying a night out at the Ostioneria Michoacan bar and restaurant near Fuqua, in southeast Houston when a man approached them while they were dancing.
It is alleged the man proceeded to grope Rodriguez's wife who slapped him in return. The couple then decided to leave and make their way home.
However, the man followed the couple into the car park and began punching Rodriguez and grabbing his wife, reported ABC13.
When the 21-year-old son, who has not been named, walked out of the venue and saw what was happening to his father and stepmother, he grabbed his gun and shot and killed the man, said police.
The injured man, said to be in his 30s, was taken to hospital where he later died from his injuries.
The area of the shooting was taped off by investigators who carried out a forensic search using flashlights.
Investigators also trawled through CCTV footage of the area to determine exactly what happened during the shooting, which occurred at around 2am on Friday.
Sgt Kenneth Daignault of Houston Police Department said he had viewed the video and its contents matched the family's story.
He said: "From what I've seen on video and from what everybody is telling me, yes, he's clearly taking action to protect his dad and mom.
"In the video he (the father) looks unconscious after he punches him."
Speaking to KHOU 11, Alfredo Rodriguez said he was extremely upset by the incident and would do anything to switch places with his son.
He said when he woke up, the first thing he saw was his 21-year-old son being questioned by police.
Rodriguez told the news channel he was shot in the face during a robbery a few years ago and he believed that experience prompted his son to take the quick action he did.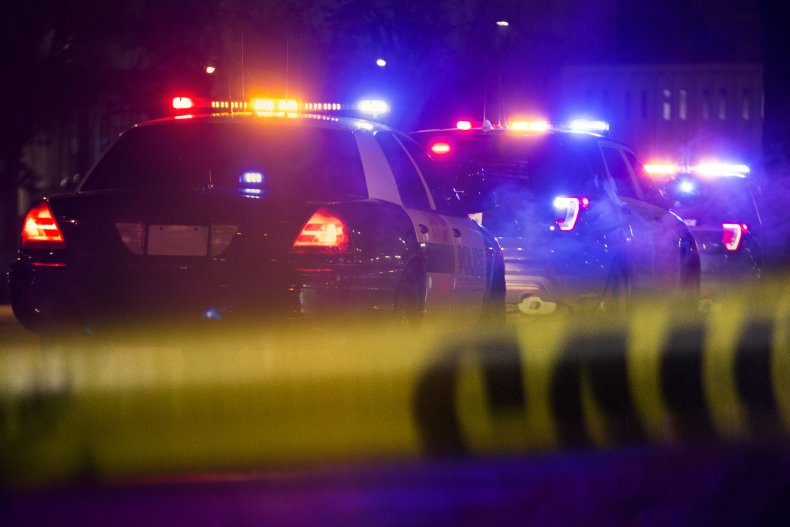 "He tell me 'Dad, it never happen to you no more, I take care of you.'"
Rodriguez and his son were allowed to leave the scene after being questioned by police.
His wife was also shot in the leg during the incident but is expected to make a full recovery after being treated in hospital.
KHOU reported that police have announced that the case will be referred to a grand jury without charges.