Son Stood in Driveway 'Covered in Blood' After Stabbing Parents to Death: Report
A man is accused of stabbing his mother and father to death on Monday morning. When police arrived, they found the man "covered in blood" and his father dead in the driveway in New York.
According to a report from New York State Police, authorities were called to the scene by a neighbor for a welfare check on the outskirts of Rome, New York. New York State Police Trooper Jack L. Keller told Newsweek that a nearby resident drove by the residence and saw a man standing at the edge of his driveway covered in blood.
When police arrived they found the suspect, 30-year-old Kyle Kirk, with blood on his clothing. While authorities interviewed Kirk in the driveway, they discovered a 60-year-old male lying nearby suffering from apparent stab wounds.
The victim was identified as Kirk's father, Howard J. Kirk III, who lived on the property. He was pronounced dead on the scene, according to police.
Police then entered the trailer on the property for further investigation and discovered another victim inside sitting on a chair. The victim was identified as 53-year-old Amanda L. Osborne. Osborne also died from multiple alleged stab wounds.
The Post Standard reported that Osborne was not only Howard Kirk's girlfriend but also Kyle Kirk's mother. Keller told Newsweek that Kirk has lived with his parents in the trailer since June 2021.
According to a report from the United Nations Office on Drugs and Crime, knives accounted for only 10 percent of homicides in the United States. Firearms accounted for approximately 76 percent of homicides. The U.N. reported that an individual in the U.S. is six times more likely to die by firearm than a knife.
Police arrested Kirk on the scene. He is being charged with two felony counts of first-degree murder and a felony for criminal possession of a weapon, state police said.
State police are investigating the apparent stabbing and no motive has been released.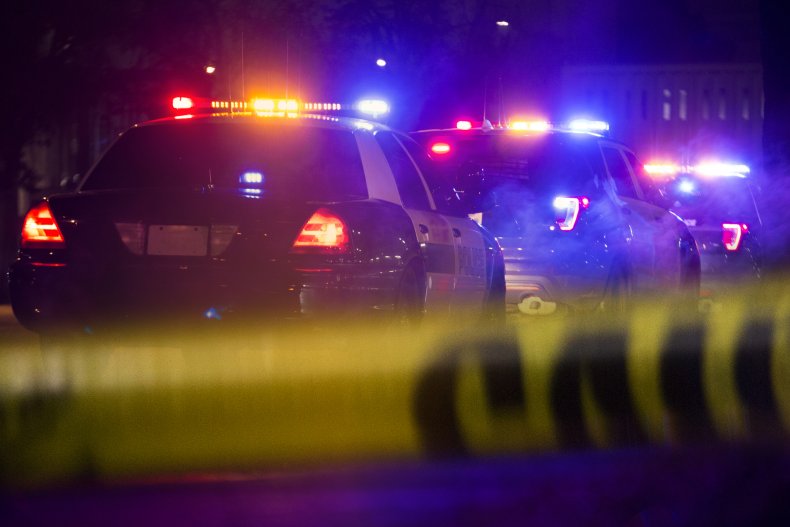 In June, Newsweek reported on a murder in which a teenager allegedly stabbed his father to death and broadcasted it on social media.
According to reports, the 17-year-old boy got drunk at a party nearby before visiting his father, 46, at his home in Ploeren, France. Allegedly, the teenager grabbed two knives from the kitchen and stabbed his sleeping father several times.
At approximately 11:30 p.m. the teen called the police and confessed to murdering his father. According to a statement from police, the teen told them that he "deliberately killed his father with several stab wounds."
The Vannes public prosecutor, François Touron, said the man's cause of death was "massive bleeding following multiple injuries from sharp weapons." The prosecutor also said that right after the stabbing, the man's son started taking video of the crime scene for social media. He said about 40 people viewed the live video.
According to Touron, the teenager said he killed his father because he wanted to "put an end to the aggressive and violent behavior of his father against the background of alcoholic problems and the suffering that this behavior caused his family."
A month before the incident, the teen's mother filed a criminal complaint about alleged domestic violence.
The teen was charged with "intentional homicide on a legitimate or natural ascendant" and "dissemination of images relating to the commission of an offense of willful attack on the integrity of the nobody."
Updated 10/19/2021, 12:33 p.m. ET: This story has been updated with comments from New York State Police Trooper Jack L. Keller.