Fox News anchor Chris Wallace analyzed U.S. Ambassador to the European Union Gordon Sondland's testimony to the House Intelligence Committee, saying the diplomat "took out the bus and ran over President Trump."
Sondland, who was appointed to his diplomatic role last year after donating $1 million to Trump's inaugural committee, testified to congressional investigators on Wednesday as part of the ongoing impeachment inquiry against the president. He asserted that that Vice President Mike Pence and Secretary of State Mike Pompeo "were in the loop" regarding Trump's efforts to pressure Ukrainian leaders to announce investigations targeting the president's domestic political rivals. The ambassador also stated that it was his understanding that there was definitely a "quid pro quo" involved with the pressure campaign.
"I think that what Gordon Sondland was trying to do here was protect himself, more than he is to protect anybody else," Wallace said on Fox News during a recess in committee proceedings. "To a certain degree, he took out the bus and he ran over President Trump, Vice President Pence, Mike Pompeo, [former National Security Council adviser] John Bolton, [Trump's personal lawyer] Rudy Guiliani, [acting White House Chief of Staff] Mick Mulvaney, he implicates all of them," the journalist said.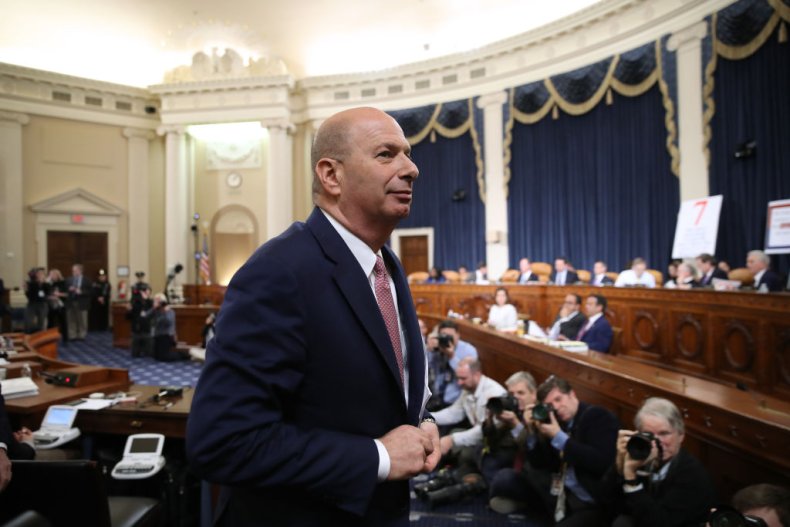 "One of the things he was at pains to say is, 'This wasn't a rogue operation. I wasn't a freelancer. Everybody knew. Everybody was in the loop on this,'" Wallace added.
Prior to Wallace's comments, fellow Fox News anchor Bret Baier also said that Sondland appeared to be focusing on protecting himself in the testimony. "On its face, it's very damaging to some of the arguments that the GOP has been making [in defense of Trump]," Baier pointed out.
In a separate segment on Fox Business, Andrew Napolitano, a former New Jersey Superior court judge who serves as Fox News' senior judicial analyst, described Sondland's testimony as "devastating" for the president.
"He directly connects it to the president, through the vice president, through Secretary Pompeo, through Rudy Giuliani, and even more inexplicably, we learned the president wasn't interested in an investigation, he was interested only in the announcement," Napolitano explained. "The president wanted to be able to say politically, 'Aha, a foreign government is investigating Joe Biden!' Whether the investigation was going to happen or not, he wanted to be able to say it."
The impeachment inquiry against Trump centers around his efforts to pressure Ukraine to publicly announce investigations into unsubstantiated claims against Democratic presidential candidate Joe Biden and his son Hunter, as well as into an debunked conspiracy theory that Democrats worked with Ukrainians to interfere in the 2016 election. As part of the White House's effort to pressure Ukraine to announce the probes, the administration temporarily withheld nearly $400 million in military aid to the country and made Ukrainian President Volodymyr Zelenskiy's invitation to a White House meeting contingent upon his decision to announce the investigations, according to multiple witnesses who have testified in the inquiry.
"Was there a 'quid pro quo?' The answer is yes," Sondland said on Wednesday. He also testified that "we followed the president's orders."