Songs Questlove, Goo Goo Dolls and Others Use to Test Audio Gear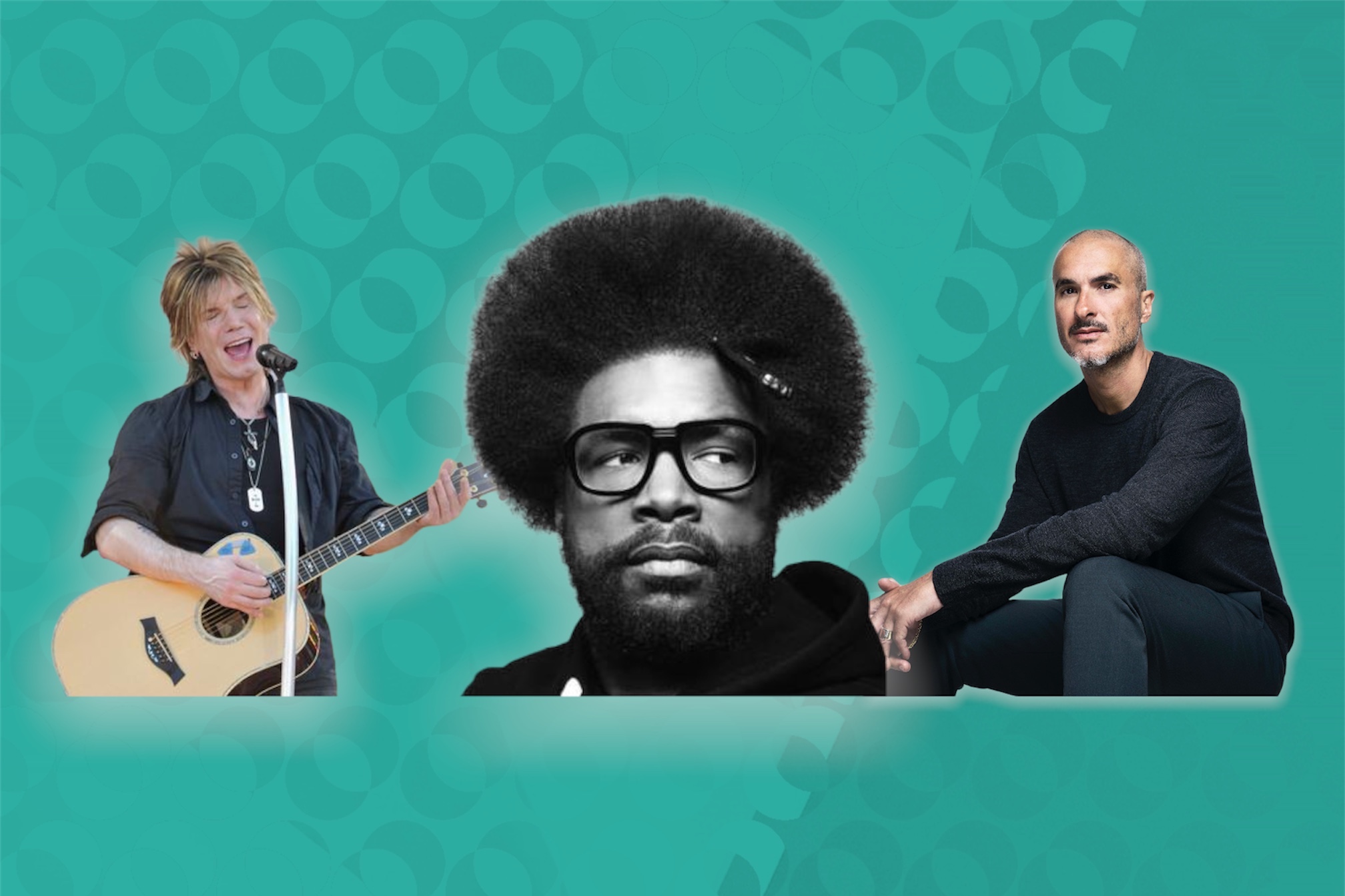 After months of stashing extra money away, you finally buy that pair of nice headphones. Or, maybe you step up DJ equipment for the first time. Or, you connect to a speaker in Best Buy. Whatever the scenario, the question remains: What's the first song you decide to play when you encounter new audio gear to test how it sounds?
Everyone has a go-to song. Employees at Spotify even have a playlist of songs for this exact purpose. It's called "Songs to Test Headphones With." Continuing to dwell on this idea for myself and my own testing eventually piqued my curiosity. What songs do other people use to test speakers? I sought answers from notable industry movers and shakers, and this is what they said. (Some responses have been edited for clarity.)
Questlove (Musician, Producer, Filmmaker and Author)
His response to me on Twitter: I test speakers DJn: Micheal Jackson's "Baby Be Mine" is my 'pop' tester (clean firm mix). "A Milli" [by Lil Wayne] is my compression endurance song. Any Ye jawn [Kanye West] is played because of the 'extreme mixing.' (I've only been charged for speaker damage on his songs only, so...yeah.)
Explaining further: Paid $300 'cause of "Goldigger" and $750 for "Blood on Leaves." Mixing is subjective so I'm not throwing shade, but I've taken all of his jawns and remastered it (or gotta put bass on minus 3)—this clearly tells me he gets the final word (over say 'a traditional engineer'). But I'll say, this mix for Yeezus tour was awesome (drumless songs)—so I think the final destination is stadiums in his mind. Headphones, stereo or computer speakers be damned.
Cheo Hodari Coker (Creator of and Former Showrunner for Marvel's Luke Cage)
I love Bob Marley's "Natural Mystic." It's the first song on the album Exodus. It starts off so quiet and then goes almost silent to incredibly loud, but it does it in this weird way with the sound just coming out of nowhere. And so it's a really great way to test the dynamics of a system in terms of the highs and lows, but also just to get the depth of the system.
If you want to test entire albums, The Chronic 2001 is probably one of the best-engineered records in hip-hop history. "What's the Difference Between Me and You?" is a great song to use. "The Watcher" is a good song to use. Dre deals with great dynamics. He, of course, emphasizes bass, but the treble too, so that a record will sound just as good coming out of earphones as a will out of a car stereo, out of the will out of a clock radio. He engineered things for that and so as a result, the record hits highs and lows in a really dynamic way.
John Rzeznik (Goo Goo Dolls, Singer-songwriter)
When I buy a new set of headphones, I'll usually listen to the first song off our first album just to see if it still sounds as bad as I remember.
Then I'll listen to "Sledgehammer" by Peter Gabriel because a) it's an insanely great song! and b) sonically, it's absolute perfection, and it reveals the flaws in the headphones (too much artificially hyped low end).
Michael "Fitz" Fitzpatrick (Fitz and the Tantrums, Singer-songwriter)
"Thriller" by Michael Jackson.
I know it like the back of my hand. I've listened to it so many times in so many different settings that I know exactly how it's supposed to sound. It's always my go-to as a sonic reference point for when I'm mixing my songs, and for choosing a new set of speakers.
There's a perfect balance of lows and highs in the song, and the vocals are obviously ridiculous. So it's always been my go-to song to get a baseline on anything: a mix in a live show setting, and yes, even my new speakers! I just bought some new ones and did the "Thriller " test a month ago!
Suzy Shinn (Producer and Songwriter)
When I get a new pair of headphones or am testing out new monitors, I'll either put on the latest song I've been working on (because I've heard it 1000 times on what I'm used to listening on—so I have a reference point). Or my second go-to is "Tired of Sex" by Weezer.
I'm listening for what cuts through, how the drums feel, the low end, where the vocals sit, etc. But most importantly, how do the headphones or monitor impact my listening experience—like, do I get pulled into the world of the song emotionally, or am I distracted by a sonic aspect?
Honestly, I used to put on "Teenage Dream" by Katy Perry too and really just focus on those intro guitars and vocals.
Damon Way (Syng Co-Founder and Chief Brand Officer)
When demoing Syng Cell Alpha [speaker] to new listeners and artists, I have a few songs I default to, but "Chrome County" by Oneohtrix Point Never is typically my go-to.
I've found that tracks like "Forest Nativity" by Francis Bebey, "Stratostaatti" by Mika Vainio, or "Square Fifths" by Beatrice Dillion & Kuljit Bhamra, to be particularly immersive and beautifully detailed on Cell Alpha.
Zane Lowe (Apple Music Co-Head of Artist Relations and Apple Music 1 Host)
I have a few songs and artists that I like to listen to when I'm trying out a new pair of AirPod Max's. I listen to Drake's If You're Reading This It's Too Late, in particular, the song "No Tellin'" also "Madonna" and "6 God." There are so many songs on that album that just sound great to me. That's one of the most clean and crisp examples of modern hip-hop production that I've ever heard.
I also listen to anything from the Soulquarians era, so Erykah Badu Baduizm or D'Angelo Voodoo, or I'll listen to PJ Harvey Stories From the City, Stories From the Sea—anything mixed by Dr. Dre and Bon Iver, as well—I love to listen to anything he's made whenever I get headphones.
Nils Frahm, whom I love, is just this incredible songwriter and producer. Anything that I can immerse myself in so that I can really get lost in the sound, that's where I tend to go—an Outkast as well, Aquemini.
Tyler Hayes (Newsweek Writer)
Because the audio products I test range from earbuds under $50 to speakers over $1,000, the first song I listen to varies based on what I expect from the device. Among the first tracks I play, however, is always "Sweeter" (featuring Terrace Martin) by Leon Bridges. From the moment the track starts, the atmosphere is deep and spacious, and the sprinkling of the saxophone is a great contrast too.
If I'm trying to get a sense of stereo separation, I turn to Haim's "Summer Girl." The song sounds traditional enough on a mono speaker, but once you have two distinct sides, you can hear the bass guitar start on the right and slide to the left—it's fun.
For an explosive of low-end frequency, I play Childish Gambino's "Summertime Magic." At 19 seconds into the track, low reverberating sound waves are unleashed. It starts with simple steel drums but is quickly washed over with a large rolling sound.