Far-Out Songs: Astronaut Chris Hadfield Releases 'Space Sessions'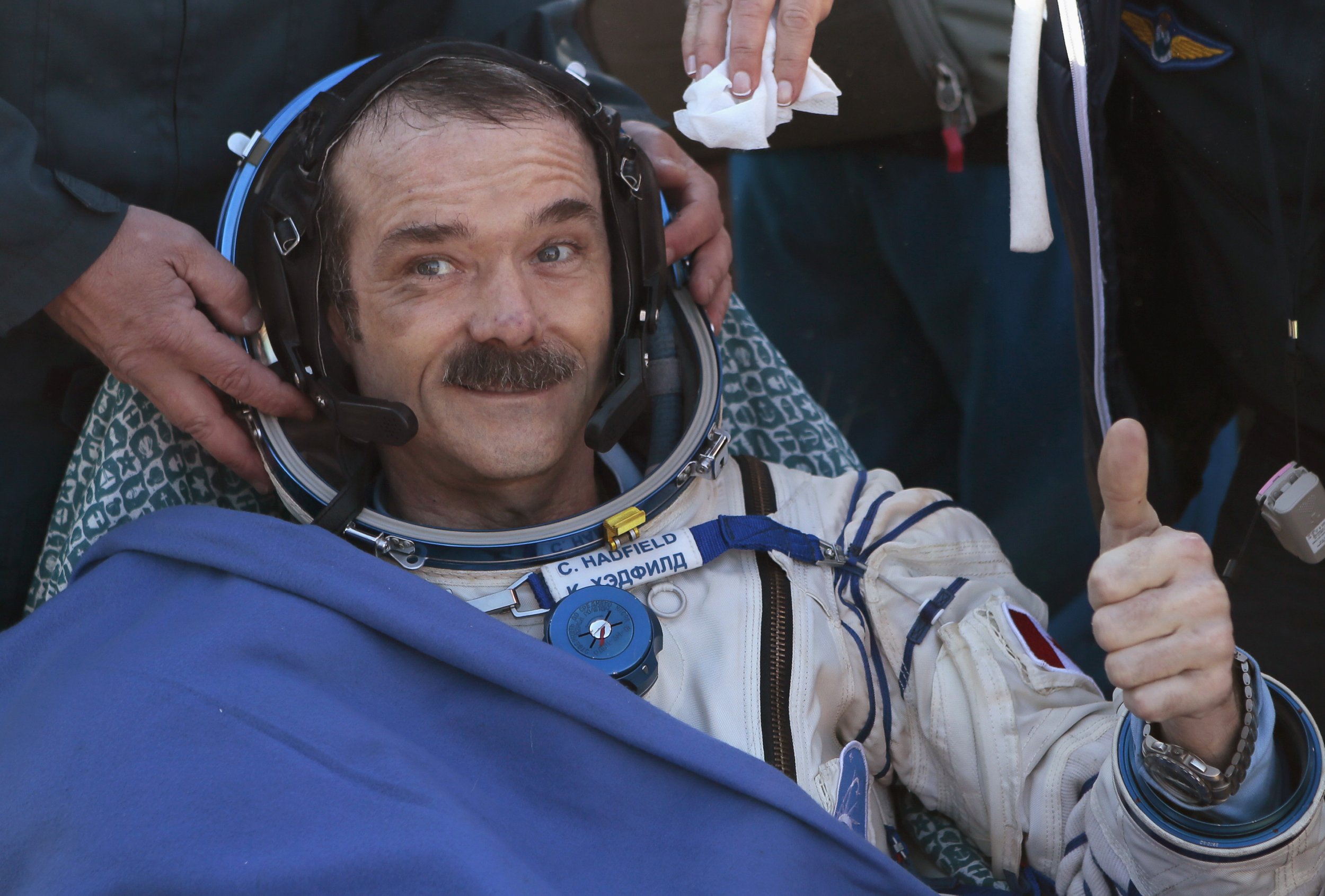 Chris Hadfield has been making music with his family since he can remember, so the retired Canadian astronaut says it was only natural for him to do the same during his space missions, most recently the five months he spent aboard the International Space Station in 2013. More than two years after his return to Earth, he released Space Sessions: Songs From a Tin Can on Friday.
Fans on Earth may remember his cover of David Bowie's "Space Oddity," a video posted to YouTube in May 2013 that has garnered more than 26 million views. The new album features "Space Oddity" as a bonus track on top of 11 other songs, including "Jewel in the Night," "Feet Up" and "Space Lullaby." Proceeds will benefit music education in Canada.
Hadfield, 56, was the first Canadian to leave a spacecraft and float freely in space, and the first Canadian to command a spaceship, the ISS. During his stint there, he took photographs, shared them on social media, and later released a collection of images in a New York Times best-selling book titled You Are Here: Around the World in 92 Minutes. He has garnered nearly 1.5 million followers on Twitter. On Friday, he tweeted about Space Sessions:
Recording in space comes with its own set of challenges, Hadfield discovered. Besides limitations on recording equipment and on quiet space to capture his songs amidst the whir of the space station, he learned how to hold and play a guitar that could easily float away and adjusted to physiological changes like sinuses that don't drain.
"But that's sort of part of it," Hadfield told BBC News. "The changes are what helps define how the music sounds." In a 22-minute recording uploaded to SoundCloud, he discusses the "making of" the album, from his lifelong relationship with music to the particulars of recording in space.
The album is another outgrowth of Hadfield's desire to share the experiences of an astronaut with everyone who's yet to visit space. "How do we let people understand space flight?" he said in his "making of" track. "I talk about it, I show people pictures about it. I go to schools, I teach at university, I write about it," he added.
But here, he's tapped into a whole new art form. As he told the Canadian Broadcasting Corporation, he may not be the best musician out there, but this is "our first effort and our artistic expression of what it's like to live on board a spaceship."