A suspect was pictured smiling in his booking photo after two people were killed and two others were injured in a shooting at a fast food restaurant in Nebraska.
Officers were called to the Sonic Drive-In at 1307 Cornhusker Road in Bellevue, a suburb of Omaha, on Saturday night.
They were initially told of a possible bomb inside of a moving truck in the parking lot of the restaurant, but the call was updated a minute later to a shooting, Bellevue Police Lt. Andy Jashinske said in a news release.
The first officer arrived at the scene at 9.26 p.m., Jashinske said, and a suspect was taken into custody shortly afterwards, without incident.
There was no indication of any additional suspects at this stage of the investigation, he added.
Jashinske didn't name the suspect in the release, but The Omaha World Herald identified him as Roberto Carlos Silva.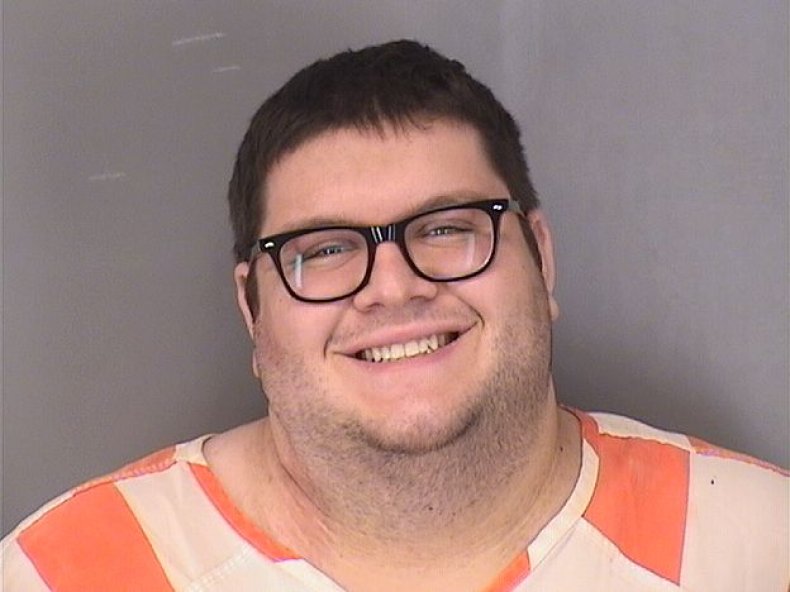 The 23-year-old was booked into the Sarpy County Jail at around 4:30 a.m. on Sunday on suspicion of first-degree murder and first-degree arson, online records show.
Four victims were discovered at the restaurant with gunshot wounds, according to police. Two were determined to be dead at the scene, while two others were transported to the University of Nebraska Medical Center.
"The victims will be identified after completion of appropriate family notifications," Jashinske said in the release.
At a news conference, Jashinske told reporters that a U-Haul truck in the restaurant's parking lot was on fire because of fireworks or some kind of device, the Herald reported.
Authorities are working to determine what was inside the truck, Jashinske said.
"This can happen anywhere, of course, this type of situation. Unfortunately it happened here tonight," he told reporters.
"What I can tell you is that we're going to investigate this to the full extent, completely, and we're going to hopefully come to a positive resolution with that."
Jashinske has been contacted for additional comment.
Bellevue Police urged people to avoid the area as police continue to investigate at the scene near 15th Street and Cornhusker Road.
Multiple agencies responded to the shooting, including the Nebraska State Patrol, Sarpy County Sheriff's Office and the Omaha Police Department's Crime Lab and Bomb Squad.
Anyone with information about the case is asked to call the Bellevue Police Department at 402-293-3100 or Sarpy County Crime Stoppers at 402-592-STOP.