'Sonic the Hedgehog 2' Cast: Here's Who Voices Sonic, Tails and Knuckles
Sonic the Hedgehog 2 sees the return of everyone's favorite blue eulipotyphla as he takes on arch-nemesis Dr. Robotnik (Jim Carrey) once more.
While the first film focused predominantly on the main character from the iconic Sega games, Sonic the Hedgehog 2 brings two more to life on the big screen: Tails and Knuckles.
The children's film has an A-list cast ranging from returning actors like Carrey to James Marsden, but here's who voices those two animated roles.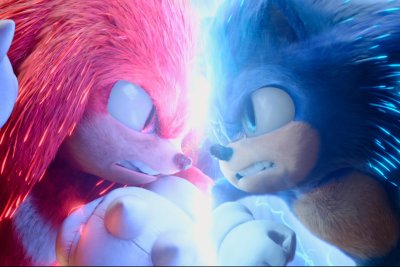 Who Voices Sonic, Tails and Knuckles in Sonic the Hedgehog 2
Fans of the first Sonic film will be delighted to know that Ben Schwartz reprises his role as Sonic.
Knuckles the Echidna, perhaps Sonic's most famous frenemies, is voiced by Idris Elba, whose voice many fans have described as sexy.
The reaction to his dubbing of Knuckles surprised Elba so much he said he was "baffled" bit it in an interview on the British daytime show Loose Women on Thursday, March 31.
When asked about how fans have dubbed his voice sexy, Elba responded: "I'm baffled. I think I sound like a market trader from Canning Town. 'Get your fish here, £10' that's expensive fish."
Elba's character is going to return in his own spin-off TV show on Paramount+, and in an interview with Screen Rant the Luther star shared what it could focus on.
He said of the project: "We don't know what it is yet, but we're finding it. Knuckles is a fish out of water. He's new to the planet. I think we might explore that little food blog or something."
Sonic the Hedgehog 2 also sees the appearance of Sonic's sidekick Miles 'Tails' Prower on the silver screen, who appeared briefly at the end of the first film. He is voiced by Colleen O'Shaughnessey.
O'Shaughnessey has been voicing Tails since 2014's animated TV series Sonic Boom, and she has also voiced the character in multiple Sonic video games.
The voice actor spoke with The Wrap about reprising her role as Tails, admitting that she felt grateful mostly to the fans of the show for supporting her.
O'Shaughnessey explained: "It's just unbelievable and joyous and beautiful and amazing.
"All the excitement and love I've received from the fans has been so gratifying, with all these tweets telling me they were hoping that I would get to play Tails in this film. They've had my back and have been so supportive since the beginning."
Sonic the Hedgehog 2 is out in theaters now.